Low Carb Dark Chocolate Zucchini Muffins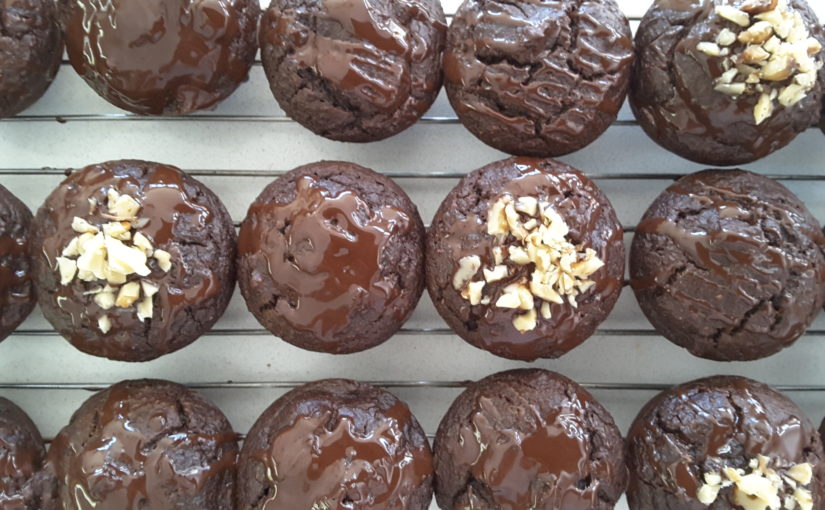 Low Carb Dark Chocolate Zucchini Muffins
Having a sweet treat every now and then, especially when it's one of these Low Carb Dark Chocolate Zucchini Muffins, is a part of my low sugar life. I believe that this this is one of the reasons I've been able to stick to the low carb way of eating for so long. My taste for sugar has definitely changed over the past couple of years but I still enjoy the occasional low carb sweet treat.
Reducing Sugar Cravings
Once you have weaned yourself off sugar you will find that you become a lot more sensitive to the taste of sugar. Now that doesn't mean that I don't enjoy eating cakes etc, but I don't enjoy them too sweet. You will find that none of my cake or sweets recipes are overly sweet for this reason. This is also why these recipes are a great way for you to wean yourself off craving sugar laden foods. Just make sure you are disciplined with the amount that you eat though.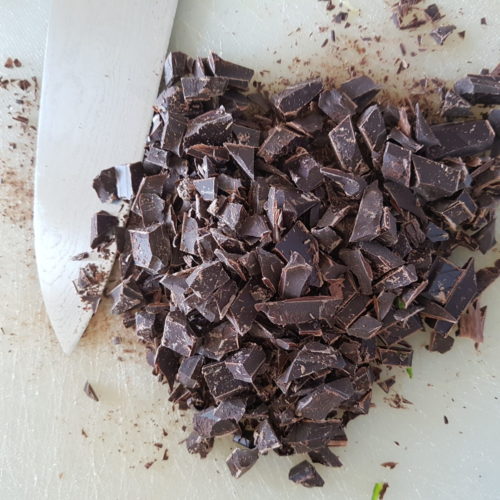 What Chocolate Should You Use
The chocolate flavor in these muffins comes from the dark chocolate and the cocoa or cacao powder. The recipe does contain a tiny amount of sugar from the 85% Dark Chocolate.  It is a minimal amount though, especially when it is divided into 18 serves. 85% couverture is my preferred chocolate for baking as it's lower in sugar in comparison to other chocolates. If you find that these aren't sweet enough, feel free to increase the sweetener to taste. I do recommend testing the recipe out before you do though, as I think they taste great when made as per the recipe. Equally, you could increase the cocao as well if you are after a richer chocolate flavor.
And A Bit More Chocolate
I like to decorate these muffins with a ganache made up of 50 gms/1.7 oz of dark chocolate to 75 mls/2.5 oz of cream. It looks great drizzled or smoothed on top of the muffins. Alternatively, I add 50 gms/1.7 oz of home- made choc chips into the batter, just to add a little more decadence to them. To keep the carbs down though I only allow myself the additional 50 gms/1.7 oz of chocolate, so it's ganache or choc chips but not both. I have struggled to find low sugar high couveture dark chocolate cooking chips in Australia. I just improvise by chopping up dark chocolate blocks into chips.
Perfect For a Special Occasion
These muffins would be ideal snacks for work but are delicious enough to serve at a special event such as a high tea or a party. Given the number of people with food intolerance's these days they are going to be ideal for a crowd, especially as they are gluten free as well. You could omit the ganache drizzle and use a low carb chocolate buttercream or Chocolate Cream Cheese Icing on these instead of the ganache to make them look a little more fancy, but the ganache is really easy to make and does compliment these muffins really well for an everyday or a special occasion treat.
I generally have a batch in the freezer so I can defrost one easily in the microwave or simply let it defrost at room temperature if I feel like one. I find it particularly hard to buy low carb treats like this when out so I often have one in my hand bag if I am going out for the day, that way I can't be tempted by unhealthy options.
The Use of Sweeteners in this Recipe
Just a note about the amount of sweetener that I use in my recipes. As I am trying to reduce my sugar intake and wean off overly sweet foods, I do not use a lot of sweetener in my recipes.  They are created to suit my tastes. If you are concerned about how sweet this recipe will be then, please taste the batter once all ingredients have been added.  Only adjust the sweetener amount after that, if you feel that it needs additional. Note also that this recipe uses a Stevia and Erythritol blend which is sweeter than pure Erythritol or Zylitol on its own. If you use pure Erythritol or Xylitol then I would use between 1/2 to 1 cup to replace the Stevia Erythritol blend, depending on the size of your sweet tooth. That would be the equivalent of about 1/2 cup of normal sugar.
Happy baking!
Karen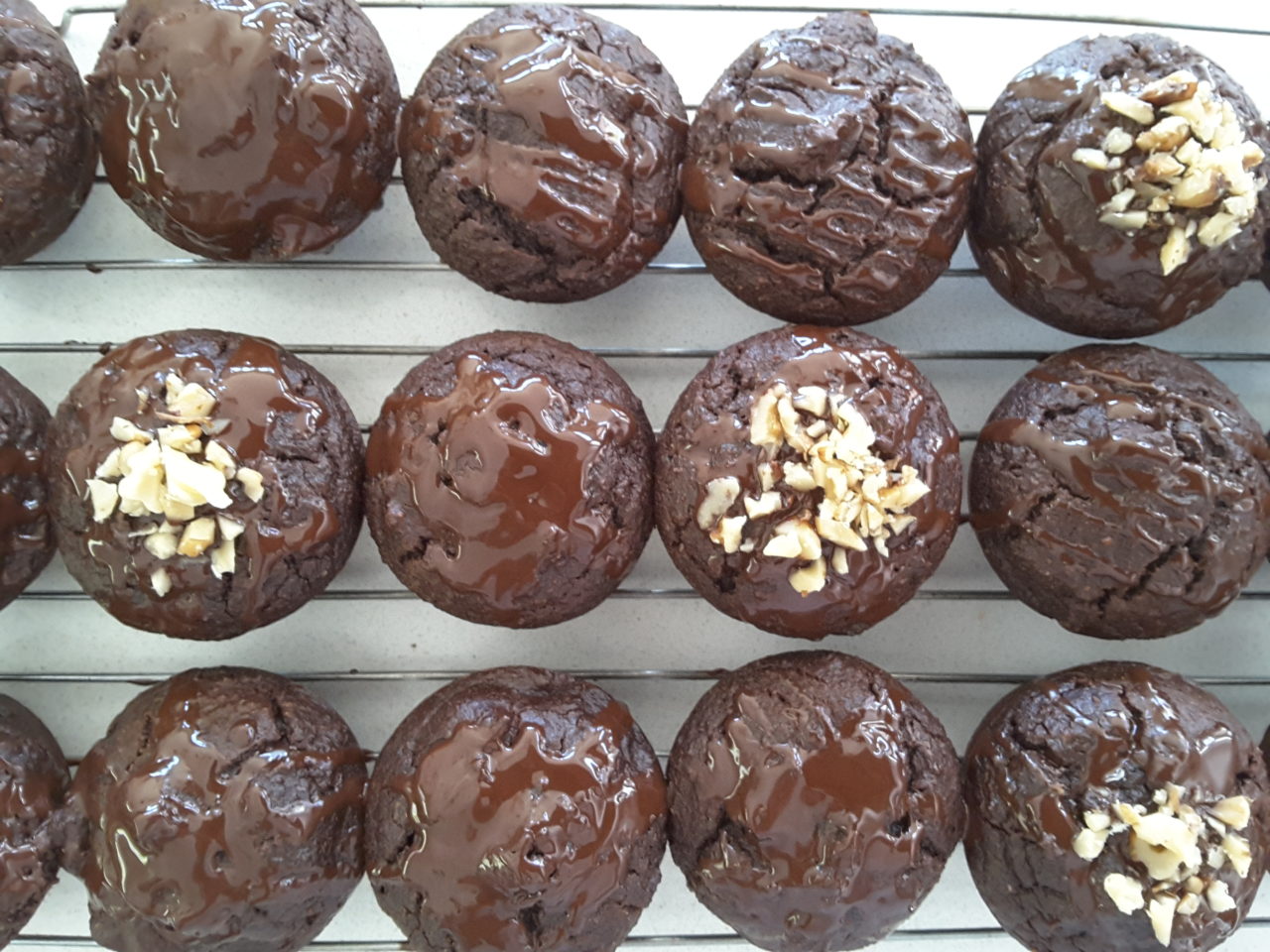 Ingredients
150

gms

almond meal or almond flour

50

gms

coconut flour

125

gms

extra virgin olive oil-EVOO

250

gms

grated zucchini - 1 medium sized

100

ml

boiling water

100

gms

sour cream or Greek yogurt

100

gms

dark chocolate min 70% cacao-recipe used 85%

50

gms

cocoa or cacao

4

eggs

1.5

teaspoons

baking powder

.5

teaspoon

baking soda

1

teaspoon

ground coffee

1

teaspoon

vanilla extract

1

teaspoon

cinnamon

.5

teaspoon

mixed spice

2

tablespoons

Stevia Organic

a mix of stevia and Erythritol or sweetener of choice- optional

Pinch

salt
Instructions
Method
Mix all dry ingredients together ensuring well mixed.

Melt oil and chocolate together and mix into dry ingredients.

Add eggs, sour cream, vanilla extract and zucchini, and mix well.

Dissolve coffee in boiling water and add to mix, stirring well.

Spoon into greased prepared muffin trays.

Bake for 18-20 minutes at 160 C/320 F Fan Forced.
Ganache Drizzle
50 gms/1.8 oz of dark chocolate chopped (70 % cacao or more- recipe used 85%)

75 gms/2.6 oz cream.

Bring the cream just to the boil (on stove top or in microwave), taking care not to boil or the ganache will split. Remove from heat and stir in the chocolate till blended.  Allow to thicken to desired consistency, or thicken by placing in the fridge. Spread or drizzle onto cool muffins.
Variations
Add ½ cup chopped walnuts

Add 50 gms/1.8 oz of roughly chopped dark chocolate (small choc chip size) and stir through muffins prior to baking- I would only add if not going to ganache the tops of the muffins.

Omit coffee at own risk.

Omit sweetener if desired.
Nutritional Information
Serving:
1
muffin
|
Calories:
24.4
kcal
|
Carbohydrates:
4.4
g
|
Protein:
5.8
g
|
Fat:
22.6
g
|
Fiber:
3.3
g
Note that we calculate our own nutritional values so they may not be precise. Calculate your own if desired. Carb values exclude sugar alcohols such as Erythritol, as they generally have no impact on blood sugar levels. 50% of the carbs from Xylitol is added to nutritional values. This is consistent with industry practice.
Do you want to receive more recipes like this one? Subscribe to our newsletter now!