Low Carb Banana Bread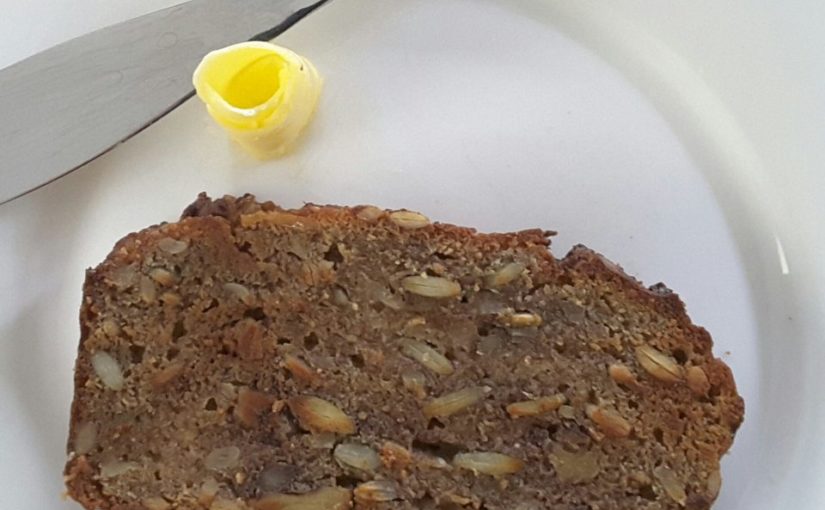 Low Carb Banana Bread
Banana Bread on a low carb diet? There are some very dedicated low carbers out there who wouldn't eat banana's at all and that's fine as they wouldn't even be looking for a banana bread recipe. I figure that the 2 banana's used to make this bread, when divided into 14 does not equate to many carbs.
This Low Carb Banana Bread Recipe is a great way to try to wean yourself off eating overly sweet, processed foods. The natural sugars in the banana's are the only form of sugar in the recipe and the result is a cake that is subtly sweet but delicious. The use of the nuts and seeds in this recipe give it a lot more substance as well with the added nutrients giving you even more of a reason to indulge in a slice every now and then. I hesitate to call it a cake for this reason. I feel that by labeling it a bread, makes it feel like it is a much more substantial rather than just a sweet treat, so Banana Bread it is.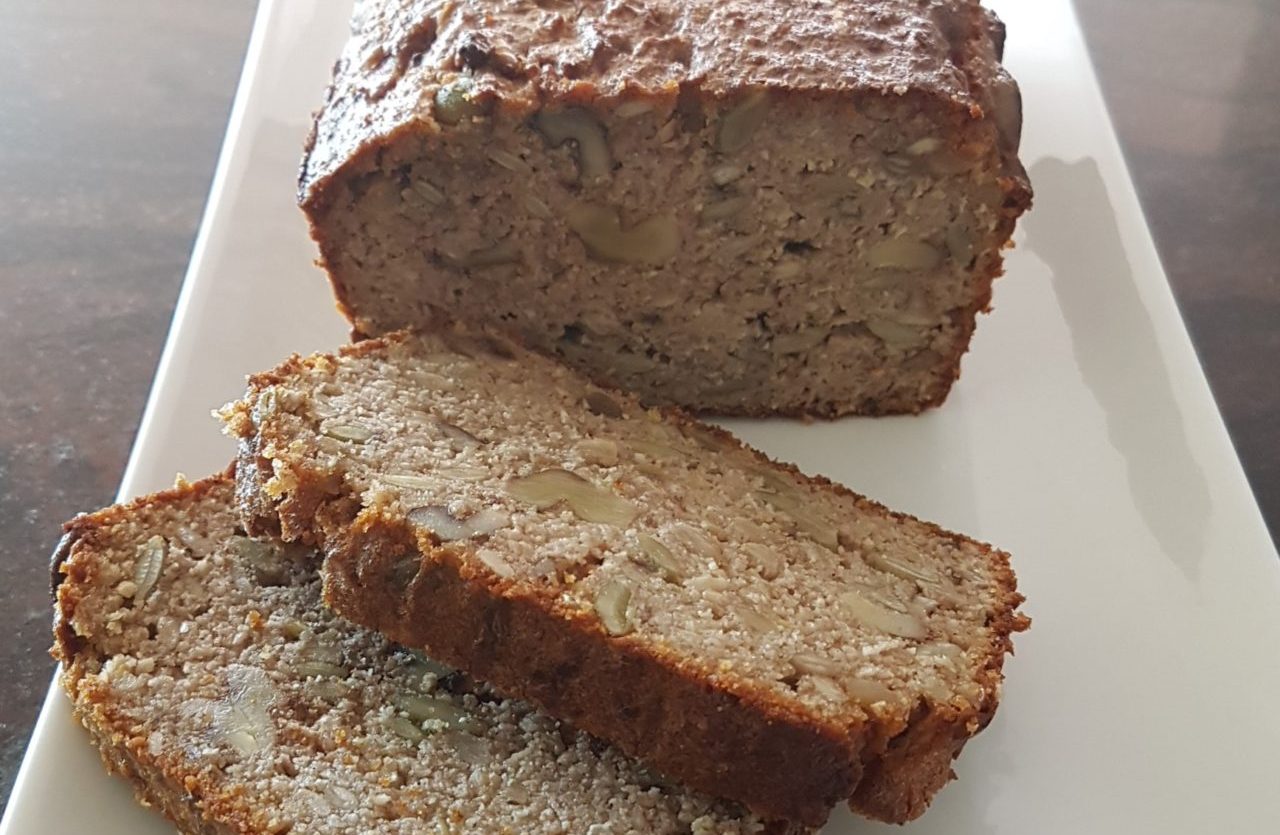 Low Carb Banana Bread gives you an introduction of what real food, unadulterated can taste like. Feel free to omit some or all of the nuts and seeds if you wish to but I love the contrast of the soft crunch with the moist bread. This tastes lovely freshly sliced or lavished with some butter but my all time favorite way to eat it is pan fried on both sides with butter and served warm…mmmm.
Using Sweetener and Extra Virgin Olive Oil (EVOO)
If you make this recipe and find it isn't sweet enough, feel free to add some natural sweetener of your choice however do try it before you do this as I think the flavor balance is just right as per the recipe. Don't fret about using extra virgin olive oil (EVOO) in this cake as you cannot taste it at all. I do suggest that you don't use a flavored one though nor do I recommend using an extra light/virgin olive oil as it means it has been refined and processed to get the color and the flavor out. I suggest you always look for cold pressed and unfiltered oils if you can. In Australia one of my favorite more subtle tasting olive oils is the Cobram Estate, Extra Virgin, mild flavored oil. It is great for use in cakes and mayonnaise etc, when you want a really lightly flavored oil.
Freezing
Do you have a freezer full of frozen banana's in the freezer just begging to be made into this cake? It's a great way to use up banana's that would other wise be thrown out. This cake is also ideal for freezing.I simply cut it into portion size and freeze 2 slices in zip lock bags. Instant, healthy snacks at hand….delicious. Make sure you try it pan fried in butter- my personal favorite way of eating this bread.
More Low Carb Cake Options
There is another simple recipe for Healthy Banana Bread, which doesn't have any additional nuts or seeds added. It is more like a conventional banana bread you would find served in cafes and can buy from stores, with more of a plain bread texture. Again, this is pure, unadulterated food with no preservatives or added sugars so it is also a fantastic recipe. Both recipes are a great way to use up any excess, old or frozen bananas. Another lovely loaf that is a bit similar to the plain banana bread recipe is this lovely recipe for Healthy Low Carb Pumpkin Bread.
If you are after some other great low carb cake recipes, there are a lot more on this website. Just do a search for cake in the search bar and they will all come up. They include recipes for-
Low Carb Orange and Almond Cake
Sugar Free Mandarin Macadamia Cake
Low Carb Lemon Syrup Cake
Low Carb Carrot Cake
Dark Chocolate Zucchini Cake
Dark Chocolate Fudge Cake
Chocolate Olive Oil Cake
I hope you find the time to make this healthy recipe.
Kx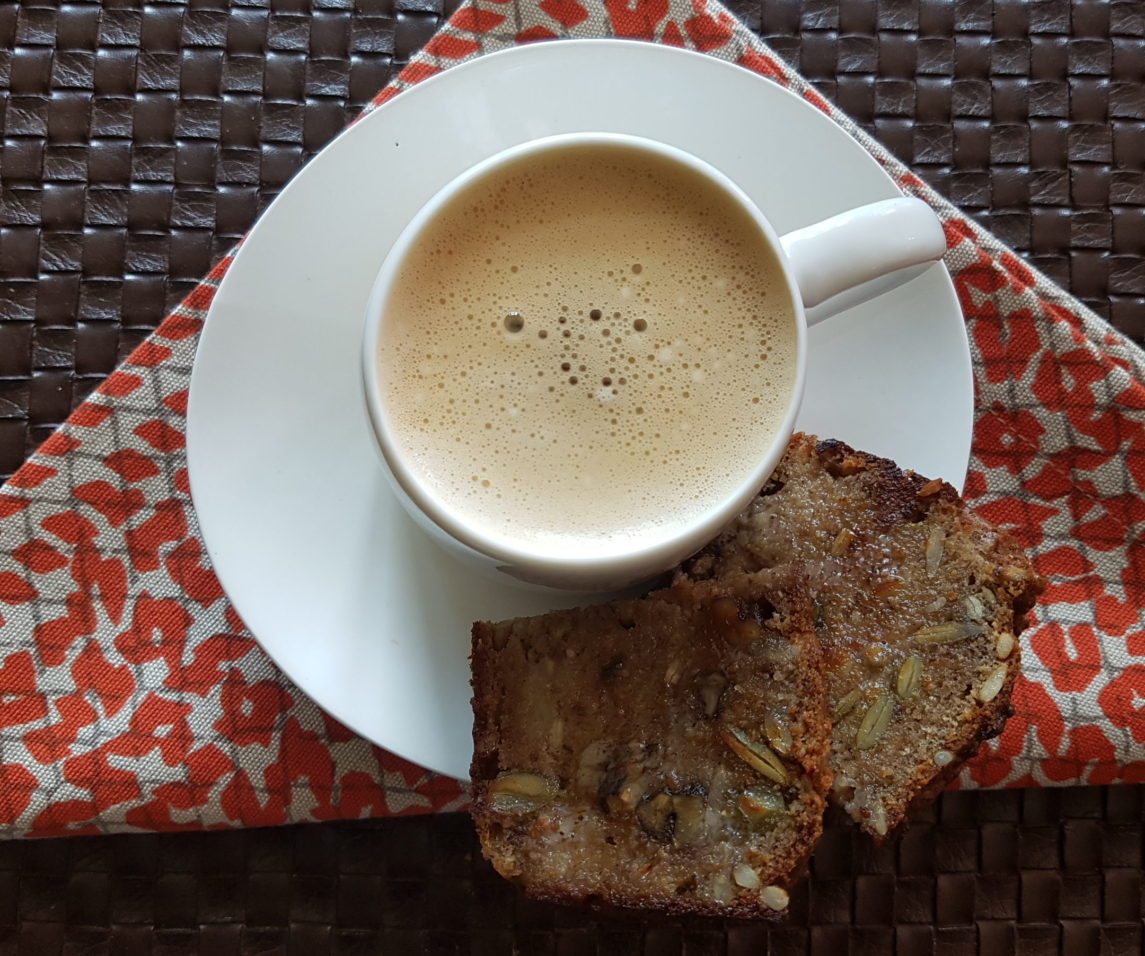 Ingredients
2

medium bananas

175

gms/6 oz almond meal

1

Tbspn coconut flour

100

ml/3.5 oz EVOO- extra virgin olive oil

50

gms/1.8 oz butter

50

gms/ 1.8 oz chopped walnuts

50

gms/ 1.8 oz sunflower seeds

50

gms/ 1.8 oz pepitas

1

tspn baking powder

1

tspn vanilla extract

1 ½

tspns cinnamon powder

3

lge eggs

A pinch of salt
Instructions
Preheat oven to 155 C/310 F fan forced

Method

Combine dry ingredients in a bowl.

Mash bananas and combine with beaten eggs and all other wet ingredients.

Add dry ingredients to wet ingredients and fold through until well combined.

Pour into a nonstick/prepped loaf pan and gently smooth off the top.

Bake at 150 C / 300 F for approximately 40-45 mins or until cooked on the inside.

Allow to cool for 10 minutes in pan before cooling on wire cake rack.

Store in fridge wrapped in cling wrap and sealed in a container for up to 3 days.
Variations
Add a little sweetener of choice if you wish. Try the recipe first though as it is reasonably sweet without it.
Serving Suggestion
Butter and grill in a frying pan on both sides till golden.

Freeze in individual serves for an instant snack.
Nutritional Information
Serving:
1
slice
|
Calories:
201
kcal
|
Carbohydrates:
5.5
g
|
Protein:
5.3
g
|
Fat:
17.8
g
|
Fiber:
2.4
g
Note that we calculate our own nutritional values so they may not be precise. Calculate your own if desired. Carb values exclude sugar alcohols such as Erythritol, as they generally have no impact on blood sugar levels. 50% of the carbs from Xylitol is added to nutritional values. This is consistent with industry practice.
Do you want to receive more recipes like this one? Subscribe to our newsletter now!