Low Carb Choc Chip Banana Bread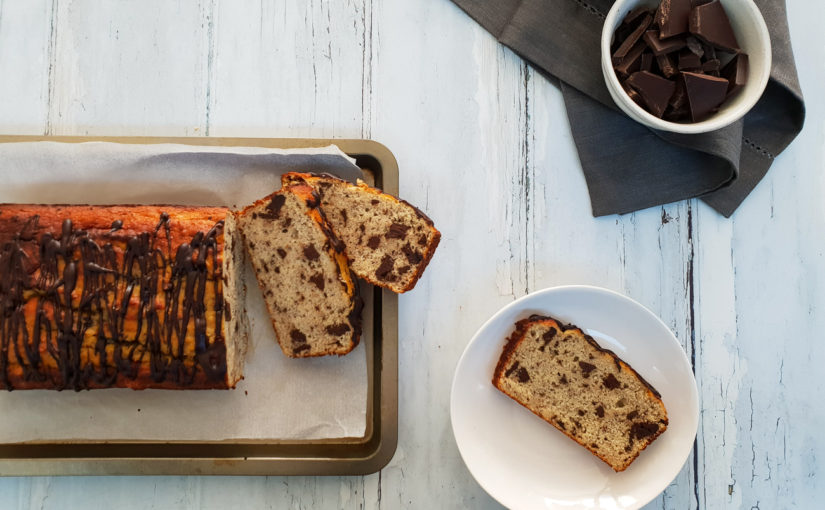 Low Carb Choc Chip Banana Bread
Just wait until you taste this delicious recipe for Low Carb Choc Chip Banana Bread. Not only is it processed sugar free but it's also gluten free and nut free. Coconut flour is the staple flour used and it's amazing how well it performed in this recipe. It's wonderfully moist and you can't taste the flavor of coconut at all. Banana and chocolate are the real stars of this recipe.
Perfect for a healthy snack and as it's nut free this would also be great to pack for school lunches. Make it and slice it into serves and freeze it so you can grab one from the freezer as you race out the door. If you have guests dropping by this recipe would be perfect to serve for afternoon tea.
Check out the video below to see how simple it is to make this delicious recipe. Don't forget to subscribe to my youTube channel to make sure you don't miss out on any recipes.
Using Banana's in Low Carb Baking
Many people following a ketogenic way of eating will not eat banana because of the carbs and it's impact on blood sugar levels. 2 small banana's feature in the recipe and when the recipe is divided by 18 serves, the carbs are less than 5gms per serve. For those of you counting net carbs, this is only 3 gms per serve. Even if you are following a strict keto diet, a slice of this will be fine, especially if used as an occasional treat.
Using Sweeteners in this Recipe
For those of you wanting to avoid any sweeteners, you could simply leave them out as the banana and chocolate add lots of flavor on their own. For a Paleo version use about 2 tablespoons of coconut sugar, honey or maple syrup instead of the sweetener. Switch the stevia and erythritol blend for a monk fruit blend using equal amounts. If you use pure erythritol or xylitol, start with 1/4 cup, taste test the batter and then adjust to suit your taste.
Dark Chocolate Choc Chips
It's difficult in Australia to find dark chocolate choc chips and if you do find them they can be really expensive. Although not a choc chip shape, a chopped up dark chocolate bar works perfectly well in this recipe. The great thing about doing this is you can select the couveture of the chocolate to suit your taste. My preference is to use 85% dark chocolate but you can choose the one that suits your palate. Just remember that the lower the couveture the more sugar you will be consuming. I tend to use Lindt or a Coles home brand Belgian 85% chocolate.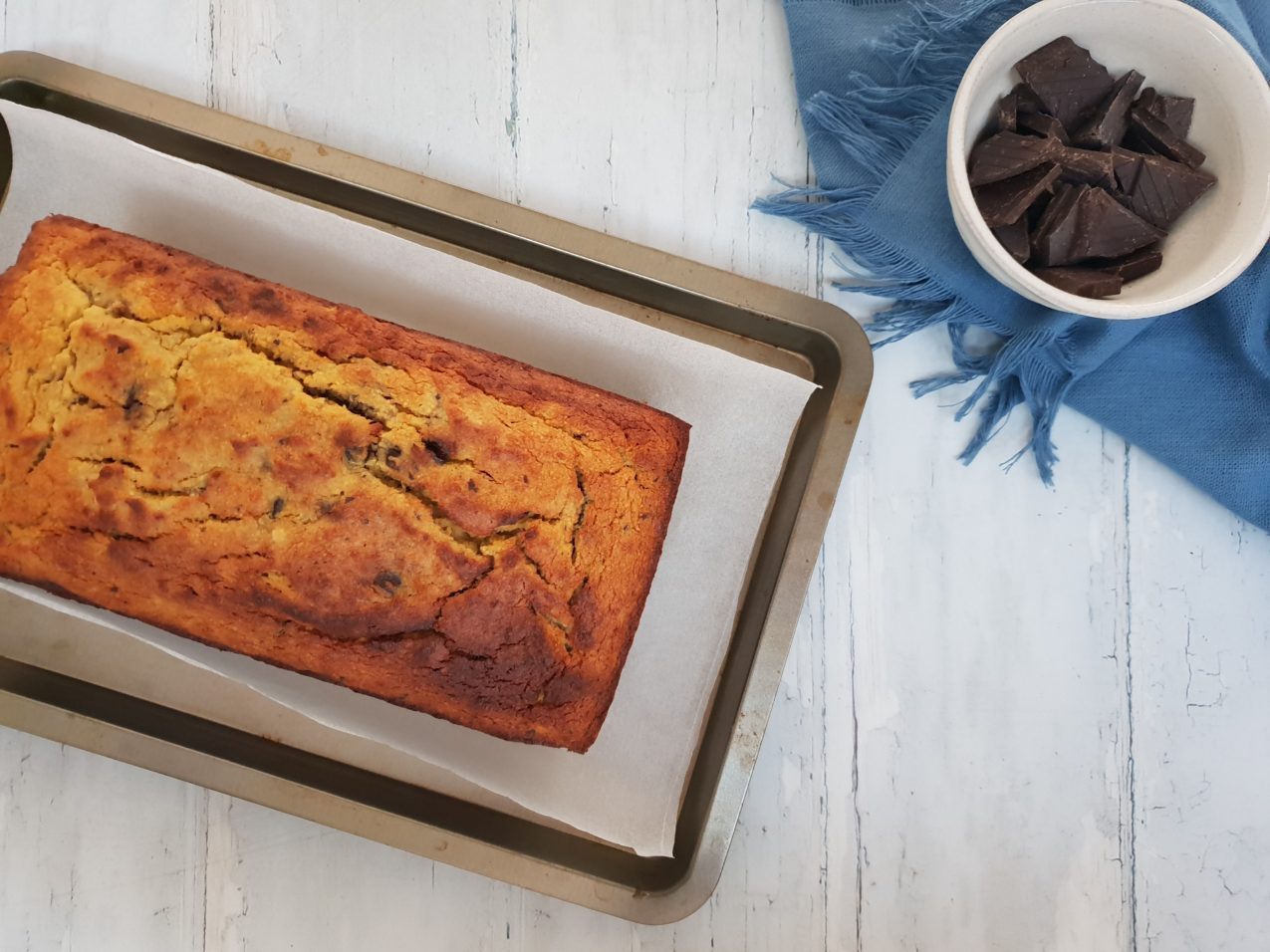 Banana Bread Heaven
Would you believe that this blog features 3 banana bread recipes? Each recipe is very different and they are quite distinct. While Low Carb Choc Chip Banana Bread features choc chips, the recipe for Low Carb Banana Bread recipe is a nutty seedy loaf that has a lot of texture and the added health benenfits of nuts and seeds. Healthy Banana Bread in contrast, is a simple recipe much more bread like without any added texture, nuts or seeds. These 2 banana bread variations taste brilliant served with butter, either toasted or fresh. They can also be topped with berries and yogurt for a delicious low carb breakfast or snack. Low Carb Choc Chip Banana Bread tastes wonderful served simply on it's own and doesn't need any additional toppings. I occasionally drizzle some dark chocolate on top for decoative purposes, as you can see in some of the images in this post.
Let me know what you think of this recipe. Feel free to share this recipe to help get it out into the big wide world.
Kxx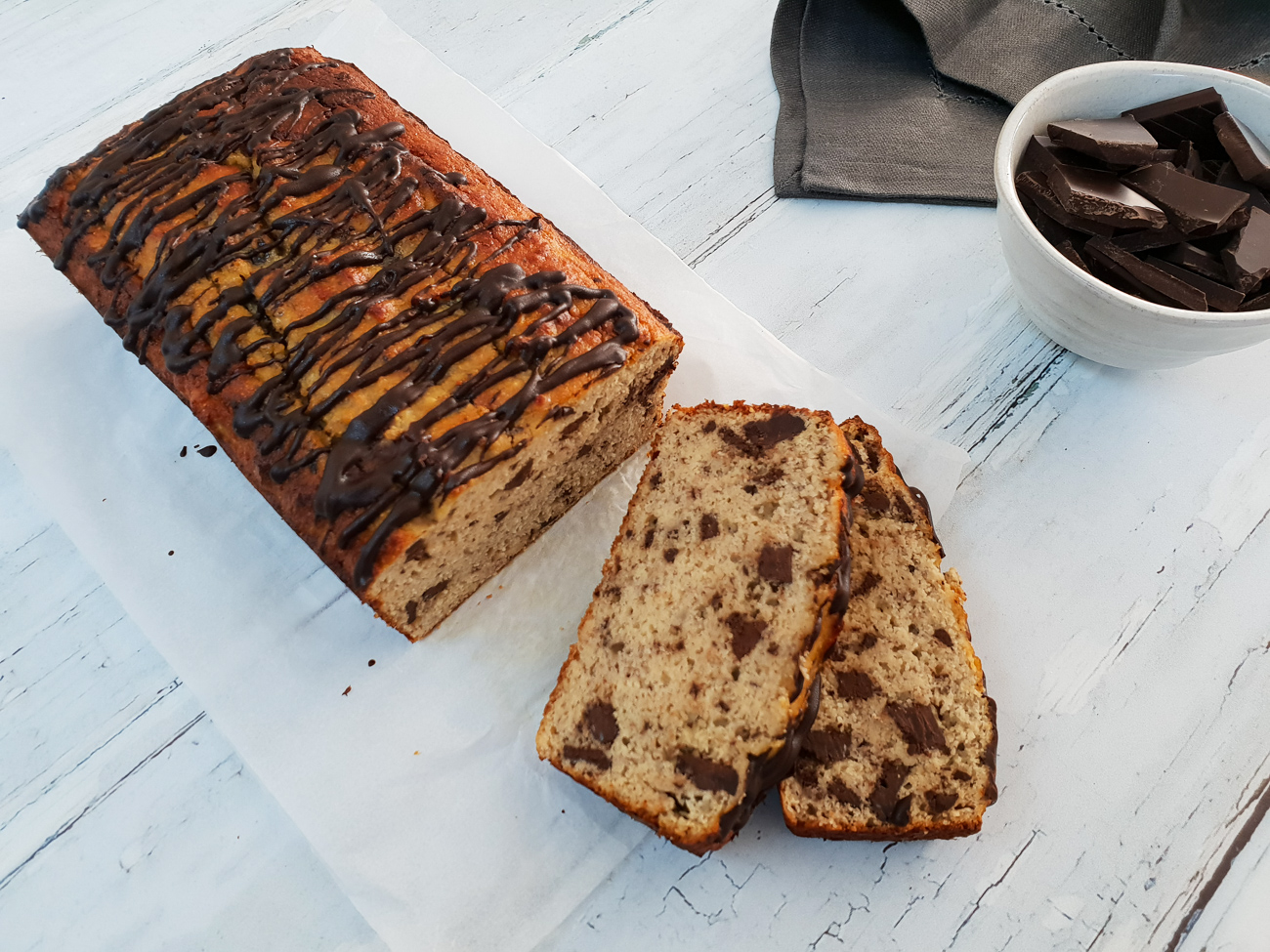 Ingredients
4

large

eggs

2

small to medium bananas

1/3

cup

almond milk/coconut water,milk or coconut ceam

unsweetened

1/4

cup

EVOO- extra virgin olive oil

3/4

cup

coconut flour

1

tablespoon

stevia blend

1

teaspoon

baking powder

½

cup

dark chocolate choc chips
Instructions
Preheat oven to 170 C/340 F fan forced

Combine the dry ingredients in a small bowl ensuring the baking powder is well dispersed.

In a large mixing bowl beat the eggs, then add the mashed banana and all other wet ingredients. Mix until well combined.

Add the dry ingredients to the wet ingredients and fold through until well combined. Fold through the choc chips.

Pour into a loaf pan lined with baking paper and gently smooth off the top.

Bake approximately 45-50 mins or until cooked on the inside.

Allow to cool for 10 minutes in pan before cooling on wire cake rack.

Store in fridge wrapped in cling wrap and sealed in a container for up to 3 days.
Variations
Add 1 teaspoon of cinnamon and 1 teaspoon of vanilla extract if desired for a spiced banana loaf.

Add a pinch of sea salt. The flavor of chocolate is enhanced when salt is added.
Serving Suggestion
Freeze in individual serves for an instant snack.
Recipe Notes
Paleo Sweeteners- replace the sweetener with 2 tablespoons of either coconut flour, maple syrup or honey (or to taste).
Nutritional Information
Serving:
1
slice
|
Calories:
99
kcal
|
Carbohydrates:
5
g
|
Protein:
3
g
|
Fat:
7
g
|
Fiber:
2
g
Note that we calculate our own nutritional values so they may not be precise. Calculate your own if desired. Carb values exclude sugar alcohols such as Erythritol, as they generally have no impact on blood sugar levels. 50% of the carbs from Xylitol is added to nutritional values. This is consistent with industry practice.
Do you want to receive more recipes like this one? Subscribe to our newsletter now!