Instant Chicken Spinach and Mushroom Food Bowl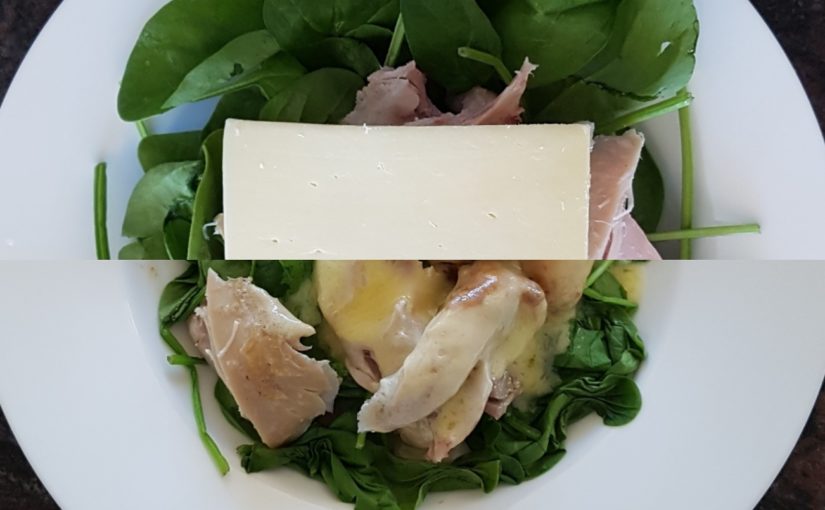 Instant Chicken Spinach and Mushroom Food Bowl
Instant Chicken, Spinach and Mushroom Food Bowl. This is my favorite throw together meal. It takes 1 minute to gather the ingredients and 2 minutes to zap it in the microwave. I always buy pre-sliced mushrooms, a BBQ roast chicken and baby spinach and have them in the fridge along with sliced or grated cheese for this dish.  This makes a great option for lunch or dinner, and is nutritious and delicious.
Ready in Less Than 5 minutes
Put a large handful of baby spinach and a handful of sliced mushrooms in a  microwaveable bowl. Top with about 150 gms or about 5 oz of BBQ'd chicken with the skin on, and a slice of your favorite full fat tasty cheese. You can add other flavorings, such as herbs and spices to vary the taste. Mixed herbs go really well with this. Simply zap in the microwave for approximately 2 minutes or until the dish is hot and cheese has melted.
Perfect For Work Lunches
The flavors from the chicken soak through to the vegetables underneath so it is surprisingly full of flavor. It's so easy to prepare for an instant meal at home. Equally, it's really simple to put the ingredients in a microwavable container to take to work for lunch. Prepare it the night before if timing is an issue for you although it won't take much time at all to put together. Note that if time is an issue, buy the pre-sliced mushrooms and sliced cheese so it doesn't take much effort to gather your ingredients.
Protein, vegetables and fats without the carbs…tick and no absolutely no excuses for making bad food decisions.
Meals In An Instant
This dish is perfect for when you are on your own and want to eat something that is healthy but requires little effort. Even if you had to make 5 bowls to feed your family, this dish is not going to require much effort to make and bake. If you are after another really simply meal for one that is easy and quick to make, check out this delicious recipe for Prawn and Parmesan Zoodles.
Healthy eating but quick and easy cooking, it's a winner!
Kxx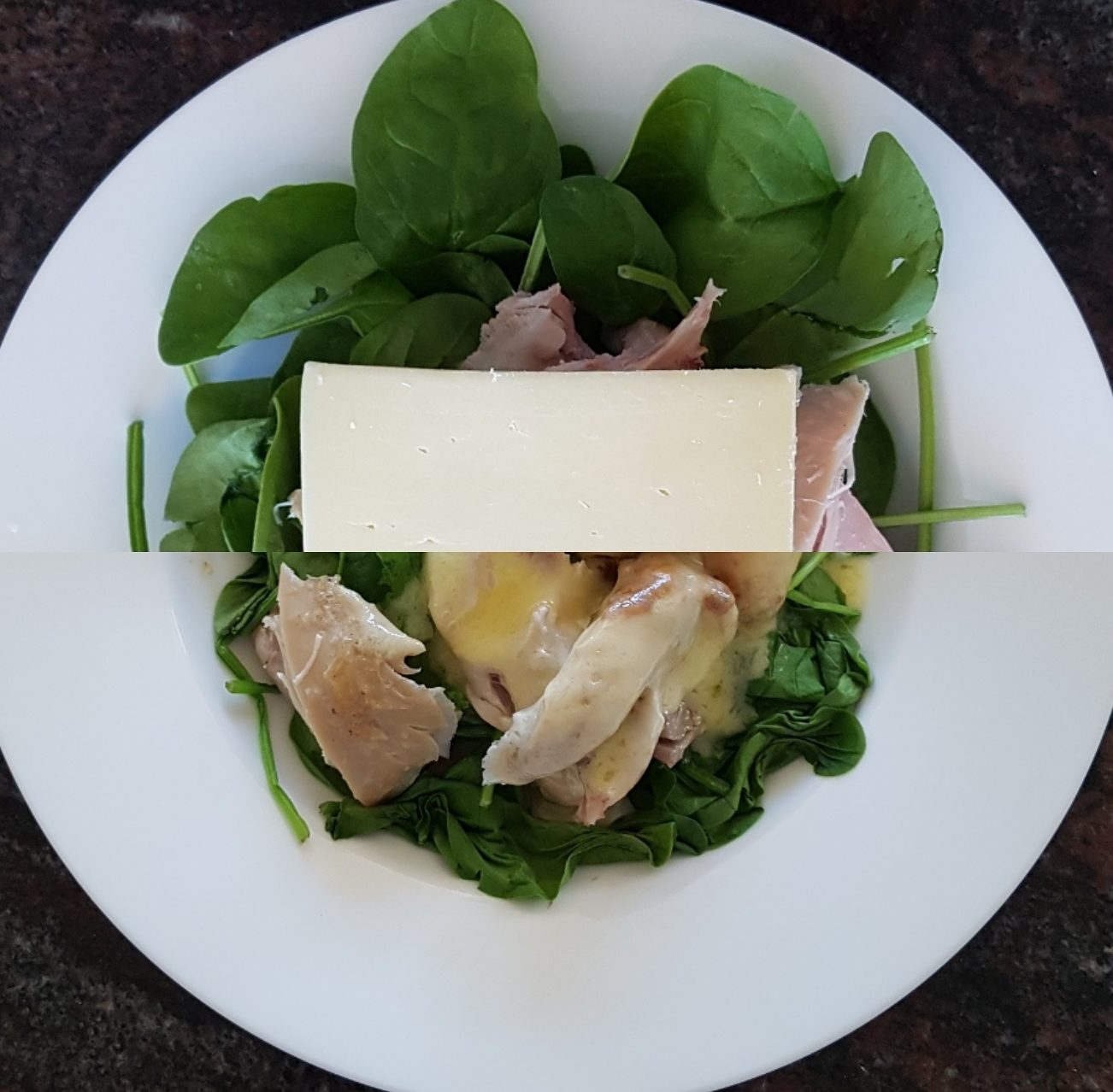 Ingredients
150

gms

BBQ chicken pieces

1

handful of baby spinach

1

handful of sliced mushrooms

1

slice

tasty cheese
Instructions
Place the spinach in a bowl. Top with the mushrooms, the BBQ chicken and the cheese. Microwave for 1-2 minutes. Serve.
Nutritional Information
Serving:
1
bowl
|
Calories:
373
kcal
|
Carbohydrates:
4.4
g
|
Protein:
37.2
g
|
Fat:
22.4
g
|
Fiber:
2.7
g
Note that we calculate our own nutritional values so they may not be precise. Calculate your own if desired. Carb values exclude sugar alcohols such as Erythritol, as they generally have no impact on blood sugar levels. 50% of the carbs from Xylitol is added to nutritional values. This is consistent with industry practice.
Do you want to receive more recipes like this one? Subscribe to our newsletter now!