Keto Corned Beef Silverside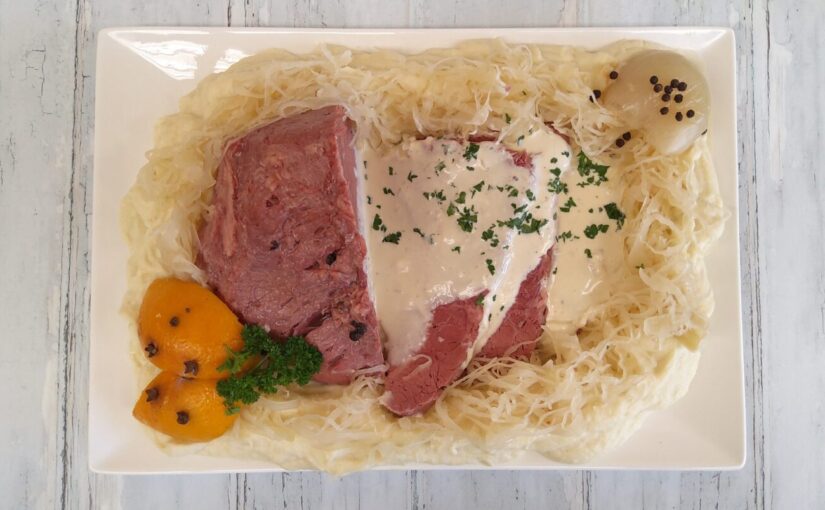 Keto Corned Beef Silverside
Keto corned beef silverside is a fabulous low carb recipe that not only tastes delicious but is also easy on your purse. In Australia we call it corned silverside but it is basically the same as the famous Irish dish, corned beef. You'll love this recipe as there are instructions to cook your corned beef 3 different ways.
Simmer it slowly in a pot, cook it in a slow cooker or pressure cook it in your Instapot/pressure cooker. All cooking methods produce a great tasting tender cut of meat so there's no compromise at all with any method.
Try to buy as healthy a piece of corned beef that you can and look for preservative free, nitrate free and uncured cuts if possible. Regardless of the method of curing though, the end resulting sliced beef served topped with a creamy white sauce will be enjoyed by all.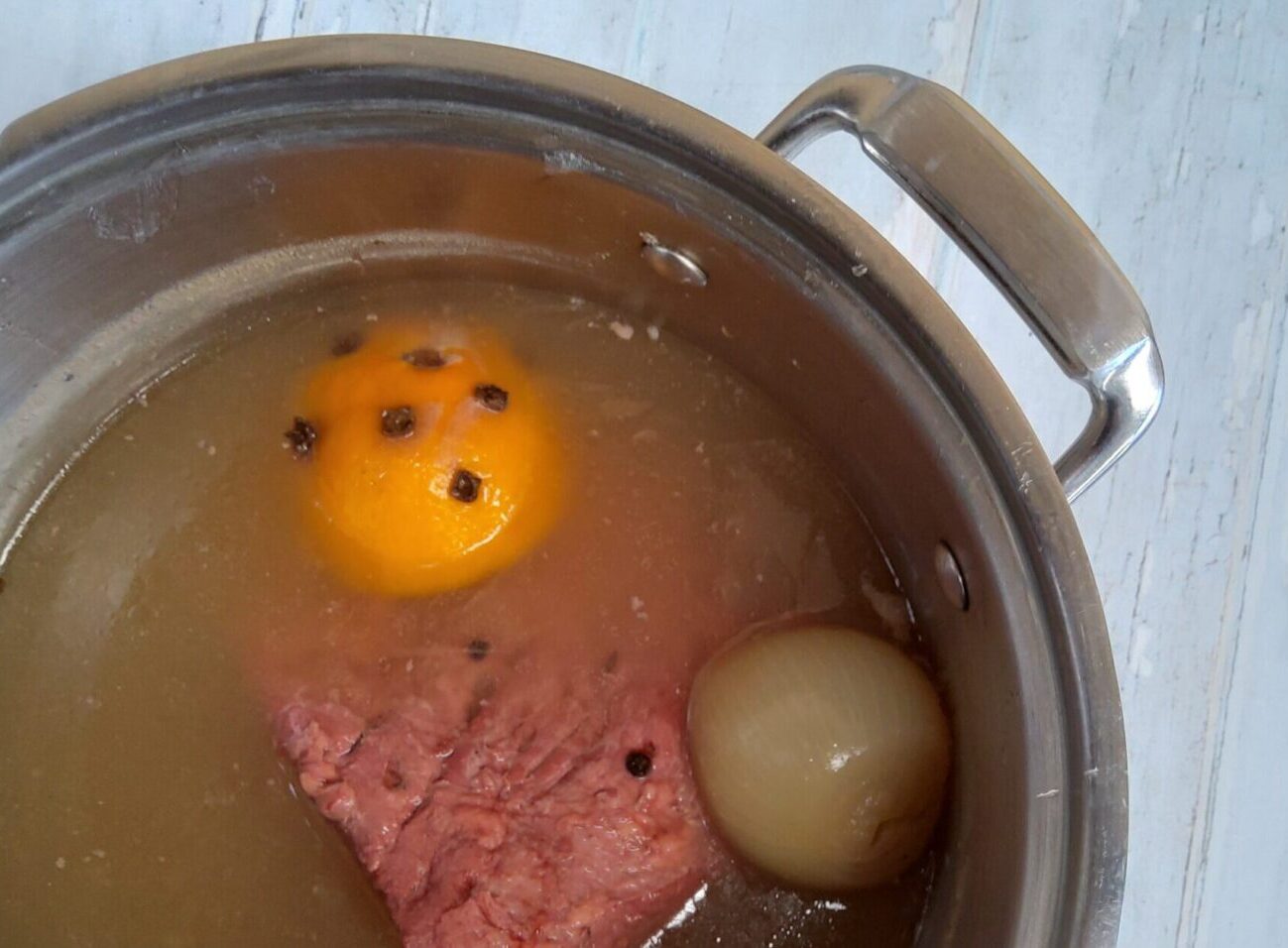 SO MANY OPTIONS
What makes this recipe so fabulous is the wonderful options you have that are included in the instructions.  Not only do you have the 3 options of cooking your corned beef, but you also have instructions on how to simmer vegetables in the stock to make a 1 pot meal if desired. You also have 4 different ways to make your white sauce so you can tweak this recipe to suit your taste.
WHITE SAUCE OPTIONS- MUSTARD, HORSERADISH AND/OR WHITE ONION
White sauce with your corned beef- we have you covered! Included in the recipe is the option to make a plain creamy white sauce or you can adjust the sauce to make –
White Onion Sauce– Use the simmered onion from the cooking stock and add to the sauce for a white onion sauce
Creamy Mustard Sauce– Add 1-2 teaspoons of Dijon mustard
Creamy Horseradish Sauce -Add 1-2 teaspoons horseradish
HOW TO SERVE CORNED BEEF
My favorite way to served corned beef is on top of potato or Cauliflower Mash, with lashings of sauerkraut topped with creamy white onion sauce. It's simple but absolutely delicious. You also have the option of adding vegetables such as potato, carrots or low carb vegetables such as cabbage or cauliflower near the end of cooking the beef. If using an Instapot/pressure cooker, you will remove the beef first and then cook the vegetables.
Cold sliced corned beef also tastes fabulous served in sandwiches, or with a simple Sugar Free Keto Slaw on the side. Of course, there is the famous Rueben sandwich which is a fabulous way to use your leftovers.
A CLASSIC REUBEN SANDWICH WITH KETO CORNED BEEF
A Reuben sandwich is an American grilled sandwich composed of corned beef, Swiss cheese, sauerkraut, and Russian dressing, grilled between slices of rye bread. Although it is often associated with kosher delicatessens, it isn't kosher because it combines meat and cheese.
Stay posted for a fabulous recipe to make your own Reuben sandwich using a waffle/chaffle recipe. I'll be sharing this with you in the next few days.
Enjoy!
Kx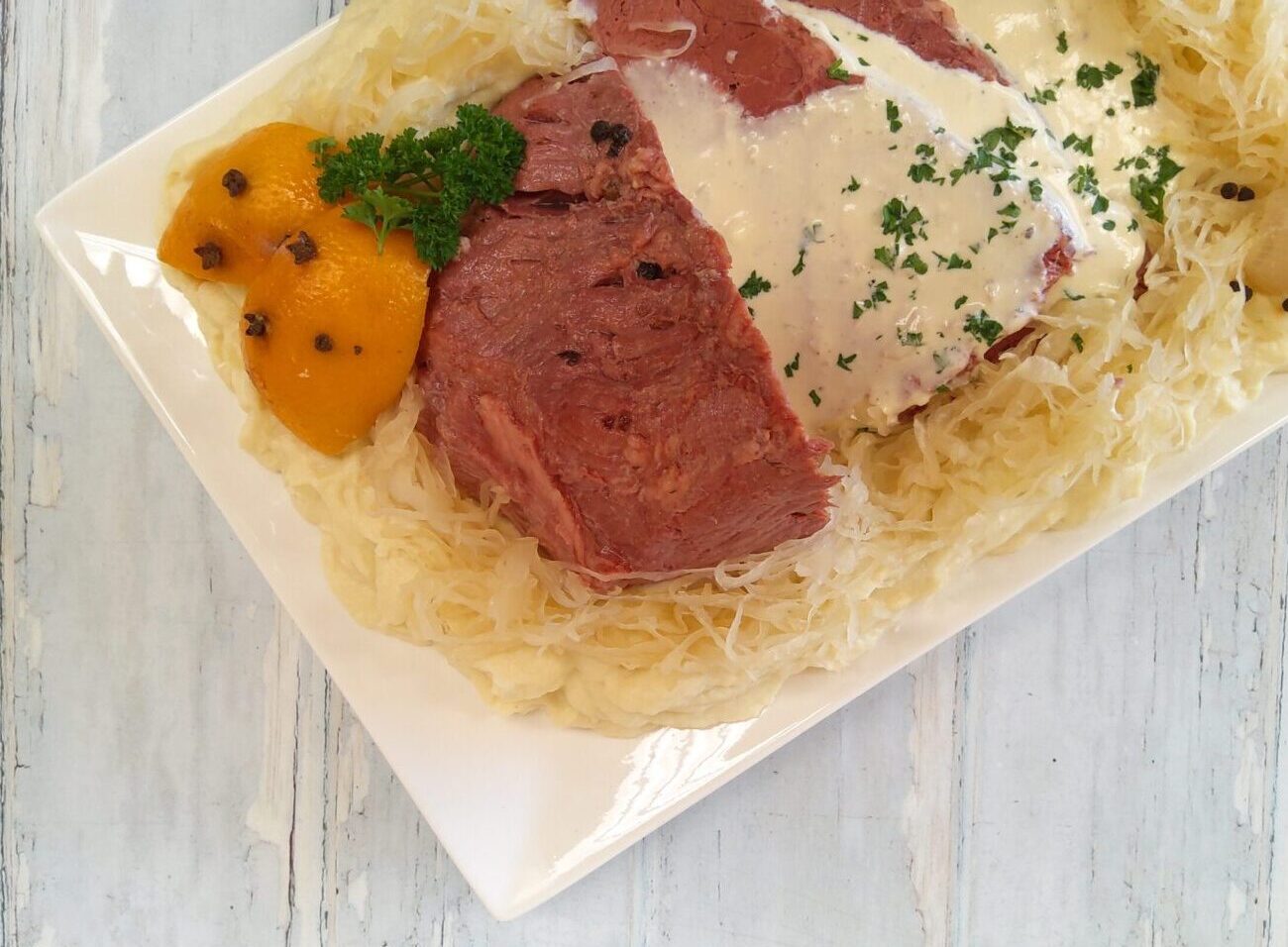 Ingredients
2

kg

/4 ½ pounds Corned/pickled/silverside beef

½

Orange studded with 6 cloves

2

Bay leaves

1

tablespoon

Erythritol

or sweetener of choice

10

Whole black peppercorns

1

Onion peeled but left whole

2

cloves

Garlic whole

¼

cup

Vinegar/ Apple Cider Vinegar or Red Wine Vinegar

4

cups

Water or enough to cover the beef
Instructions
Rinse and dry the corned/pickled beef with paper towel. Prepare your ingredients and add to your pot. Cook to your preferred cooking method- see options below.

Once you have cooked your beef according to instructions below, use a cup of cooking stock to make your white sauce. The white sauce recipe features below the cooking methods.
Stove Top Method
Add all ingredients for the stock including your beef to a large pot and bring to the boil. Reduce heat and cover. Simmer for about 30 minutes per 500 gms/1 lb or until meat is tender. This should take approximately 2 -3 hours, depending on size of your cut of beef. Once the beef is tender, remove meat from the pot and cover to keep warm. You also have the option to simmer vegetables in the pot-see instructions below.

Stove Top Simmered Vegetable Option- Remove 1 cup of stock from the pot and the onion, then add quartered potato, carrot or low carb vegetables such as cabbage quarters or cauliflower florets and simmer for the last 30-45 minutes of cooking in the same pot with the beef or until tender. Remove the vegetables from the pot with a slotted spoon then remove the beef. Place the vegetables in a large bowl and toss with butter before serving. See below for White sauce recipe!
Slow Cooker Method
Add all ingredients to the pot. Cover with a lid and slow cook on low for 6 to 8 hours or on medium/high for 4 to 5 hours. Remove beef and keep warm. You also have the option to add vegetables to the cooker towards the end of cooking as per instructions below.

Slow Cooker Vegetable Option- Remove 1 cup of stock from the pot and the onion. Add cabbage, cauliflower or higher carb carrots and potatoes(quartered) to the slow cooker pot with the beef for the last hour of cooking. Replace the lid and cook until tender along with the beef. Remove vegetables and cabbage with a slotted spoon from the pot when cooked. Remove the beef from the pot and cover with foil to keep warm. See below for White Sauce recipe.
Instapot Method
Pressure cook at High Pressure for 70 minutes then naturally release the steam for about 15 minutes. If the floating valve doesn't drop after 15 minutes, release the valve to get rid of remaining pressure and open the lid carefully. Remove the beef from the liquid and either cook vegetables in the stock as per below or follow the instructions to make your white sauce.

Instapot Vegetable Option -After removing your beef from the pot, remove 1 cup of stock and the onion from the pot. Add vegetables such as potato quarters and carrot (for the carb eaters), large cauliflower florets and wedges of cabbage to the stock in the pot. Close the lid and seal your pot, ensuring the venting knob is in sealed position. Pressure cook on High Pressure for 5 minutes and then quickly release the venting knob, releasing the steam. Open the lid carefully and remove the vegetables to serve. Toss the vegetables in butter to serve.
WHITE SAUCE WITH MUSTARD, HORSERADISH AND/OR ONION OPTION
Add 1 cup of the retained cooking stock from the cooking pot to a small saucepan. Bring the stock to boil and reduce by half. Dice the cooked onion (if desired) and add to the sauce. Blend in 3 tablespoons of cream cheese, ½ cup pure/heavy cream and 3 tablespoons of sour cream. Add 1-2 teaspoons of Dijon mustard or 1-2 teaspoons of horseradish to season. Whisk with a hand whisk to bring the sauce together. If sauce is too thick thin with additional cream.
Recipe Notes
As an alternative to simmered vegetables, serve corned beef with low carb baked vegetables such as broccoli, cauliflower, beans, Brussel sprouts. sauerkraut, braised cabbage or cauliflower mash or your favorite low carb side vegetables, such as broccoli, cauliflower, Brussel sprouts, cabbage.
Cold corned beef/silverside is brilliant to store in the fridge and to eat as a cold meat and is of course wonderful in a Reuben Sandwich.
Discard the cooking stock or strain it and used to flavor soups. It can be salty though.
You may need to adjust the amount of water you add depending on the size of the beef and also the size of your pot. You want your beef to be covered with water.
Nutritional Information
Serving:
1
serve with sauce
|
Calories:
410
kcal
|
Carbohydrates:
2.9
g
|
Protein:
22
g
|
Fat:
19.7
g
|
Fiber:
1.9
g
Note that we calculate our own nutritional values so they may not be precise. Calculate your own if desired. Carb values exclude sugar alcohols such as Erythritol, as they generally have no impact on blood sugar levels. 50% of the carbs from Xylitol is added to nutritional values. This is consistent with industry practice.
Do you want to receive more recipes like this one? Subscribe to our newsletter now!