Low Carb Pumpkin Cheesecake Pie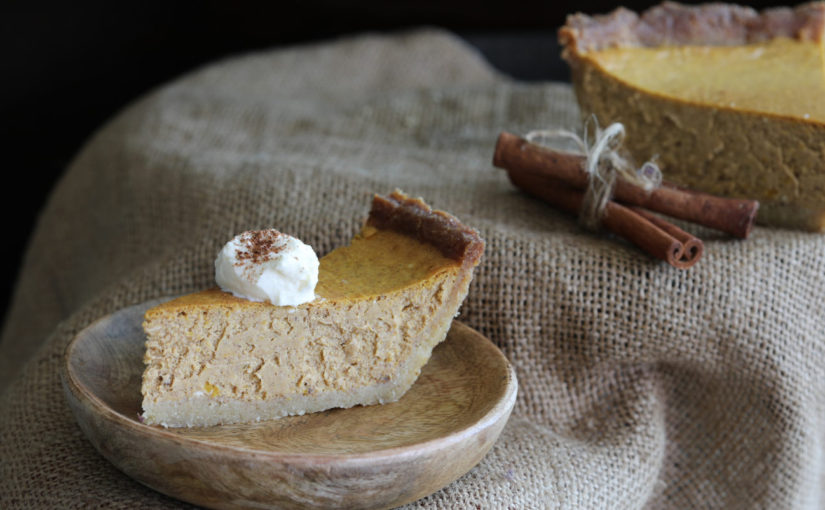 Low Carb Pumpkin Cheesecake Pie
Pumpkin Pie is not a big thing in Australia. We don't celebrate fall like you do in the States and in Canada. Having lived overseas, I have had a lot of exposure to food from these countries and so these foods aren't foreign to me like, they are for some Australians. In Australia, if we eat pumpkin, it's more likely to be a savory dish. I like the taste of both pumpkin pie and pumpkin cheesecake, especially when traditional pumpkin spice is used in the recipe. Pumpkin goes really well with the flavors of all-spice, cinnamon, nutmeg and cloves, so it's pretty hard to get it wrong. The flavor is a bit reminiscent of ginger bread, which is probably why I like those recipes so much.
This Low Carb Pumpkin Cheesecake Pie is a combination of all that I love in a pumpkin pie and a cheesecake, and you are going to love it as well. It isn't as firm as a cheesecake but it has a bit more of a creamy texture than a conventional Pumpkin Pie would. Make sure you bake this cake in a bain marie. I simply place my pie dish inside a slightly larger casserole bowl that has been filled with water, don't choose a dish that is too big or it can be too difficult to manuoevre the dishes, especially once you add the water. It is fine if your pie dish edges sit on the edge of the casserole dish as well, just so long as the water comes about 3/4 way up the pie dish.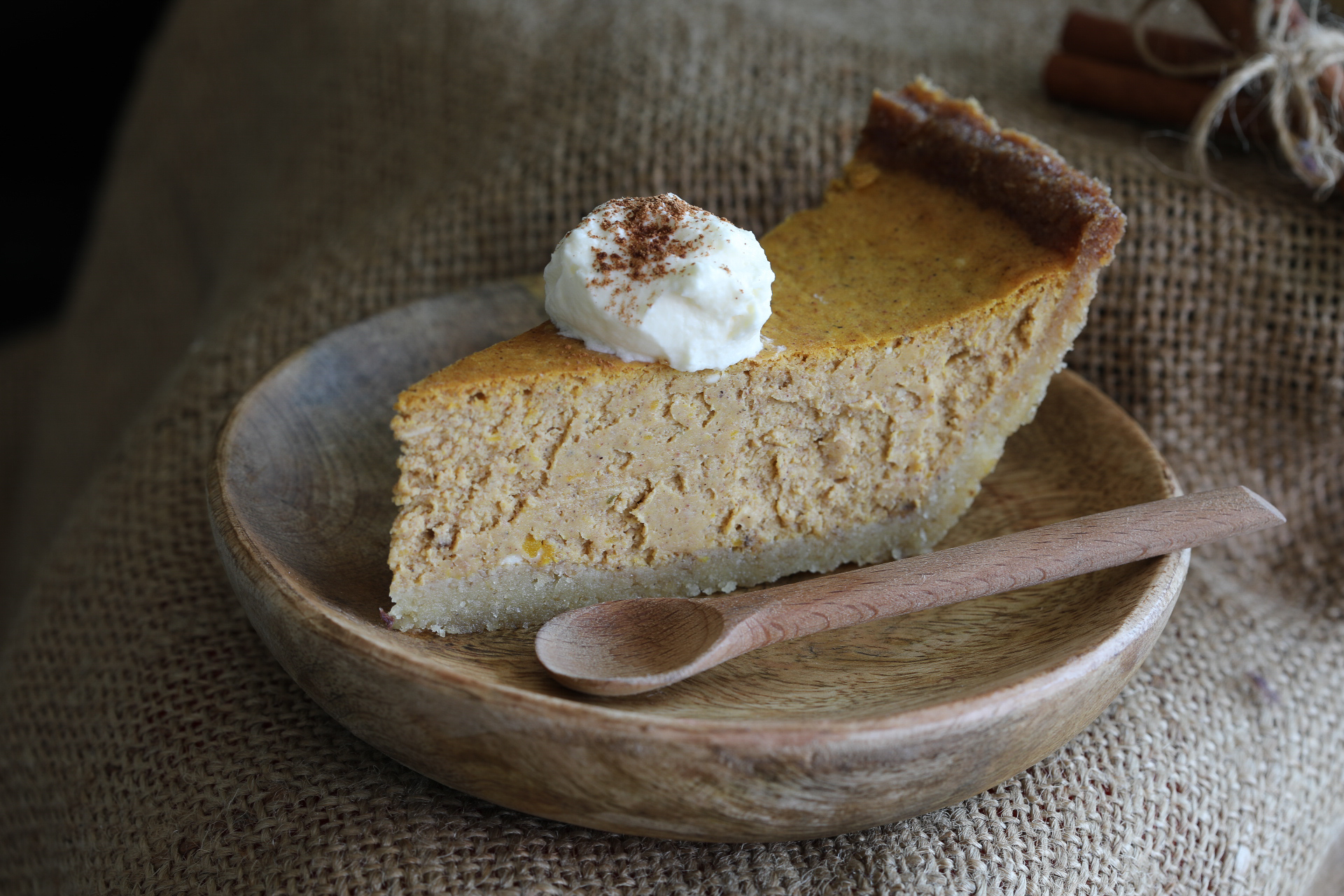 Once you have baked this, allow it to sit overnight in the fridge to firm up, as it will be so much easier to cut and will stay intact. This cake goes really well served simply with some freshly whipped cream. You can decorate it with piped cream and add pecans or just simply sprinkle it with a little cinnamon.
Pumpkin in a can just doesn't exist in Australia, so if ever I make a dish that calls for it I simply make my own by steaming, baking or boiling pumpkin. You cannot mess the recipe up as it is so simple. Just cook till soft. Remove any skin and seeds, and mash or puree till smooth.If you do boil the pumpkin, just make sure that you drain off any excess water before you mash it so the puree isn't too watery.
Preparing your Pie Base
This pie base is healthy, easy to make and very forgiving. If you get any tears or holes in your dough, simply break some off and patch with your fingers. You use your fingers to push the dough up to the edges of your pie dish. It doesn't roll out thinly, which is why I roll it out to about the width of the pie pan and then use my fingers to push it up the sides. It sounds like hard work but literally takes minutes to make. Make sure you prick the base of the pie dough as it will rise when it cooks and the holes allow you to push it back down when you take it out of the oven. Note that if your oven bakes hot, you may want to cover the pie crust edges with some aluminium foil to prevent it from cooking too much, or simply turn the temperature down a little.
If you are interested in some other ways to use pumpkin, check out these recipes for Moroccan Pumpkin Dip, Roasted Pumpkin, Spinach and Feta Quiche, and one of my all time favorite recipes, which is Lamb cutlets served with Oven Roasted Pumpkin and Haloumi.
Karen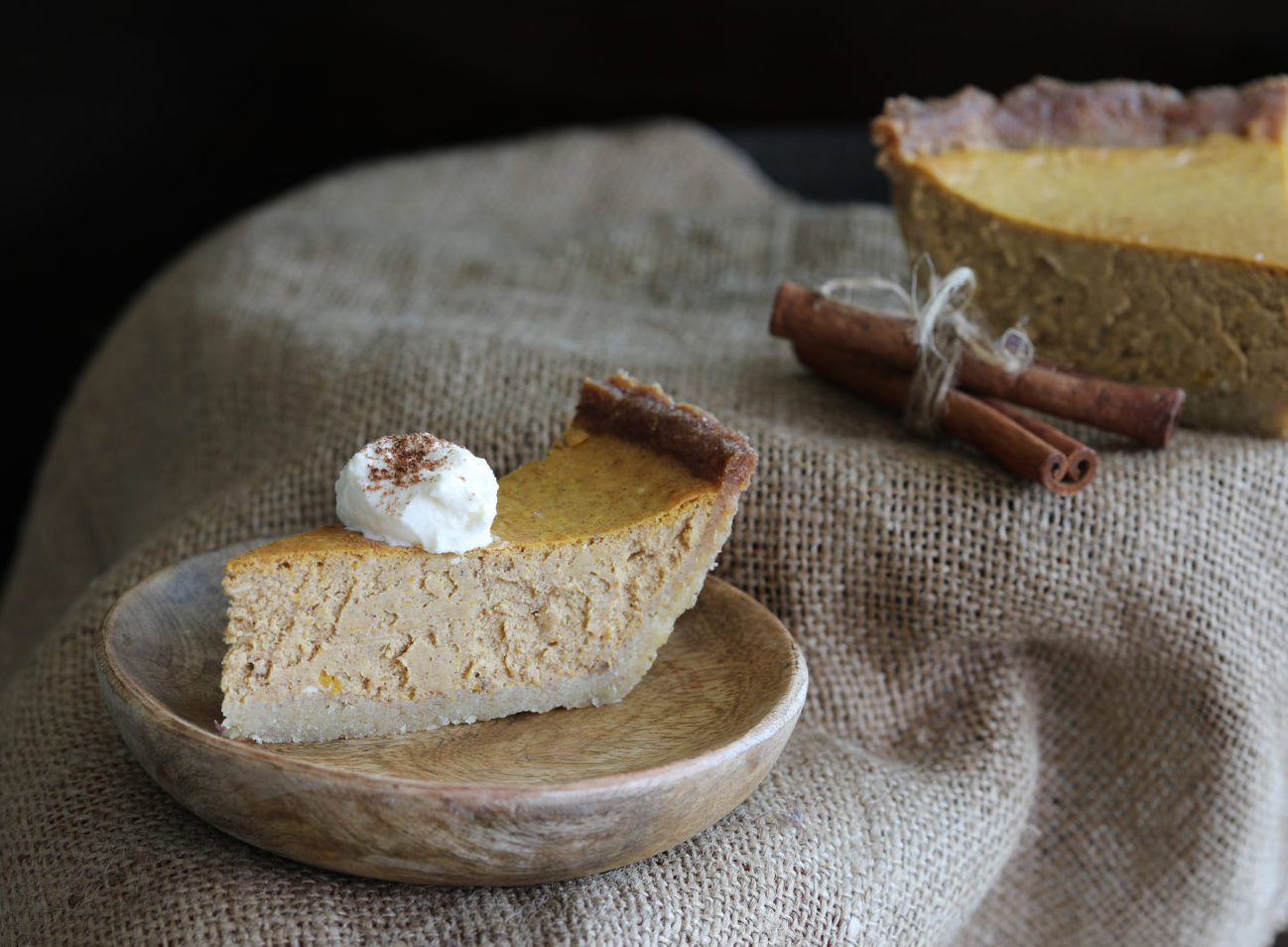 Ingredients
Pie Base Ingredients
1 1/2

cups

almond meal/flour

2

tablespoons

ground flax meal/linseed

3

tablespoons

melted butter

1-2

tablespoons

Stevia and Erythritol sweetener blend or substitute. 1 for a less sweet crust or 2 for a sweeter crust.

or to taste
Pumpkin Cheese Cake Pie Filling
200

gms

/7 oz Pumpkin Puree

200

gms

/7 oz pouring cream/pure cream

300

gms

/ 10.5 oz cream cheese

2

eggs

2

tablespoons

Stevia and Erythritol blend sweetener or preferred sweetener

1/2

tablespoon

ground cinnamon

1/4

teaspoon

ground ginger

1/4

teaspoon

nutmeg

1/4

teaspoon

all spice

1

teaspoon

vanilla extract

A pinch of cloves
Instructions
Pie Base Method
Preheat your oven to 160 C/325 F.

Mix all ingredients together into a large ball and allow to sit for 15 minutes, covered in the fridge.

Place dough between 2 pieces of baking paper and roll out to the approximate width of the base of your pie dish.

Remove the top piece of baking paper and flip the dough in to your pie pan. If it splits, simply mend and patch using your fingers. Use your fingers to work the dough up the side of the pie pan. Use your fingers to press down on the top edge to create a nice smooth, even edge. Try to make sure the dough is fairly even in thickness. Prick the base all over with a fork.

Bake in the oven for 15-20 minutes. If it puffs up, gently push it back against the pie dish.
Filling Method
Beat the cream cheese until soft and creamy. Add the spices and continue beating till well combined.

Continue beating the cream cheese, adding the eggs one at a time until well combined.

Add the cream and the pumpkin and continue beating till well combined.

Pour the filling into the base and smooth off the top.

Place your pie into a slightly larger casserole dish and have it right next to the oven, or position it ion the tray, slid out of the oven. Pour hot water into the casserole dish so it comes about 3/4 way up the side of the pie dish.

Bake in the oven of 40-50 minutes at 160 C/325 F Fan Forced.

Turn the oven off and allow the pie to cool in the oven, with the oven door ajar for about 1 hour.

Allow pie to sit overnight in the fridge to cool and firm before serving.

Sprinkle with a little cinnamon and serve with freshly whipped cream.
Nutritional Information
Serving:
1
serve
|
Calories:
169
kcal
|
Carbohydrates:
2
g
|
Protein:
1
g
|
Fat:
16
g
|
Fiber:
1
g
Note that we calculate our own nutritional values so they may not be precise. Calculate your own if desired. Carb values exclude sugar alcohols such as Erythritol, as they generally have no impact on blood sugar levels. 50% of the carbs from Xylitol is added to nutritional values. This is consistent with industry practice.
Do you want to receive more recipes like this one? Subscribe to our newsletter now!