Spinach and Ricotta Crustless Quiche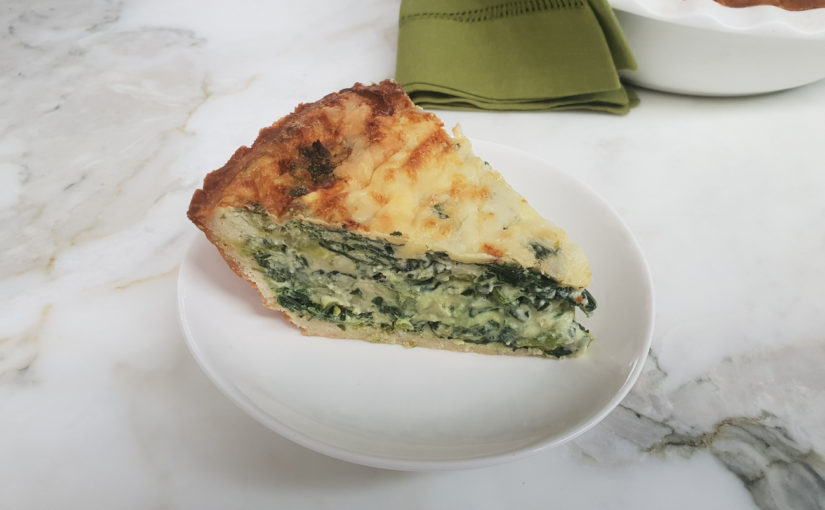 Spinach and Ricotta Crustless Quiche
Recipes likethis easy to make Spinach and Ricotta Crustless Quiche are perfect for anyone looking for a healthy low carb meal option. Perhaps one of my favorite things about this recipe is that it means that your lunch options are sorted as well. Being quite a substantial recipe means you are guaranteed left overs that freeze superbly as well.
The Best Crustless Base Recipe
Creating a pie crust can be so time consuming, so I was keen to develop an instant crustless base recipe. Rub your pie dish with butter and add a mixture of grated Parmesan cheese combined with almond meal and your 'crust' is done. Not only does this add a delicious crust but it also stops foods from sticking to your dish as well. If you're catering for nut allergies, simply use 100% grated Parmesan cheese for the crust. Note that if you want to make this recipe with a pastry base, there is a recipe for low carb pastry in the notes below.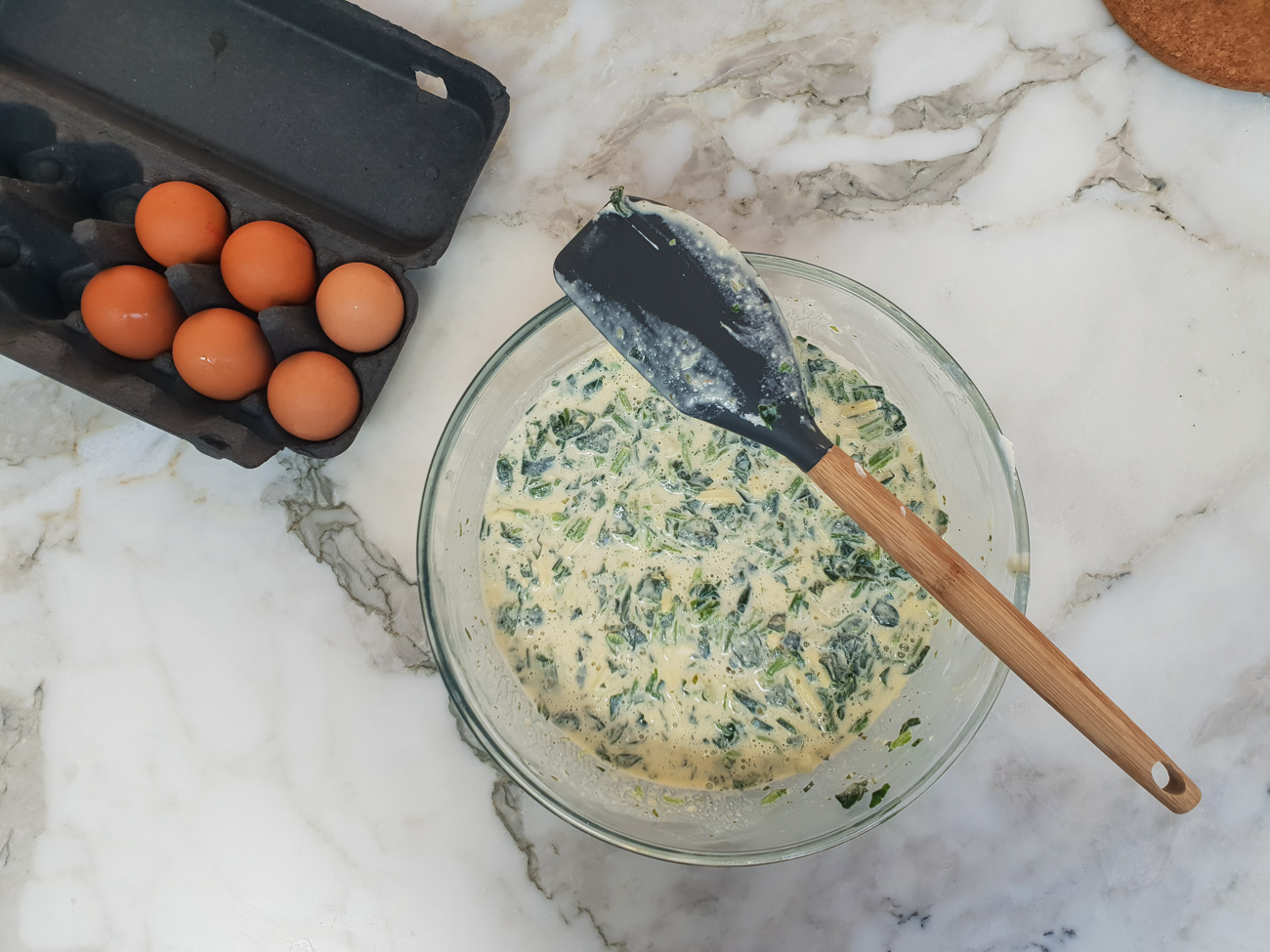 Spinach Options
Switch the frozen spinach for a large bag (280 gms/10 oz) of fresh baby spinach. Simply add it fresh, as it is and poke any parts of the spinach back into the mix in the quiche dish before baking. Don't be too concerned about sticky out bits, as the quiche still cooks up beautifully. Alternatively cook the spinach off ever so slightly to soften and reduce slightly. You can also steam or microwave it just until you have reduced the bulk but still have the leaf look. Don't reduce the spinach down too much and keep an eye on it as it doesn't take long to reduce.
Low Carb, Keto and Gluten Free Quiche Options
Looking for some other delicious quiche options a little similar to this recipe? Be sure to check out these recipes.
Roasted Pumpkin Spinach Feta  Quiche
Mushroom Goats Cheese Quiche
Zucchini Slice
One more option that you could consider is this delicious recipe for Low Carb Quiche Lorraine. While it does feature a delicious pie crust, it can also be made crustless as well.
Don't you love it when you make a dish and know that you have your lunch sorted for the next few days. Definitely my favorite kind of recipe.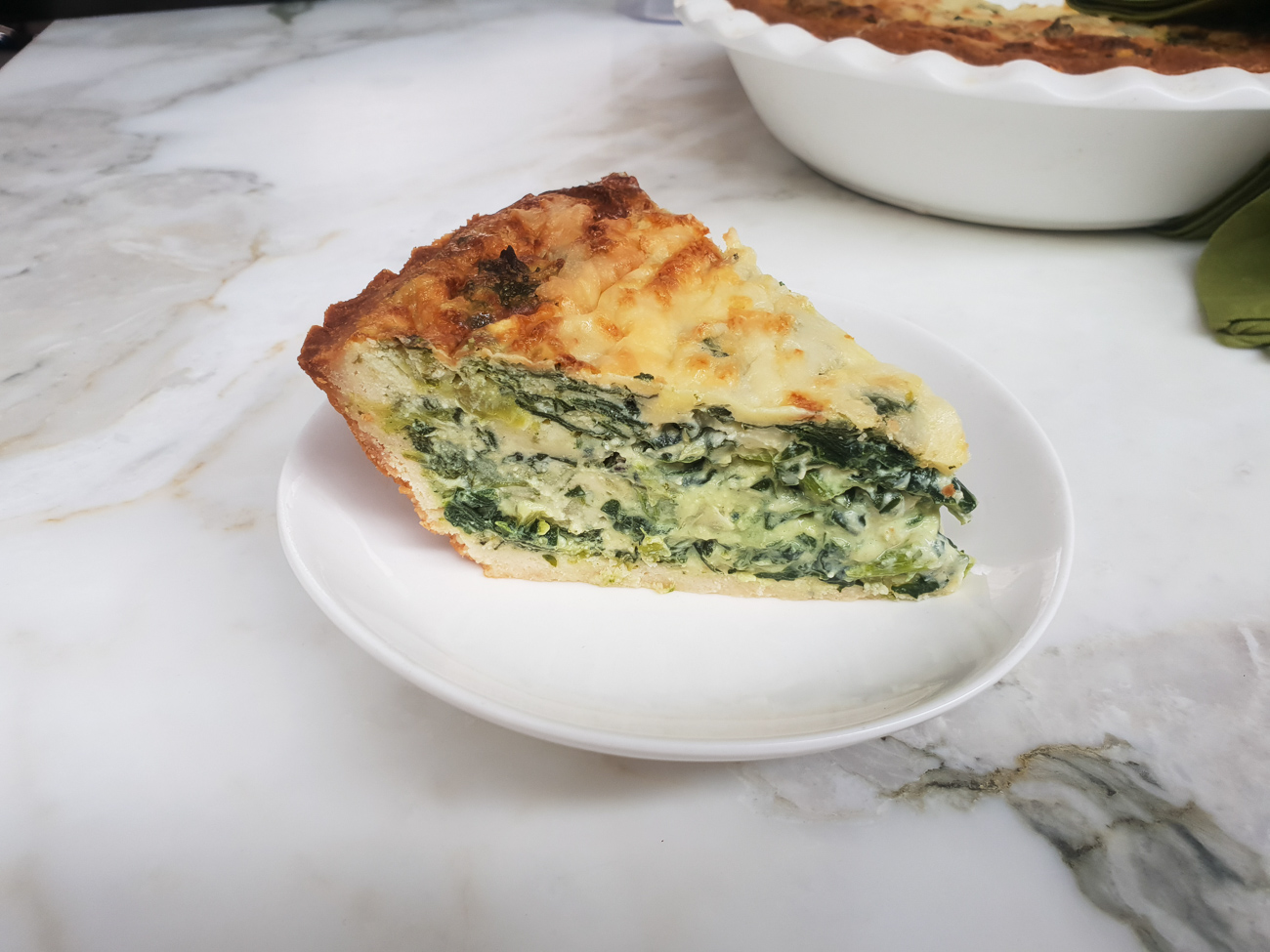 Ingredients
6

large eggs

375

gms

ricotta cheese smooth

¾

cup

pure /heavy cream- full fat

500

gms

frozen chopped spinach defrosted and juice drained

Fresh baby spinach can be used as well

1

medium

onion finely chopped

3

teaspoons

minced garlic

1

cup

grated tasty cheese

2

tablespoons

chopped chives or spring onions

Salt and Pepper to taste

1

tablespoon

coconut flour

for stabilising-optional
Prepare The Crust
Room temperature butter to rub on the baking dish

2

tablespoons

grated parmesan cheese

1

tablespoon

almond meal/almond flour
Instructions
Preheat oven to 170 C/350 F fan forced

Prepare an 20-26 cm/8-10" flan or quiche pan by rubbing it liberally with butter on the base and up the sides.

Mix the Parmesan cheese and almond meal together and sprinkle on the prepared pan, shaking the dish to evenly distribute all over.

Beat the eggs well and whisk in the ricotta cheese and cream.

Mix the spinach, diced onion, grated cheese, garlic, chives/spring onions and coconut flour (if using) into the egg mix, mixing well. Season with salt and pepper

Pour into the prepared quiche pan, ensuring the ingredients are well dispersed over the surface of the pan. Move them around and poke bits in if need be.

Bake for approximately 40-50 minutes or until cooked in the centre.
Variations
Omit the almond meal and increase the amount of Parmesan cheese added to the crust to make this recipenut free.

Use 280 gms/ 10 oz fresh baby spinach in place of the frozen spinach. Bits of spinach leaf will stick out of the quiche mixture when you mix it in and pour it into the dish but it still cooks up beautifully. Just poke the bits back in if you can. If you want to remove a tiny amount of the bulk of the fresh spinach, microwave in 10-20 second blasts to reduce a tiny amount of the bulk. You still want the leaf to look like a leaf.

Add ½ cup of chopped feta cheese for variation.

Use the quiche filling in a pastry base if you aren't worried at all about the carbs - but do try this version first as it tastes amazing☺ You could also make a low carb crust base by following the instructions for the pie crust in this recipe for Low Carb Quiche Lorraine
Recipe Notes
Pastry Base Option
200 gms almond flour/almond meal
40 gms coconut flour
1 teaspoon psyllium powder
1 teaspoon xanthan gum or use 2 teaspoons of additional psyllium powder
100 gms butter
1 tablespoon cream cheese
1 egg
A pinch of salt
Instructions
Place all ingredients in a food processor and blitz until processed and combined. Alternatively roughly chop the butter and cream cheese then zap in the microwave until just soft but not melted. Use a fork to break up the chunks. Add the remaining tart base ingredients and stir until just combined taking care not to over mix. Tip mixture out onto a bench and bring together using your hands. Don't over mix. Shape into a ball and refrigerate covered until the dough firms up- for about 30 minutes.
Line a 20-25 cm quiche dish with the dough. Either roll out the dough with a rolling pin between 2 sheets of baking paper or use your fingers to press the dough into the sides and base of the dish. If the dough tears use your fingers to patch it. Create a nice line along the edges by using your fingers to shape it. Trim with a knife if need be. If dough is too soft to use, refrigerate until it firms.
Use a fork to prick the base all over. Bake at 165C/ 330 F fan forced for 10 minutes. Allow to cool while you prepare your filling.
Full instructions to make a savory pastry base and a video featuring how to make this can be found at https://ketohh.com/low-carb-quiche-lorraine/
Nutritional Information
Serving:
1
serve
|
Calories:
282
kcal
|
Carbohydrates:
5
g
|
Protein:
15
g
|
Fat:
23
g
|
Fiber:
2
g
Note that we calculate our own nutritional values so they may not be precise. Calculate your own if desired. Carb values exclude sugar alcohols such as Erythritol, as they generally have no impact on blood sugar levels. 50% of the carbs from Xylitol is added to nutritional values. This is consistent with industry practice.
Do you want to receive more recipes like this one? Subscribe to our newsletter now!