Sugar Free BBQ Pork Ribs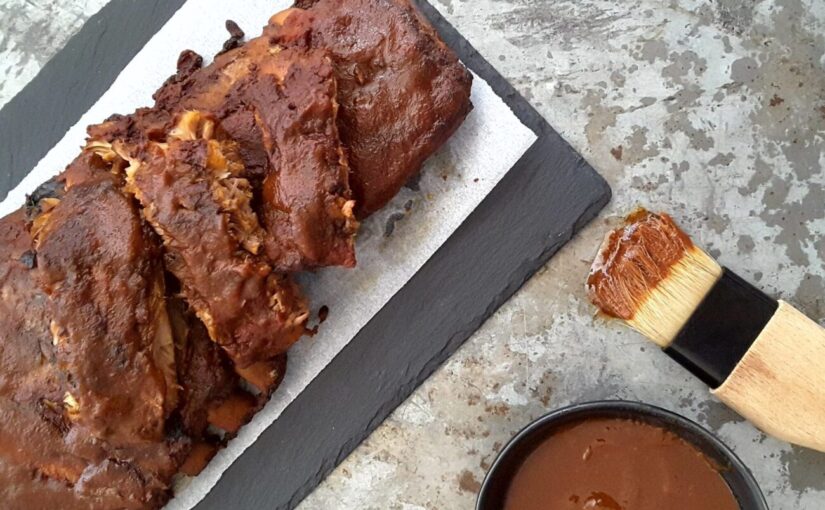 If you are a rib fan then you are going to absolutely love this delicious recipe for Sugar Free BBQ Pork Ribs. Being keto kosher means I get to enjoy a serve of these without the lashings of sugar used to make regular BBQ ribs. This fabulous recipe has made me extremely happy as it means ribs are back on the menu again. There's no compromise with flavors either as you will discover when you sit down to a serve of these.
BBQ SAUCE AND TOMATO SAUCE/KETCHUP- MAKE YOUR OWN OR USE STORE BOUGHT
This recipe for sugar free BBQ pork ribs was developed using store bought sugar free BBQ and tomato sauce/ketchup. In Australia, I often buy the 'Celebrate Health' brand BBQ and tomato sauce/ketchup from my local Coles supermarket. I also make my own sugar free tomato sauce/ketchup and a sugar free BBQ sauce. Both of these recipes also work really well in this dish.
For my homemade  Sugar Free Tomato Sauce/Ketchup  follow this recipe. For an equally simple to make home made Sugar Free BBQ Sauce, make sure you check out this recipe as well. These are great options for those of you who can't source commercial brands and mean you still get to enjoy these delicious sugar free bbq pork ribs.
BBQ SEASONING MIX
For the best Low Carb BBQ Seasoning Mix, make sure you check out this simple to make recipe. I use this as a rub in so many recipes and the flavors are amazing. Feel free to use a store bought one if you don't have the time or the ingredients to make your own. I like plenty of flavor in my ribs so am pretty generous with my rub. Feel free to alter the amount specified in the recipe to suit your taste but remember that it does have a lot of flavor.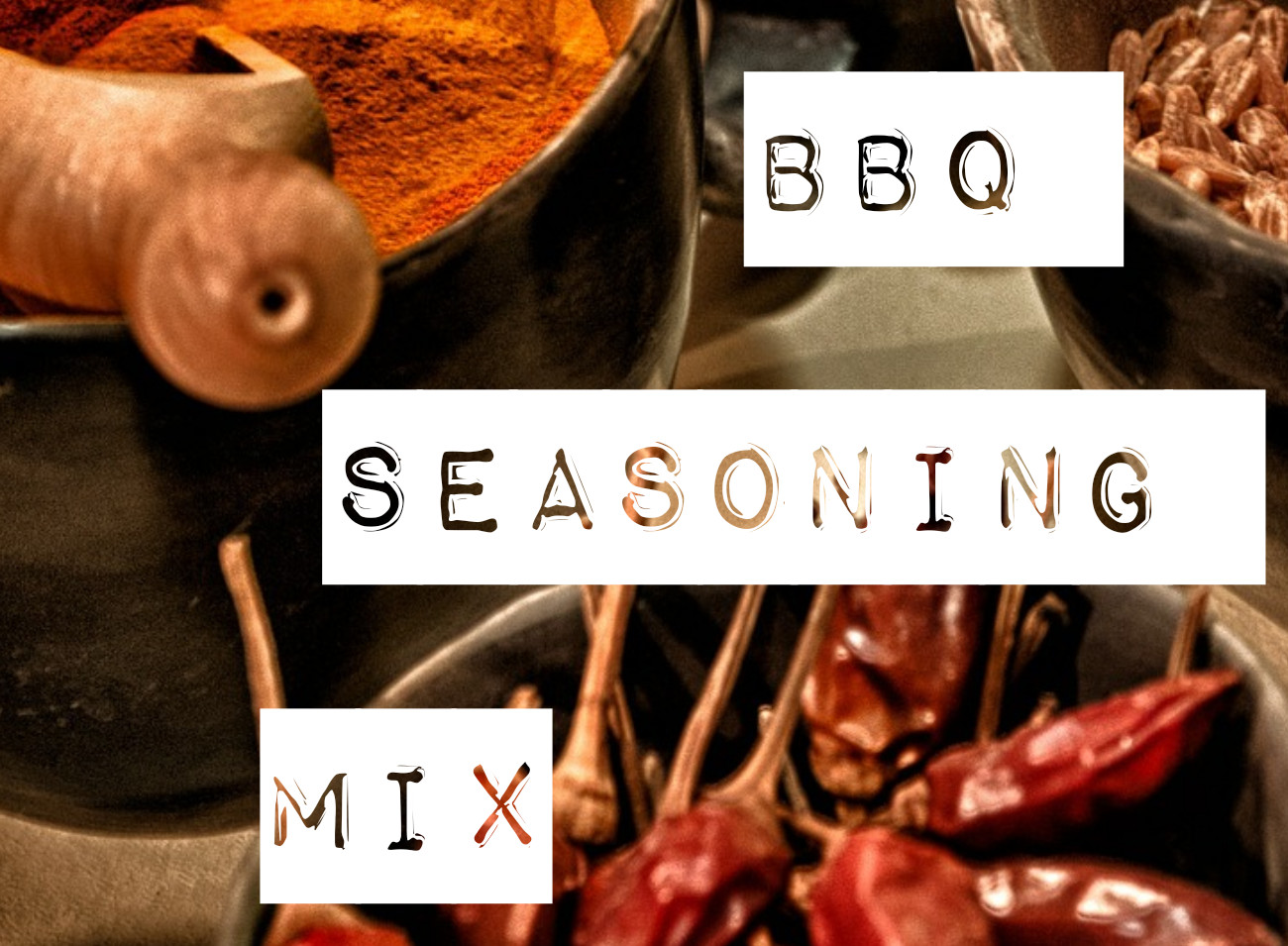 PORK OR BEEF RIBS
My personal favorite ribs to use in this recipe is pork ribs. I've been sourcing mine from ALDI, and they cook up beautifully and just melt in your mouth. I've also tried beef ribs as well and they work well although they generally need a longer cooking time due to the thickness of the meat on the ribs. As a general rule, finer ribs will cook as per the times in the recipe. For thicker ribs, you may have to allow up to 3-4 hours of slow cooking for them to become tender and fall off the bone.
FINISHING OFF YOUR RIBS
You can use the oven to finish off your ribs as per the recipe or alternatively, baste your ribs and BBQ them on on each side. I generally use the oven method as it creates less mess but the BBQ method will caramelize your ribs more.
SERVING SUGGESTIONS
One of my favorite ways to eat ribs is with a simple serve of Keto Slaw on the side. Check out this recipe for Asian slaw or this classic slaw recipe for the perfect side. If you want to serve a more substantial slaw, this recipe for Asian Slaw with Konjac Noodles is a great choice as well.
I can't wait to hear your thoughts on this fabulous recipe.
Enjoy
Kxx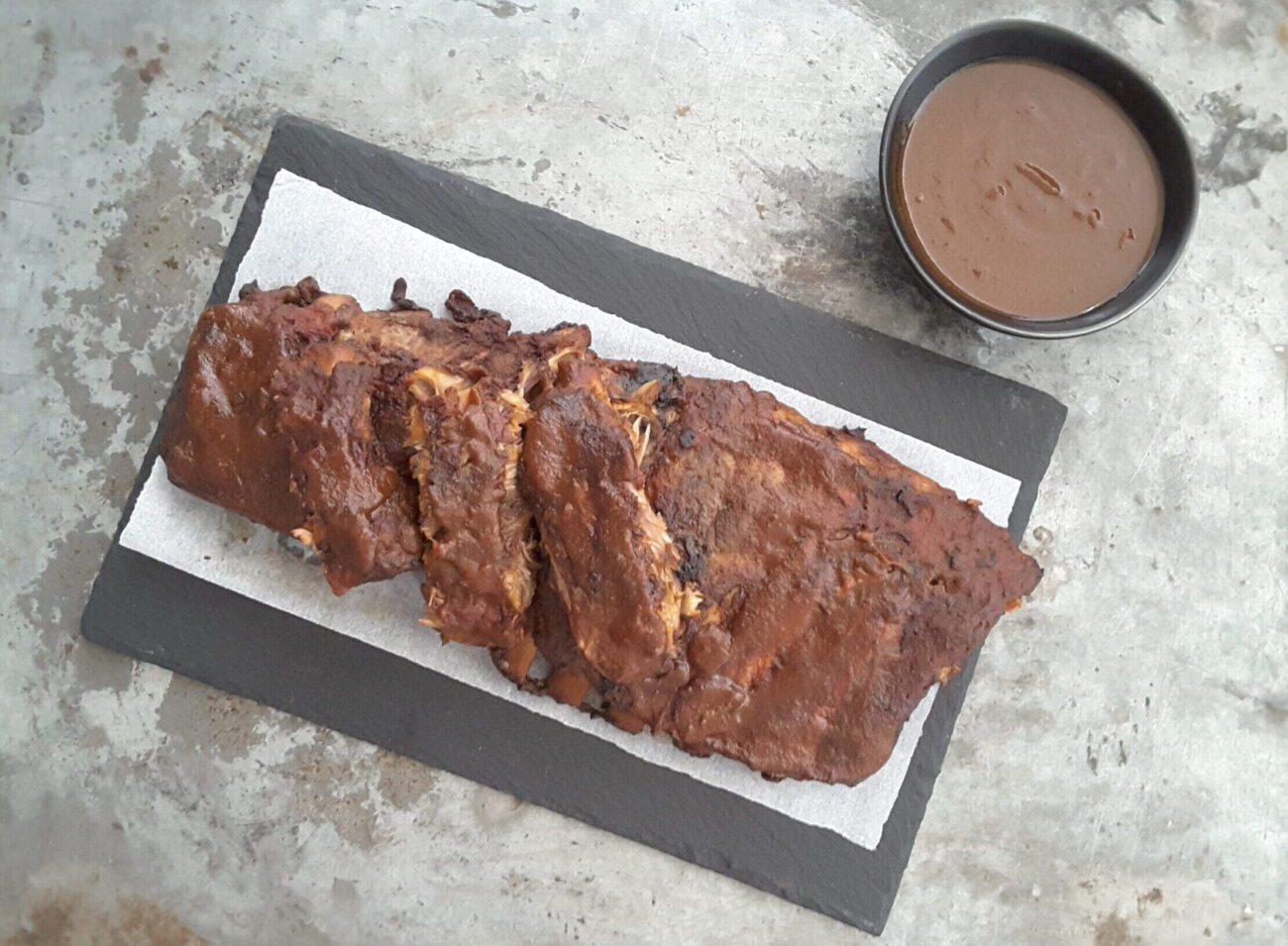 Ingredients
4

racks

pork ribs

1

tablespoon

olive oil

2

tablespoons

BBQ Spice Mix

or your favorite BBQ rub

2

tablespoons

Apple Cider Vinegar- ACV

for below the ribs
Instructions
Preheat oven to 160 C/320 F and move the rack to the middle position in the oven. Use a glass oven proof baking dish or line a large baking tray/pan with foil. Ensure the tray will allow the ribs to sit flat..

Drizzle olive oil on both sides of ribs. Sprinkle the BBQ spice mix on both sides and massage into the ribs. Pour 2 tablespoons of ACV- apple cider vinegar onto the base of the baking tray/foil. Place the ribs into the baking tray meaty side up.

Cover the ribs with foil, sealing around the edge of the baking tray. Bake for 2 to 2 ½ hours or until the meat is tender enough to fall off the bones.

While the ribs are cooking, combine all of the Rib BBQ Sauce ingredients together and whisk until well blended. Set aside.

Remove the foil and spoon the Rib BBQ Sauce onto the back and front of the ribs. Be more generous with the sauce on the meaty side of the ribs. Increase the oven temperature to 180 C/ 360 F.

Place the ribs back in the oven, meaty side down and cook for a further 10 minutes or until they start to brown slightly. Remove ribs from the oven and turn them over meaty side up, cooking for a further 10 minutes or until the ribs start to brown slightly.

Serve with your favorite sides.
Recipe Notes
Temperature times are for finer cut of pork ribs. If your ribs are thicker and meatier, you may have to cook them initially on the lower temperature. For eg, I have baked thicker beef ribs and they have taken 3-4 hours to reach the fall off the bone stage.
You can use the grill and bake function in your oven if desired for the final cooking stage but please watch your ribs to ensure they don't brown too much before turning them over. This might only need 5 minutes on each side.
If you have BBQ sauce left over, it can be frozen for use at another date, or heat it up and use as additional rib sauce.
Nutritional Information
Serving:
1
serve
|
Calories:
456
kcal
|
Carbohydrates:
3.3
g
|
Protein:
36
g
|
Fat:
29
g
|
Fiber:
0.7
g
Note that we calculate our own nutritional values so they may not be precise. Calculate your own if desired. Carb values exclude sugar alcohols such as Erythritol, as they generally have no impact on blood sugar levels. 50% of the carbs from Xylitol is added to nutritional values. This is consistent with industry practice.
Do you want to receive more recipes like this one? Subscribe to our newsletter now!