Sugar Free Sweet Chili Sauce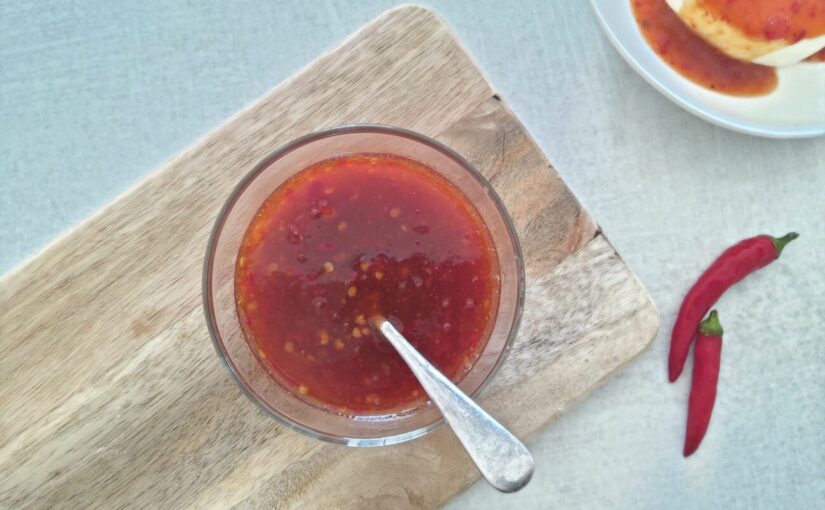 Sugar Free Sweet Chili Sauce
Sugar Free Sweet chili Sauce is the perfect home made replacement for Sweet Thai chili sauce or Nam Chim Kai. It's a popular condiment found in supermarkets and served in restaurants. It's commonly made with red chili peppers, vinegar/rice wine vinegar, garlic, ginger, fish sauce and a sweetening ingredient. Not only is this recipe low in carbs but it's gluten free as well.
To keep this sauce sugar free I have replaced the sugar used in the original recipe with a low carb sweetener. The remaining ingredients are the same although if using rice wine vinegar check sugar the sugar content. Many rice wine vinegars are high in sugar but there are some low sugar varieties available.
How To Serve Sugar Free Sweet Chili Sauce
This sauce tastes particularly great served with chicken and fried fish. It also goes really well with spring rolls, fish cakes, prawn toast, egg rolls, lettuce wraps and chicken wings. Use this delicious sauce to dress salads but also in hot dishes to impart some sweet chili flavors.
Regular sweet chili sauce is generally laden with sugar and can have a big impact on blood sugar levels. Home made Sugar Free Sweet Chili Sauce is so quick and easy to make that won't ever have to buy sweet chili sauce again nor worry about the sugar content.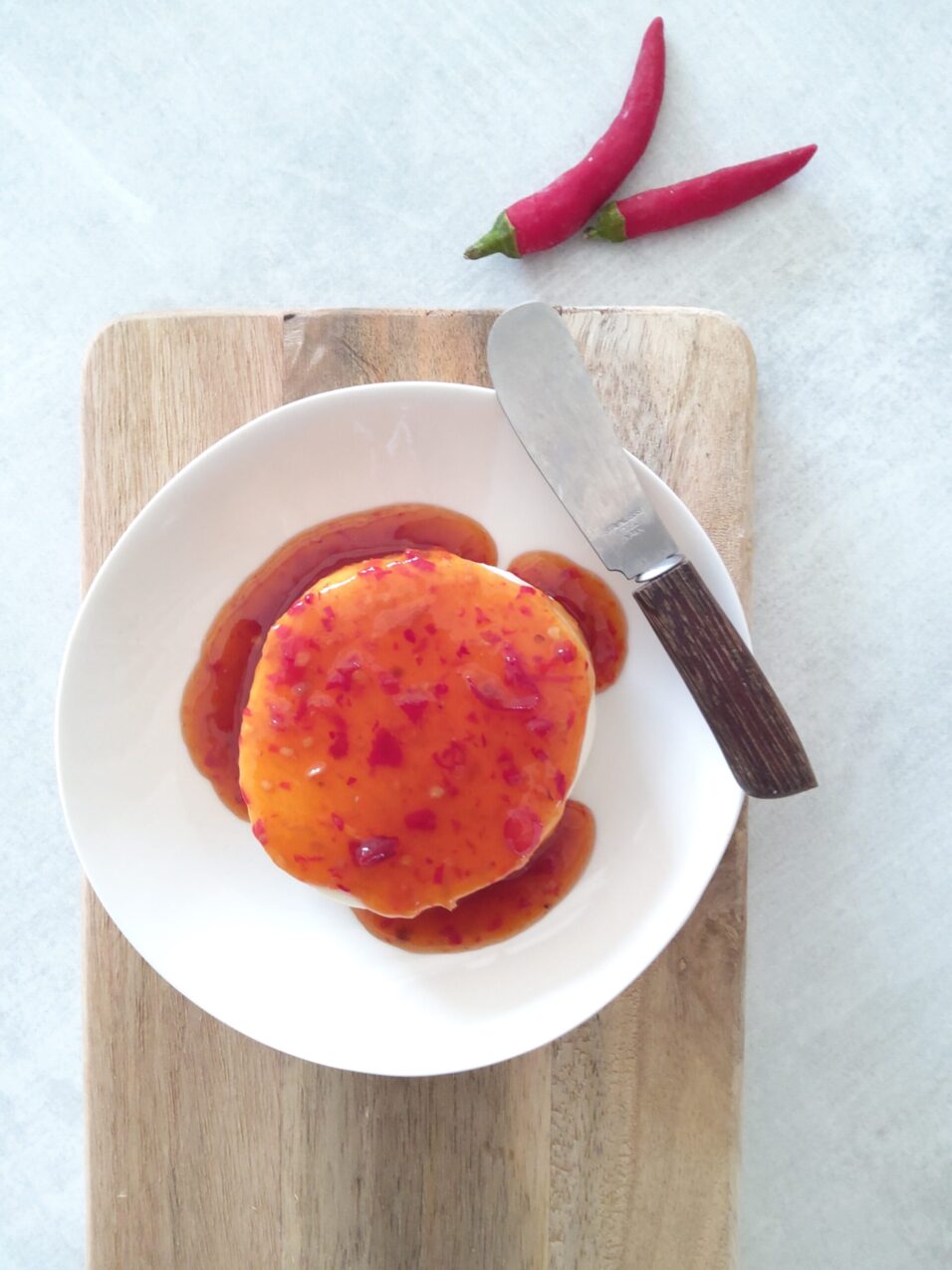 Sugar Free Sweet Chili Sauce Ingredients
This is the best low carb sweet chili sauce recipe and it's so easy to make! You only need a few things to easily make your own. It also means that there are no preservatives in your sauce, unlike other mass produced versions. You can use dried chili flakes to replace the fresh chili but make sure you reduce the amount to about 1/2 to 1 tablespoon. This will be dependent on how spicy you want your sauce. If you want to up the spice in this sauce, you can also add more chili than specified in the recipe.
While the recipe specifies using fish sauce, you can also switch it out for tamari, coconut aminos or soy sauce. The recipe can also be made without this but it does counterbalance the sweetness of the sauce.
Tips For Slicing Fresh Chili
Use a sharp knife and cut the top off of the pepper. Slice your chili/pepper in half and use the knife to scrape the seeds out. Make sure you don't touch your face or eyes while doing this, nor for a while afterwards as it can really burn.
Serving Ideas
Make sure you try this sauce as a dip, over room temperature cream cheese for one of my favorite serving ideas. It goes really well served with all forms of chicken, including these fabulous recipes for KFC oven fried chicken and these deliciouschicken wings. It can also be used to dress salads and in hot dishes such as stir fry's to add a little sweet zing.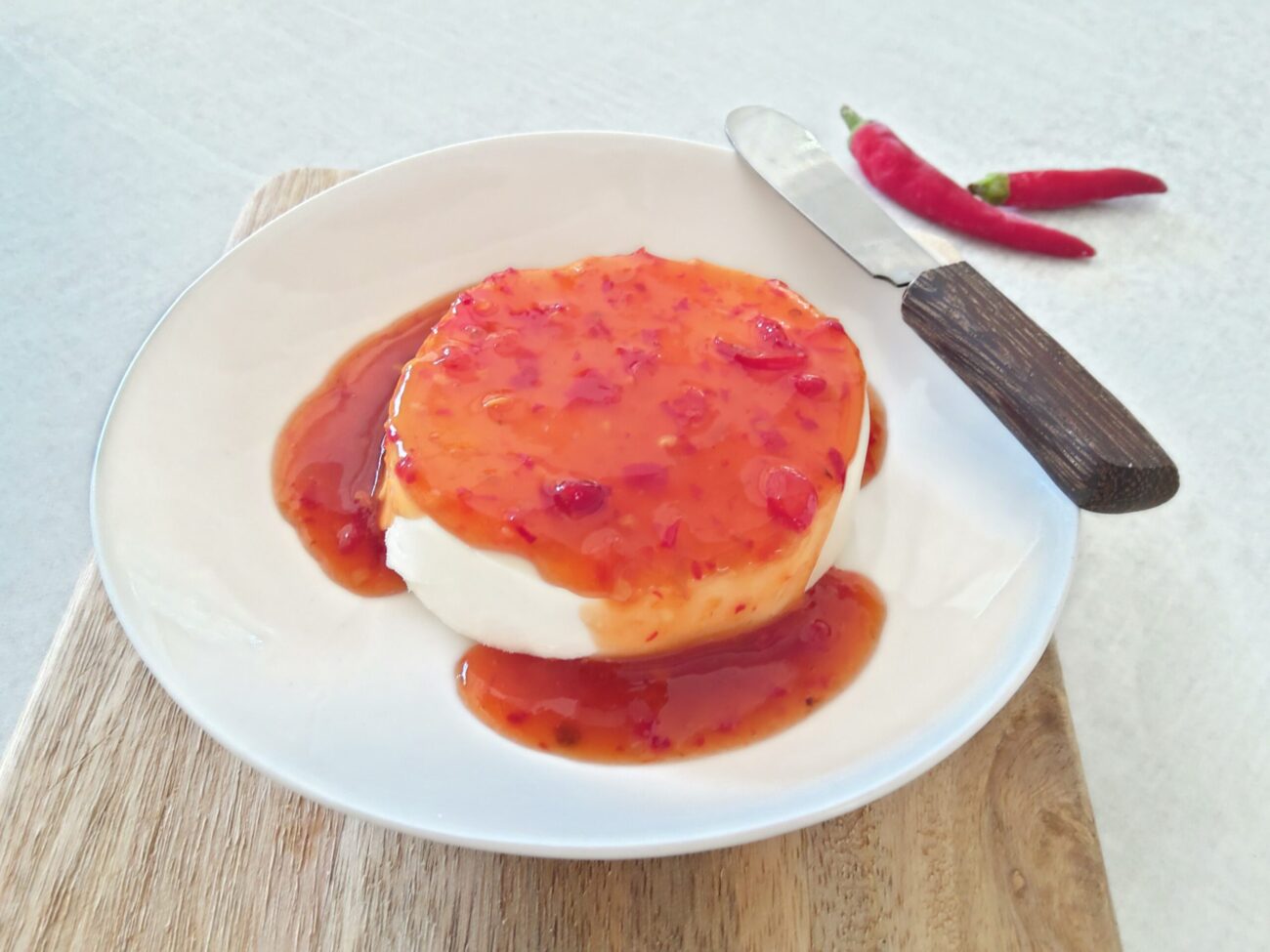 Ingredients
⅓

cup

water

⅓

cup

vinegar

or rice wine vinegar

⅓

cup

monk fruit

or your favorite low carb sweetener

2

tablespoons

fresh (mild) red chili/pepper deseeded and finely chopped

or ½ tablespoon of dried red chili/pepper

1

teaspoon

minced ginger

1

teaspoon

minced garlic

½

teaspoon

fish sauce/tamari or coconut aminos

⅓

teaspoon

xanthan gum

optional
Instructions
In a small heavy based saucepan combine the water, vinegar, sweetener, chili/pepper, fish sauce, ginger and garlic.

Bring the mixture to boil then allow to gently simmer for another 8-10 minutes watching to ensure it doesn't overcook and reduce too much.

Take the chili sauce off the heat and sift the xanthan gum over the sauce. Whisk well until it dissolves into the sauce. if there are lumps, use the back of a teaspoon to squish against the side of the pan. The sauce will continue to thicken as it cools.

Store the sauce in the fridge for up to 2 weeks in a clean airtight jar. If the sauce crystallizes or clouds up at all (because this is what most sweeteners do) simply heat it up a little in the microwave and the sauce will clarify again. Sauce can also be frozen but you will probably have to heat it up to clarify it.
Recipe Notes
Most sweeteners crystallize when heated in recipes like this. It is normal and can be resolved by heating the sauce gently to return to it's desired state.
Adjust the amount of chili used to suit your tastes. For a very mild sauce reduce the chili by at least a half. To up the spice, increase it to suit your taste. If using dried chili, adjust the amount used to suit remembering that it is very concentrated.
Sambol Olek can be used in place of fresh or dried chili. If using a really spicy chili like Thai or birdeye chili,  you may want to reduce the amount of chili you use as the recipe is based on using mild chili.
One of my favorite ways to serve this sauce is drizzled on top of room temperature cream cheese and served as a dip. Chopped coriander/cilantro on top finishes this off beautifully.
Nutritional Information
Serving:
2
tablespoons
|
Calories:
9
kcal
|
Carbohydrates:
0.7
g
|
Protein:
0.2
g
|
Fiber:
0.1
g
Note that we calculate our own nutritional values so they may not be precise. Calculate your own if desired. Carb values exclude sugar alcohols such as Erythritol, as they generally have no impact on blood sugar levels. 50% of the carbs from Xylitol is added to nutritional values. This is consistent with industry practice.
Do you want to receive more recipes like this one? Subscribe to our newsletter now!