The Best Keto Waffles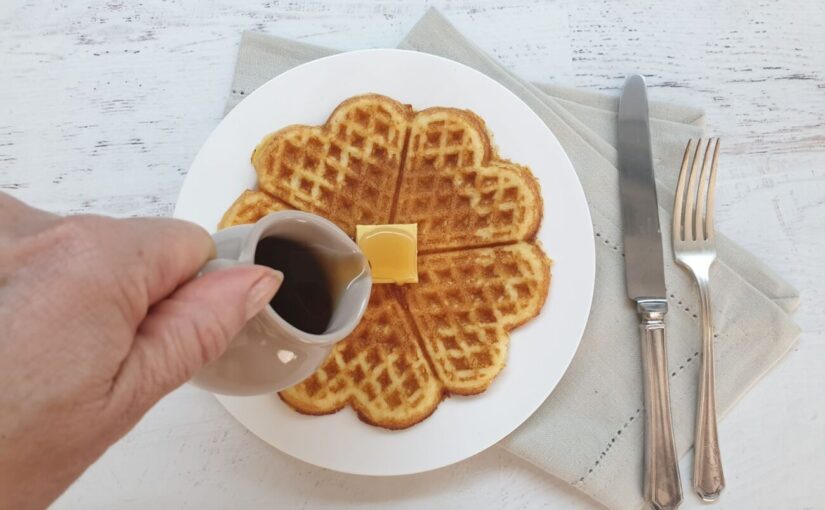 Are you ready for a serve of The Best Keto Waffles? My waffle iron has sat in the cupboard unused until the recent chaffle craze hit. Since reducing the carbs in my life it never occurred to me that I could enjoy low carb waffles. Sadly (not) I've been experimenting with this recipe for weeks now so I have certainly eaten my fair share of waffles. I'm really happy with the end result and I think you are going to absolutely love this recipe. Not only are these really easy to throw together but they taste delicious as well. They are also reasonably healthy as well so are a great low carb or keto breakfast option.
While I have had some fun developing a couple of chaffle recipes, including these fabulous savoury recipes for Chinese Breakfast Chaffle and a keto Japanese Okonomiyaki Chaffle, I didn't want to use cheese to make a conventional waffle. I'm not sure about you but I eat a fair amount of cheese, so I try to avoid using it in sweet recipes wherever I can. The proof though is definitely in the pudding, so I urge you to try this delicious recipe for the best keto waffles. What a fabulous way to start the day!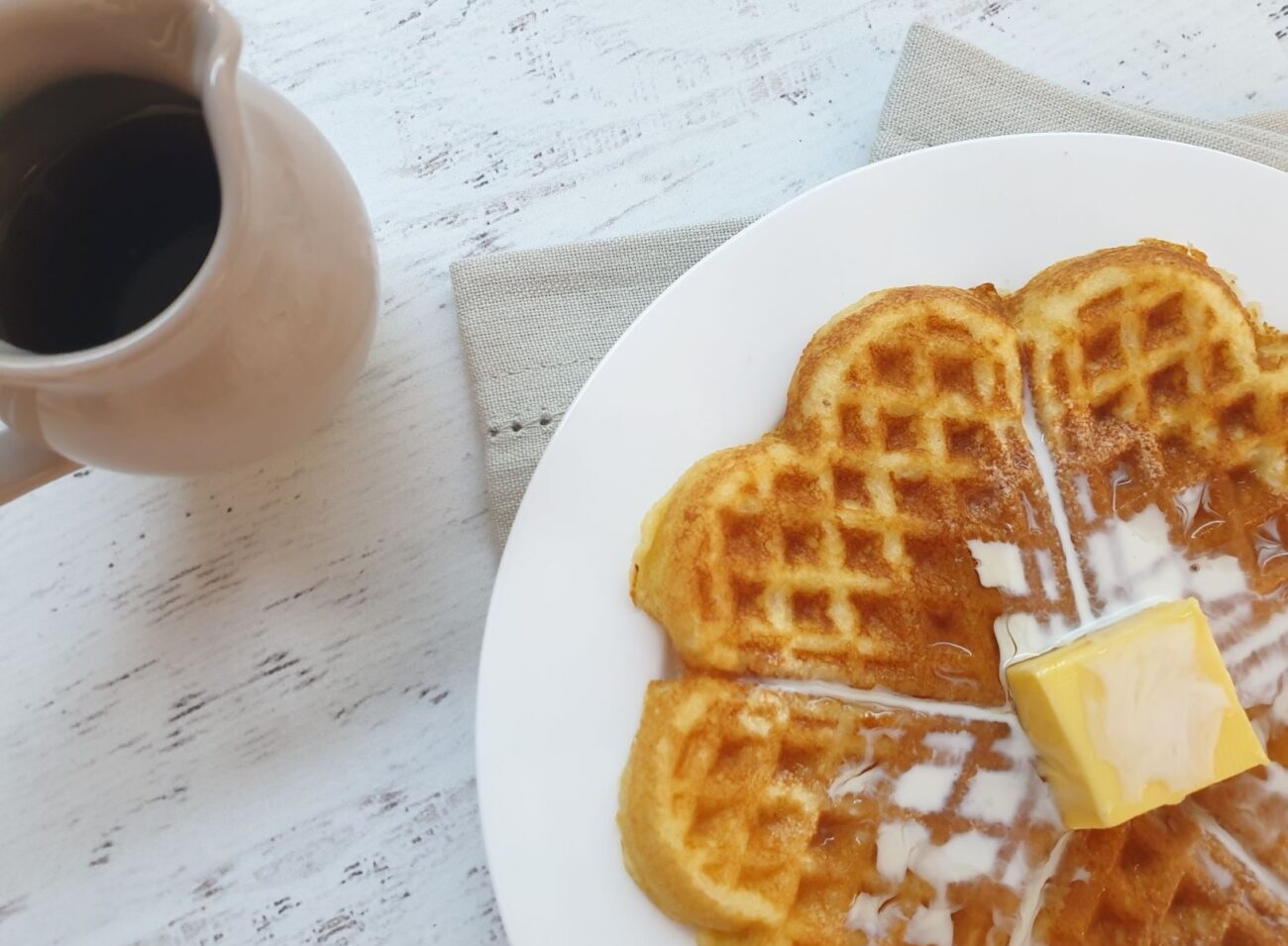 Waffle Irons/makers
I've had quite a bit of experience with different waffle irons, including both larger Belgian style waffle irons and the smaller square chaffle sized waffle irons. Here in Australia we have been limited with chaffle irons on the market so I ended up with one from Target. While it makes great chaffles because the melted cheese makes them pretty much no fail, if you make regular waffles however, it can take a long time to cook and they don't brown well.
The secret to these waffles is to make sure you have a quality waffle maker and to cook them reasonably quickly at a slightly higher temperature. My waffle maker of preference is the Breville Creations Waffle Maker that I bought on Amazon- see the link for details. I love that you can vary the temperature on this waffle iron, which makes it really versatile for cooking waffles and chaffles.
There was a big difference between the waffles that came out of the Breville waffle maker versus what came out the Target brand waffle maker. If you have a waffle maker that cooks slowly then I recommend that you leave the waffles cooking until they brown. This may take quite a long time but these waffles need to be slightly brown on the outside to help them hold together. This is one of the joys associated with cooking without gluten, but the real joy in making these delicious waffles is in the eating.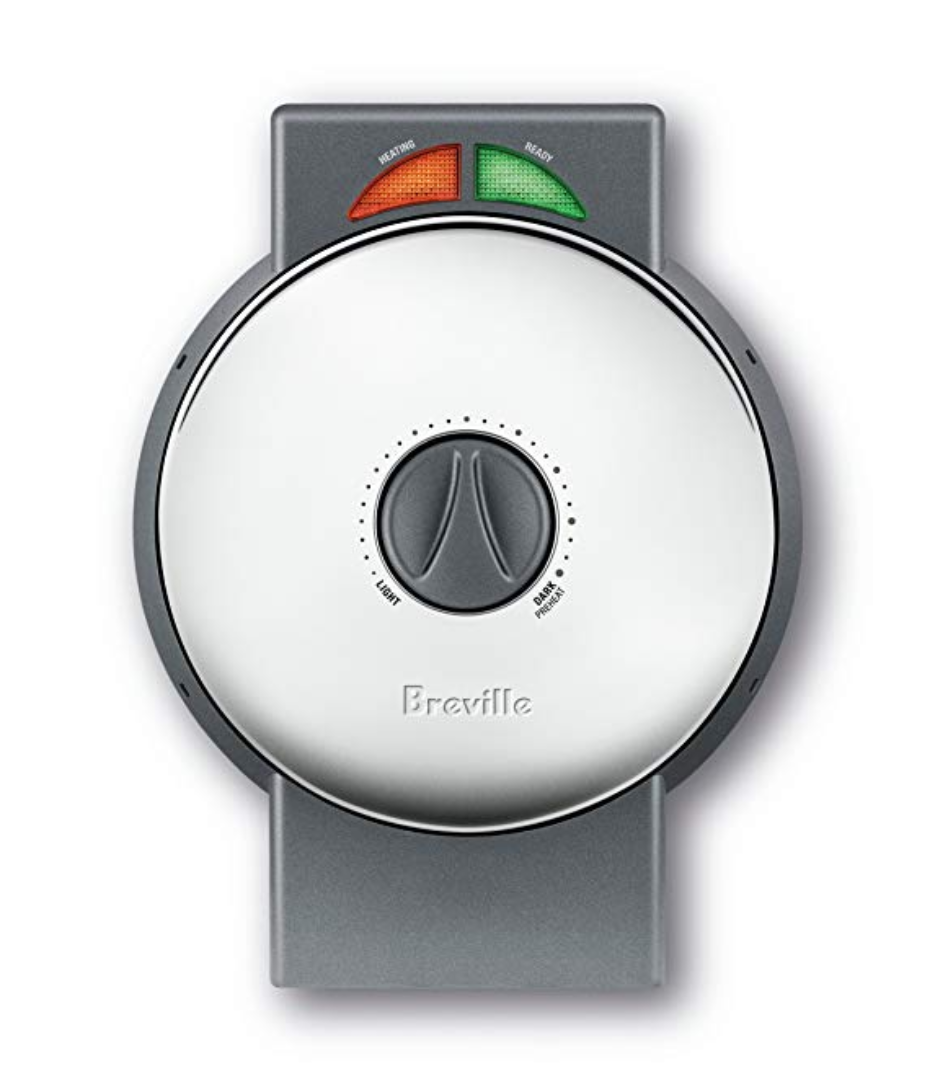 Topping Ideas
There are many wonderful ways to serve low carb waffles. One of my favorite ways to serve them is with fresh berries and whipped cream or Greek yogurt. If you don't mind using one of the sugar free maple syrups that are on the market, it tastes wonderful drizzled on waffles, especially when topped with whipped cream, thickened cream or Greek yogurt. A serve of berries also goes beautifully on waffles served this way.
I love to make up a batch of these even if I am only making them for one or two people. These freeze really well in airtight zip lock bags as well which is really handy. They can also be stored in the fridge for a couple of days and keep well. Simply zap them for a few seconds in the microwave to enjoy them warm, or wrap in foil and heat up in a hot oven for a few minutes.
I hope you find the time to make this delicious recipe. Please share your efforts if you can as I always love to see my recipes come to life in your kitchens.
Karen x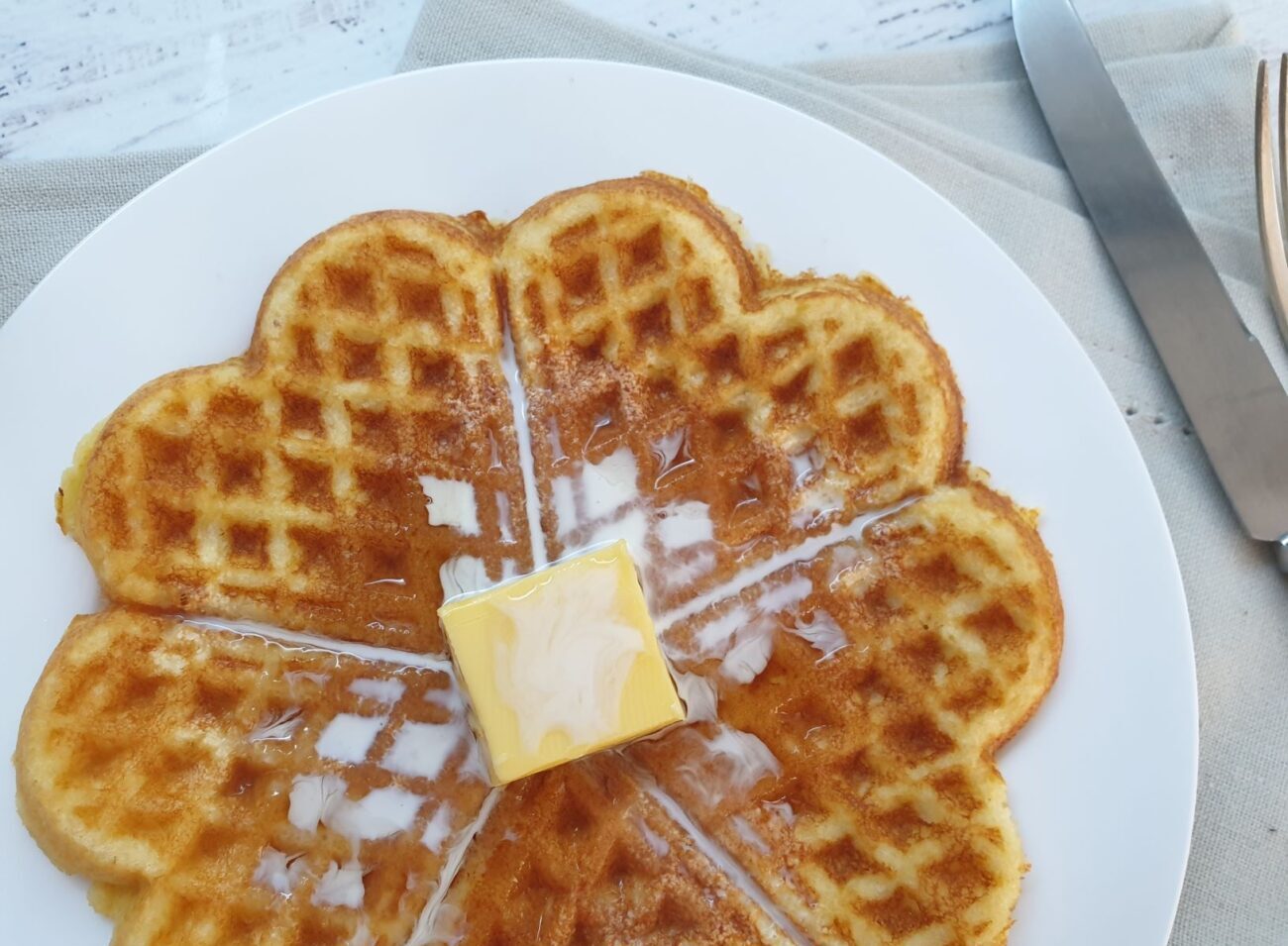 Servings:
4
large Belgian waffles
Ingredients
3

large eggs

1

cup

almond milk

or nut milk of choice

3

tablespoons

butter

melted

1

tablespoon

stevia blend

monk fruit blend, or to taste- see notes for more information

3/4

cup

blanched almond flour/almond meal

2

tablespoons

coconut flour

1

teaspoon

baking powder

2

teaspoons

psyllium powder

A pinch of salt
Instructions
Recipe makes about 4 larger Belgian style waffles or 6-8 smaller waffles.

In a large mixing bowl, beat the eggs until light and frothy. Add the almond milk and butter and mix until combined.

Add the almond flour, coconut flour, baking powder, salt and psyllium powder and mix until smooth.

Preheat the waffle maker while mixture thickens on the bench for a couple of minutes.

Spoon in about 1/4 cup of the waffle batter to make smaller waffles or about ½ cup for larger Belgian waffles. If mixture is too thick to smooth out, use a slightly wet spatula to spread the mixture out over the waffle iron. Note these measurements are approximates only.

If you have an indicator on your waffle maker, close the lid and cook until waffle light turns green, or for about 3-5 minutes until the waffle browns.

Serve with your favorite toppings and sides such as heavy or whipped cream, low carb maple syrup, Greek yogurt, or fresh berries of choice.
Recipe Notes
You can separate the eggs and whip the whites until stiff peaks form before folding into the waffle batter once all ingredients have been added for a lighter waffle.
If you only have psyllium husks, process in a food processor until smooth. Do not use whole husks as they are a little grainy. Psyllium powder helps bind the waffles.
For more developed flavors, add a dash of ACV (apple cider vinegar) and switch 1/4 cup of almond/nut milk for 1/4 cup heavy/pouring cream.
If your waffle iron doesn't cook to high temperatures you can toast your waffles in the toaster or pan fry them until they brown.
Non stick surfaces can be damaged by oiling or greasing. If your waffle maker sticks then please grease/oil it to prevent. If it doesn't stick, do not oil or grease. You can use butter, olive oil or coconut oil.
Different brand flours can absorb varying amounts of moisture. If the mixture is too thick, add 1 tablespoon of water at a time but don't use too much or the batter won't cook properly. Remember though that this is quite a thick batter which needs a spatula to spread it out.
Sweeten waffles to suit your own taste. My preference is for a not so sweet waffle which is reflected in the recipe. Use preferred sweetener such as monk fruit blend, erythritol or coconut sugar and taste as you add in increments. 
Nutritional Information
Serving:
1
Belgian style waffle
|
Calories:
261
kcal
|
Carbohydrates:
6
g
|
Protein:
10
g
|
Fat:
22
g
|
Fiber:
4
g
Note that we calculate our own nutritional values so they may not be precise. Calculate your own if desired. Carb values exclude sugar alcohols such as Erythritol, as they generally have no impact on blood sugar levels. 50% of the carbs from Xylitol is added to nutritional values. This is consistent with industry practice.
Do you want to receive more recipes like this one? Subscribe to our newsletter now!