Low Carb Ice Cream Pudding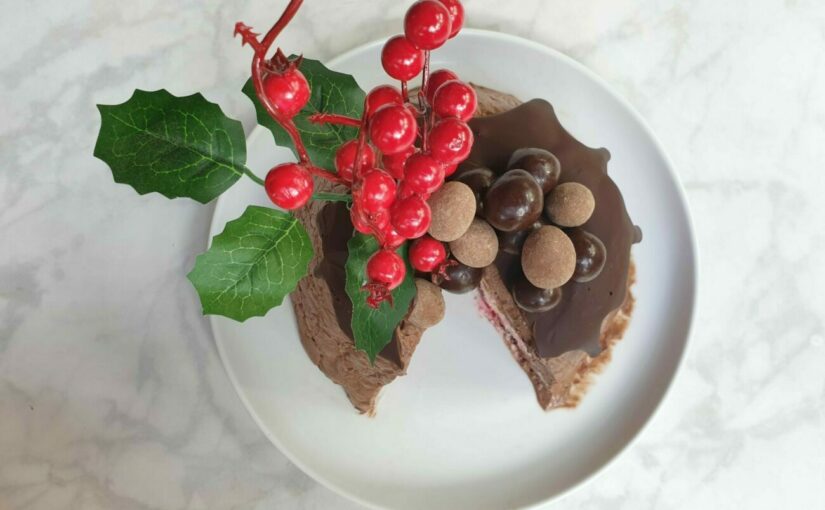 Low Carb Ice Cream Pudding
Wait until you try this delicious Low Carb Ice Cream Pudding! While it looks like it would be quite complicated to make, it is actually quite easy to make. It makes the perfect celebration cake and it has a real 'wow' factor. While I made the pictured pudding to feature at Christmas and added brandy to the recipe, you can make this more of a designer ice cream pudding to suit the occasion or the person you are making it for.
I've served this up and everyone eating it thought it was made with regular ice cream. I didn't bother to tell them that it is a low carb sugar free recipe. It tastes that good!
Creating Your Low Carb Ice Cream Pudding
Ice Cream
While the recipe featured uses 2 of my own recipes, you can also use store bought ice cream to make your own Low Carb Ice Cream Pudding.  The ice cream recipes featured in this recipe are extremely simple to make and don't require an ice cream churner. I highly recommend you make your own as the two ice cream recipes featured are absolutely delicious. They're certainly much nicer than any store bought ice cream I have tasted.
If you buy store bought ice cream, I recommend buying 1 litre/33 oz of  chocolate ice cream and 1 litre/33 oz of vanilla ice cream to ensure you have enough ice cream. Try to buy a quality ice cream for this recipe.
Variations
You have so many options when it comes to making your own Low Carb Ice Cream Pudding. While this one features Sugar Free Cranberries soaked in brandy, pistachio, raspberries and chunks of dark chocolate, you could add your own touch. Try adding low carb sugar free flavored chocolate such as mint or raspberry. The vanilla centre could be made from fresh/frozen berries and anything you fancy as long as it suits your dietary requirements.

Layering and Shaping Your Pudding
While the chocolate is on the outside, you could also reverse the colors and have the chocolate on the outside, or you could create horizontal layers, with the chocolate layer added last, so it sits on the bottom when the Low Carb Ice Cream Pudding is turned out.
Rather than make this into a pudding shape, you also have the option of creating a log cake. Again, you can make horizontal layers or create a formed shape, as per the pudding that is featured.
You also have the option of varying the flavor of the ice cream that you use. You could really have lots of fun designing your own custom made Low Carb Ice Cream Pudding.
Decorating Your Low Carb Ice Cream Pudding
My favorite way to decorate this is to drizzle with dark chocolate and then use chocolates, chocolate coated nuts and berries to make it look pretty. You could easily drizzle it with the chocolate and then simple add some flowers such as the berries and leaves that are featured, for an easy option. This is where you get to have a little fun with this recipe.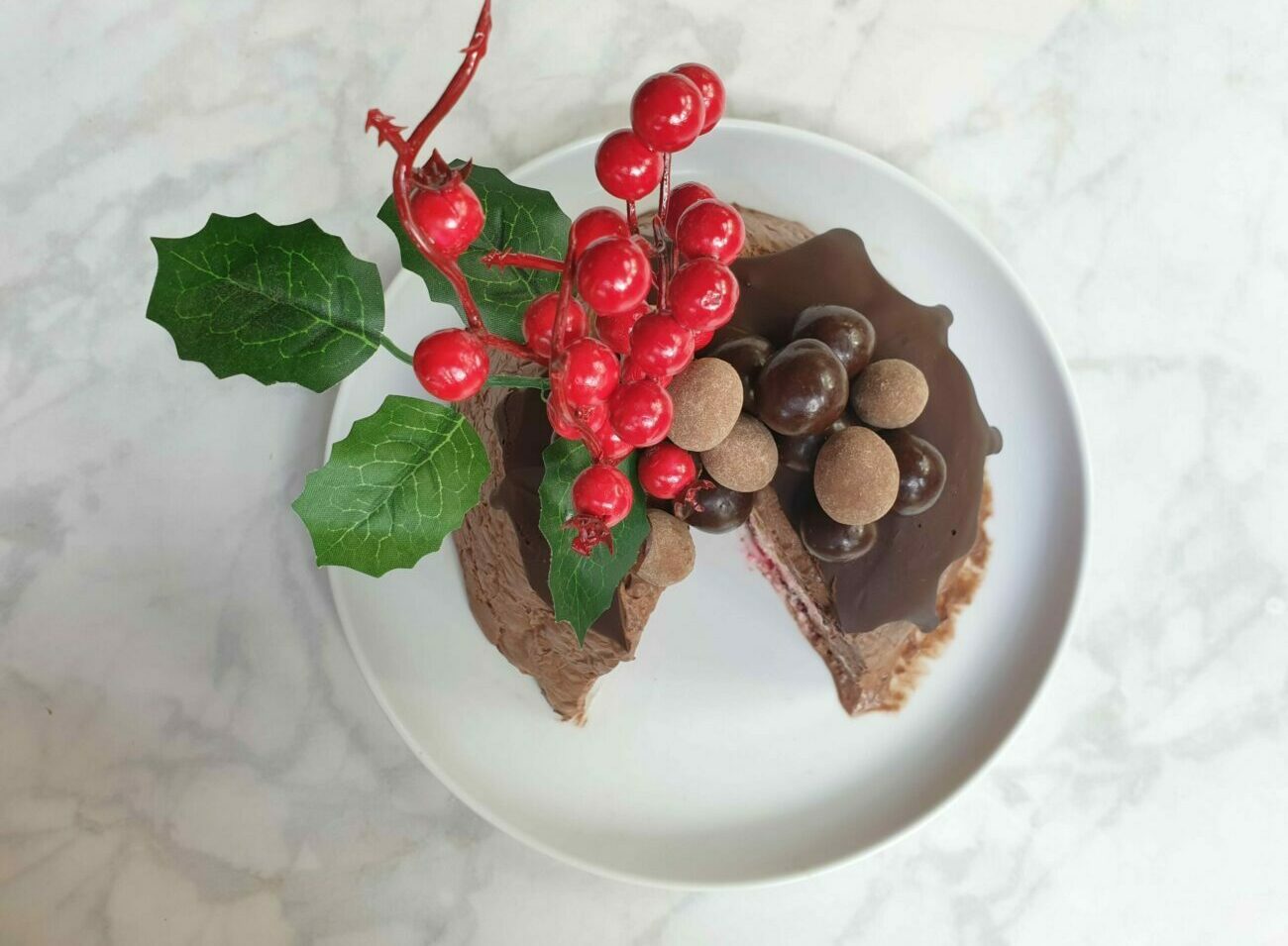 Ingredients
2

tablespoons

brandy

or to taste and optional

100

gms

dark chocolate

½

cup

raspberries or strawberries fresh or frozen

⅓

cup

pistachio

or alternative nut of choice
Topping
100

gms

dark chocolate

2

tablespoons

coconut oil or butter

Topping options such as fresh berries, dark chocolate, chocolate coated nuts and/or festive decorations or flower sprigs
Instructions
Allow the dark chocolate to soften slightly so you can scoop and shape it. Meanwhile line the pudding bowl with aluminium foil.

Scoop the chocolate ice cream out and press evenly into the base and sides of your pudding bowl. Use a spatula to compress the ice cream and try to get it to an even thickness all around. You may have a small amount of ice cream left over which you can freeze. Cover the pudding bowl with cling wrap or foil and place in the freezer to firm up for a few hours.

Once the chocolate ice cream has firmed up you can create the vanilla centre.

Soak the cranberries in the brandy - optional

Using your eye scoop out enough ice cream to fill the pudding. Be generous so you might have to freeze any leftovers. Allow the vanilla ice cream to soften ever so slightly so that you can stir it with a spoon.

Fold in the remaining ingredients, including the cranberries, gently into the ice cream and spoon into the chocolate lined pudding bowl. Smooth off the top of your pudding. Cover with cling wrap and freeze overnight or until firm. If you don't have enough filling you can always trim back the chocolate layer or smooth it down with a spatula, over the vanilla layer.
Decorate Your Ice Cream Pudding
Melt the dark chocolate with 2 tablespoons of coconut oil or butter.

Invert the ice cream pudding onto the serving tray. Remove the aluminium foil from the ice cream pudding.

Pour the melted chocolate on top of the pudding and allow to drizzle down the sides. Decorate with dark chocolate, fresh berries of choice and chocolate coated nuts while the chocolate is still soft. Add flowers and decorative sprigs when the chocolate is firmer.

Slice with a very sharp knife and serve immediately. Place uneaten pudding straight back into the freezer. Freeze any leftovers in an airtight container.
Recipe Notes
Feel free to switch ice cream for flavors that you wish to use.
Custom the centre by using ingredients that either suit the occasion or the person. It can be made just with fresh berries, or use flavored chocolates such as mint chip or raspberry dark chocolate. Don't limit yourself here unless it is to keep the ice cream pudding low carb.
Decorate the top of your pudding using fruit, nuts, chocolate, flowers and decorative items of choice.
Nutritional Information
Serving:
1
serve
|
Calories:
297
kcal
|
Carbohydrates:
1.9
g
|
Protein:
3.5
g
|
Fat:
7.9
g
|
Fiber:
0.04
g
Note that we calculate our own nutritional values so they may not be precise. Calculate your own if desired. Carb values exclude sugar alcohols such as Erythritol, as they generally have no impact on blood sugar levels. 50% of the carbs from Xylitol is added to nutritional values. This is consistent with industry practice.
Do you want to receive more recipes like this one? Subscribe to our newsletter now!