Sugar Free Icing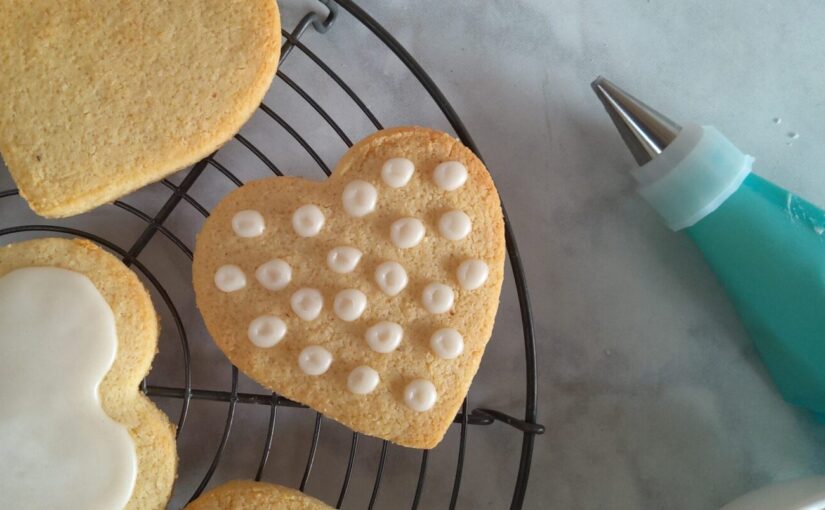 If you love decorating cookies and cakes then you are going to love this homemade Sugar Free Icing recipe. You can have so much fun decorating your cookies/biscuits and cakes with this icing. The little ones will have lots of fun decorating cookies, and you don't have to stress about them eating lots of sugar, as this fabulous recipe is sugar free.
You have the option to add extract such as vanilla, almond or any other flavor that will compliment your cake or cookies. My favorite option for this recipe is to add a small amount of lemon juice. Do yourself a favour and whip up a batch of these Keto Lemon Pistachio Cookies, and glaze with the lemon icing…OMG absolutely delish!!!
SUGAR FREE FLOOD ICING
This icing recipe is sugar free by using a sugar free icing sugar mixture such as Xylitol Icing Mixture from Naturally Sweet in Australia or a product such as Swerve. You can also use any sweetener that you have at home by simply powdering it in a food processor. This icing is very similar to royal icing that you see on beautifully decorated cakes and cookies. Feel free to add food coloring if desired but use sparingly as a little goes a long way.
SUGAR FREE ROYAL ICING
Royal icing is what you often see on beautifully decorated cakes and cookies. See the recipe notes below for a variation to this basic icing recipe, that uses egg white powder to create sugar free royal icing.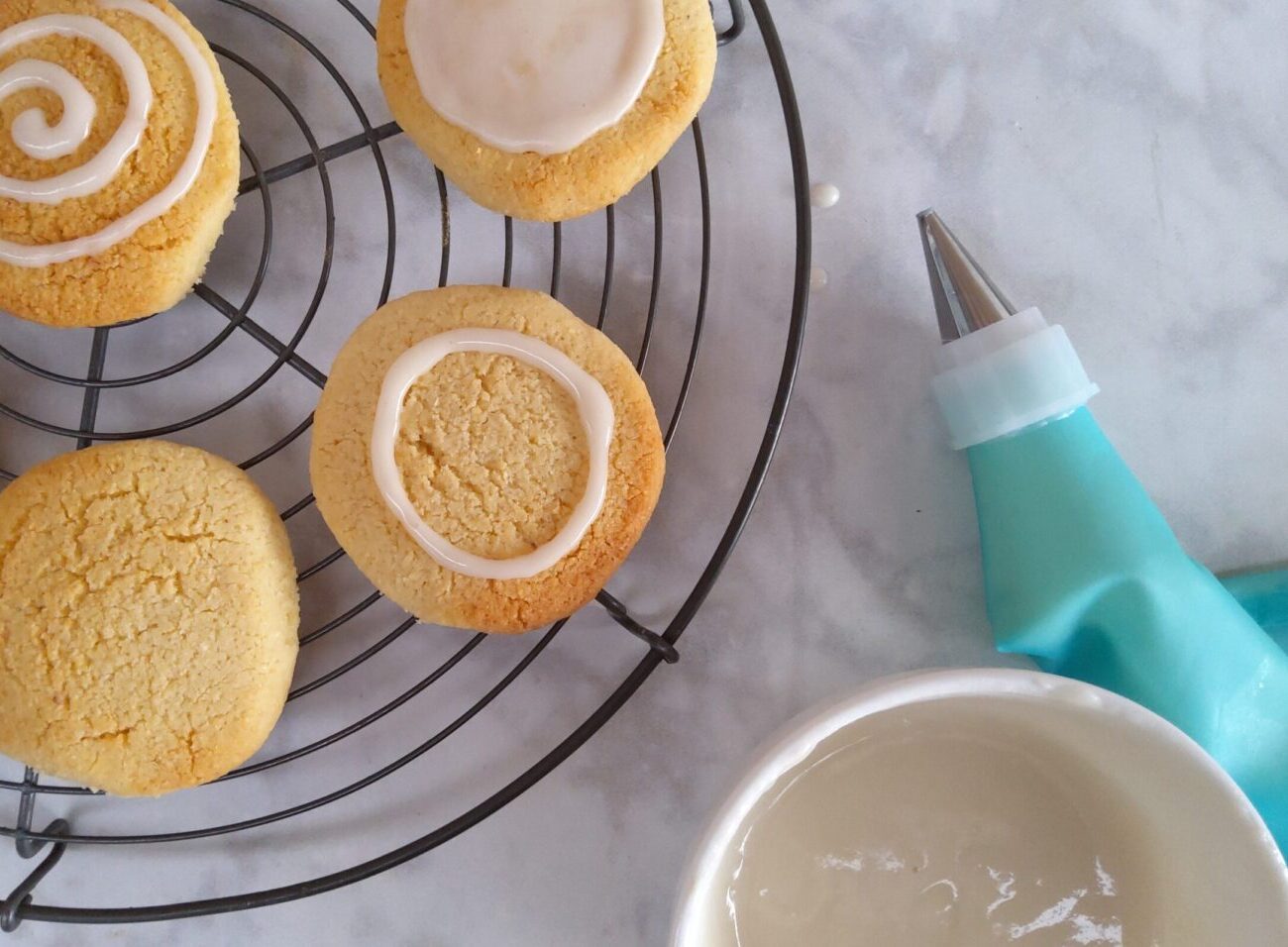 TEXTURE AND CONSISTENCY
Add more almond milk to create a flooding icing mixture but add small amounts slowly to get the right consistency. If it's too runny though the icing will simply run off your cookie. If you want to use the icing for piping then you are going to want a stiffer consistency so use less liquid or simply add more icing powder to your icing mixture. If you make it too thick though it will impact on the smooth finish of your pipework.
SUGAR FREE ICING TIPS
If the icing mixture is too thick or not spreading enough for flood icing, you can add additional almond milk in tiny amounts until you get the desired consistency.
If the icing mixture is too runny, keep adding additional sugar free icing/confectioners mixture until you get the desired consistency.
Be conservative when adding color as a little goes a long way.
To flood cookies I recommend you pipe a line of thicker consistency icing mixture around the edges of your cookie and then fill it in with your runnier flood icing mixture.
To pipe icing, the mixture needs to be a lot thicker but not so thick that it isn't smooth. Keep adding additional powder to get it to the right consistency.
If you can't find confectioners icing mix or xylitol icing mixture, just use your regular sweetener and process in a food processor until smooth.
PERFECT SUGAR FREE LOW CARB COOKIE RECIPES TO DECORATE
If you are after some fabulous cookie or biscuit recipes to decorate you may want to check out the following recipes.
Low Carb Shortbread Cookies– recipe featured in photos!
Ginger Cookies
Pistachio Lemon Cookies
Cranberry Almond Shortbread Cookies
Low Carb Vanilla Macadamia Cookies
HINTS FOR ROLLING OUT YOUR COOKIE DOUGH
Make sure your dough is cool before rolling it out. You may have to put the dough in the fridge or freezer for a while to firm it up. Also be prepared to put it back in the fridge or freezer if it starts softening up. Tear off 2 large sheets of quality baking paper. Place the dough down on a sheet and put the other sheet on top. Gently roll the dough out to desired thickness- make sure it's not too thin or it will tear.
Peel the top sheet off the dough and use a cookie cutter to cut out your cookies. Use a spatula to lift your cookies onto your prepared baking tray. Gather up the off cuts. If they have become too soft, allow to cool in the fridge or freezer before rolling out and cutting more cookies. Then bake your cookies instructed in the recipe.
I hope you have fun with this recipe!
Kx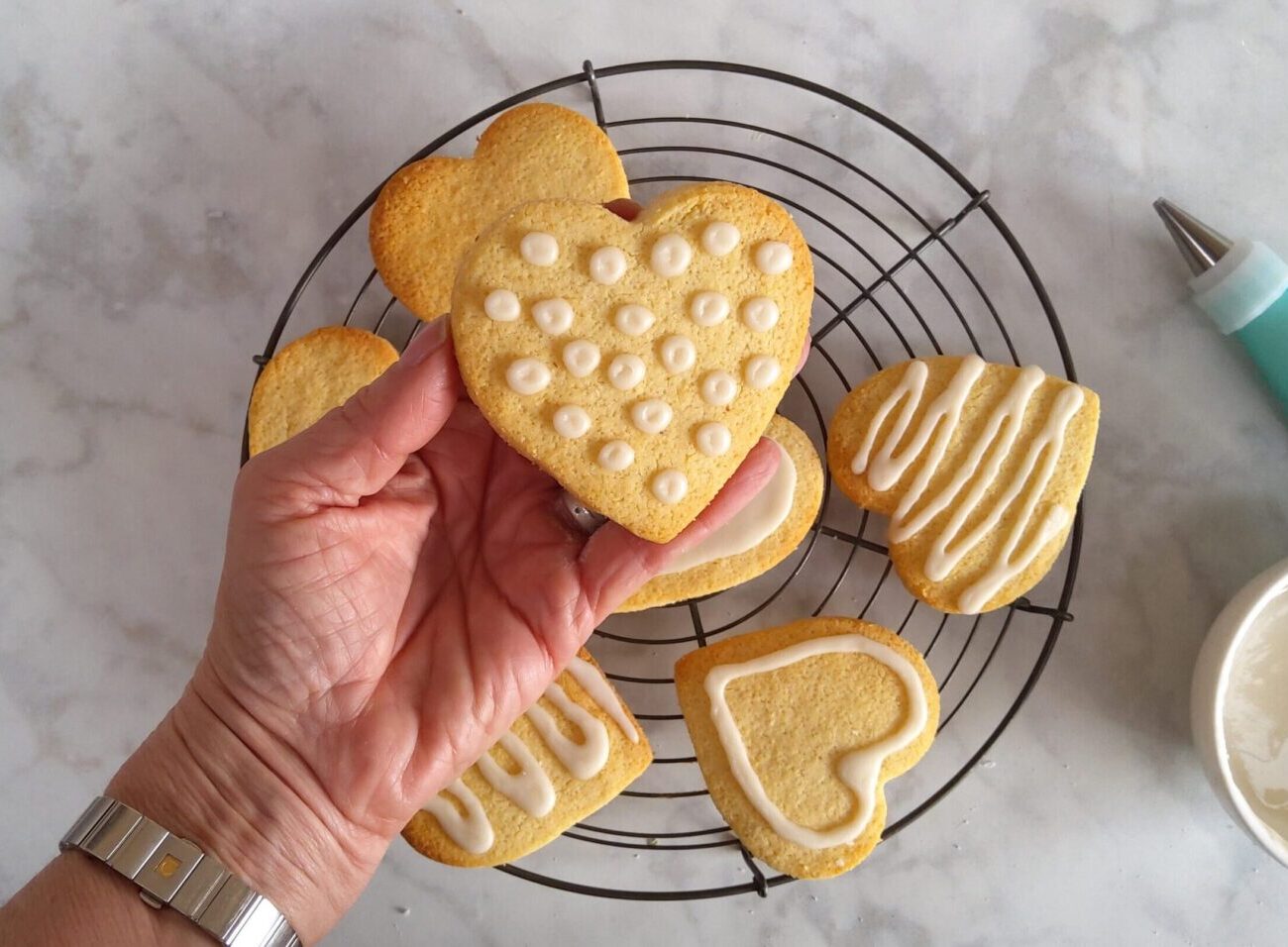 Ingredients
Instructions
Powder the sweetener if it is lumpy until smooth in a food processor.

Pour into a small bowl and add the almond milk. Add extract or juice for flavoring and stir until well combined and lump free. Note that adding extract or juice can thin your icing mixture down so you may need to add additional sweetener if necessary.

For pipe work minimize the amount of liquid you add to keep the consistency thicker. You can always add more sweetener to thicken it if it is too thin.

For flood work the icing consistency needs to be thin enough to flood the area required but not so thin that it slides off straight away. It should be similar to the consistency of pure cream. If you make it too thin, thicken with additional sweetener. I recommend piping a border to contain your flood work with a thicker icing mixture to prevent 'sliding'.

Makes approximately 1 ½ cups royal icing. Left overs can be frozen.

See notes below for adding eggwhite powder to create a more traditional Royal Icing.
Recipe Notes
If you don't have any sugar free/ low carb icing mix or confectioners sweetener, use your regular sweetener but powder it till fine in a food processor.
This recipe makes enough icing for approximately 2 dozen cookies or one large cake.
Any leftovers can be frozen.
Royal Icing Recipe - Traditional
For a more traditional Royal Icing, add 2 teaspoons of egg white powder (I sourced mine from Coles)  with the powdered sweetener and use electric beaters to blend the milk in.  Beat until well combined. You may need to add additional milk in tiny increments to get the right consistency.
Nutritional Information
Serving:
1
serve
|
Calories:
2
kcal
Note that we calculate our own nutritional values so they may not be precise. Calculate your own if desired. Carb values exclude sugar alcohols such as Erythritol, as they generally have no impact on blood sugar levels. 50% of the carbs from Xylitol is added to nutritional values. This is consistent with industry practice.
Do you want to receive more recipes like this one? Subscribe to our newsletter now!