Low Carb Ginger Spice Cookies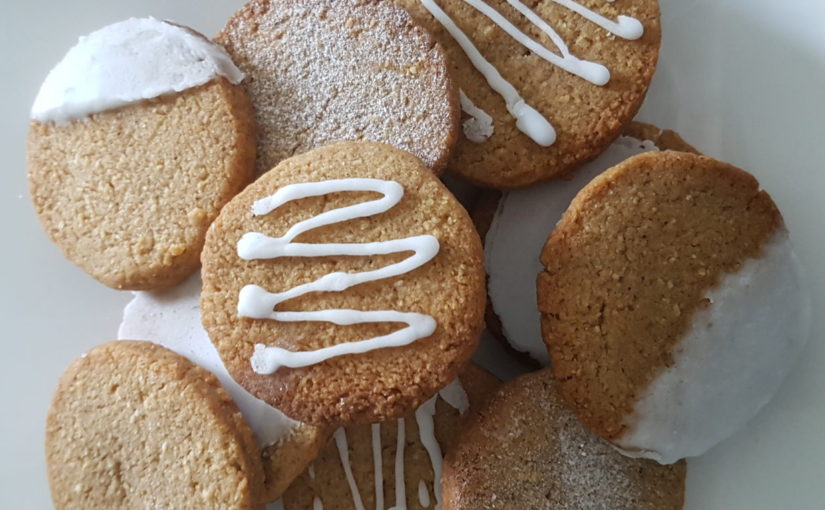 Low Carb Ginger Spice Cookies
Low Carb Ginger Spice Cookies
These delicious Low Carb Ginger Spice Cookies are the ideal low sugar, low carb, gluten free treat to have on hand for when you want a healthy snack. You can eat them plain, straight out of the oven, or have a little fun decorating them by piping on a little low carb icing sugar or you could even decorate them with a little melted dark chocolate. The spice flavors in these cookies go so well together. I have made these cookies very spicey and gingery in flavor, so if you want to create a subtler flavor, you could cut down on the ginger and the mixed spice by half, which would create your more typical ginger cookie. I also like to use a little organic crushed ginger in these occasionally,which really compliments the flavors but if you don't have it or don't want to add any, simply omit it.
This recipe makes a lovely rustic cookie that is so full of flavor. The cookies have that lovely home baked feel to them, and the flavors are simply pure and unadulterated. They go really well with a cup of coffee or tea.
Firm Up The Dough
If this dough gets too sticky to use, simply put it in the fridge or freezer to get it to firm up. Make sure you follow the instructions on rolling out the dough in between some quality baking paper or you are going to have issues with the dough sticking to the rolling pin….trust me with this advice. This dough is a little like gingerbread biscuit dough in that it needs to be treated gently as it isn't very pliable. Take your time, especially if using cookie cutters and take special care when lifting cut-outs out of the dough and onto other surfaces. Ease something with a sharp edge under the cookie first to break the surface tension before you try to pick it up and move it somewhere else.
Creating Your Cookie
Drizzle with Icing
If I want to drizzle some icing on these cookies, my favorite low carb powdered confectioners sugar is Swerve. Simply blend a couple of tablespoons of Swerve Confectioners Sugar with a tiny amount of water or lemon juice, trying to get the consistency just right so that it is neither too runny nor too stiff. Too stiff and you won't be able be able to get flow out of the nozzle, and if too runny, the icing will simply run off the cookies.
While I do love to use low carb confectioners' sugar, I do try to restrict how much I use for a couple of reasons. First and foremost is the fact that I am trying to reduce my taste for sugar. The second reason is that if using them on their own, the flavor can be a bit overwhelming and many of them tend to have a cold taste (?? taste it and you will know what I mean). I find that these types of sugar work well when combined with other flavors such as cream cheese for example in a cream cheese frosting as it covers the unusual taste of the sugar. You will find that if you use a small amount for piping, such as in this recipe, you won't even notice the taste of it though, especially if you use it sparingly. I do love low carb products like this as they give me the opportunity to be creative with recipes such as this one. Note that if you want to buy Swerve, the cheapest place to source it from Australia is through iherb.
Using Sweetener
I suggest that you use pure erythritol in this recipe in order to try to get more crunch in your cookie. If you use a sweetener such as Stevia, it can cause the cookies to be a little soft. Some times when you bake with Erythritol, it can take a couple of hours for food to crispen up, so you may need a little patience. It really isn't very useful though if you want to eat these straight away. These cookies do taste amazing straight from the oven even when baked with stevia, the problem with stevia can become apparent after a couple of days of storage. If you are going to eat these cookies pretty much straight away, you won't have a problem with them if you do use Stevia.
As I have made a conscious decision to reduce my sugar intake and my taste for sugar, I try to use a minimal amount of sweetener in all of my recipes. Some of you might find that some recipes aren't sweet enough for your palate, especially if you are just starting to cut back on sugar. I suggest that you have a taste of the dough once you have added the sugar, and see what you think before adding any more sweetener. Almond meal tends to lend a bit of sweetness to recipes as well so if you do add any extra sweetener, try to minimize the amount that you add.
I hope you like enjoy these cookies. If you are looking for another delicious cookie recipe, check out this recipe for Low Carb Vanilla Macadamia Cookies as well.
Kxx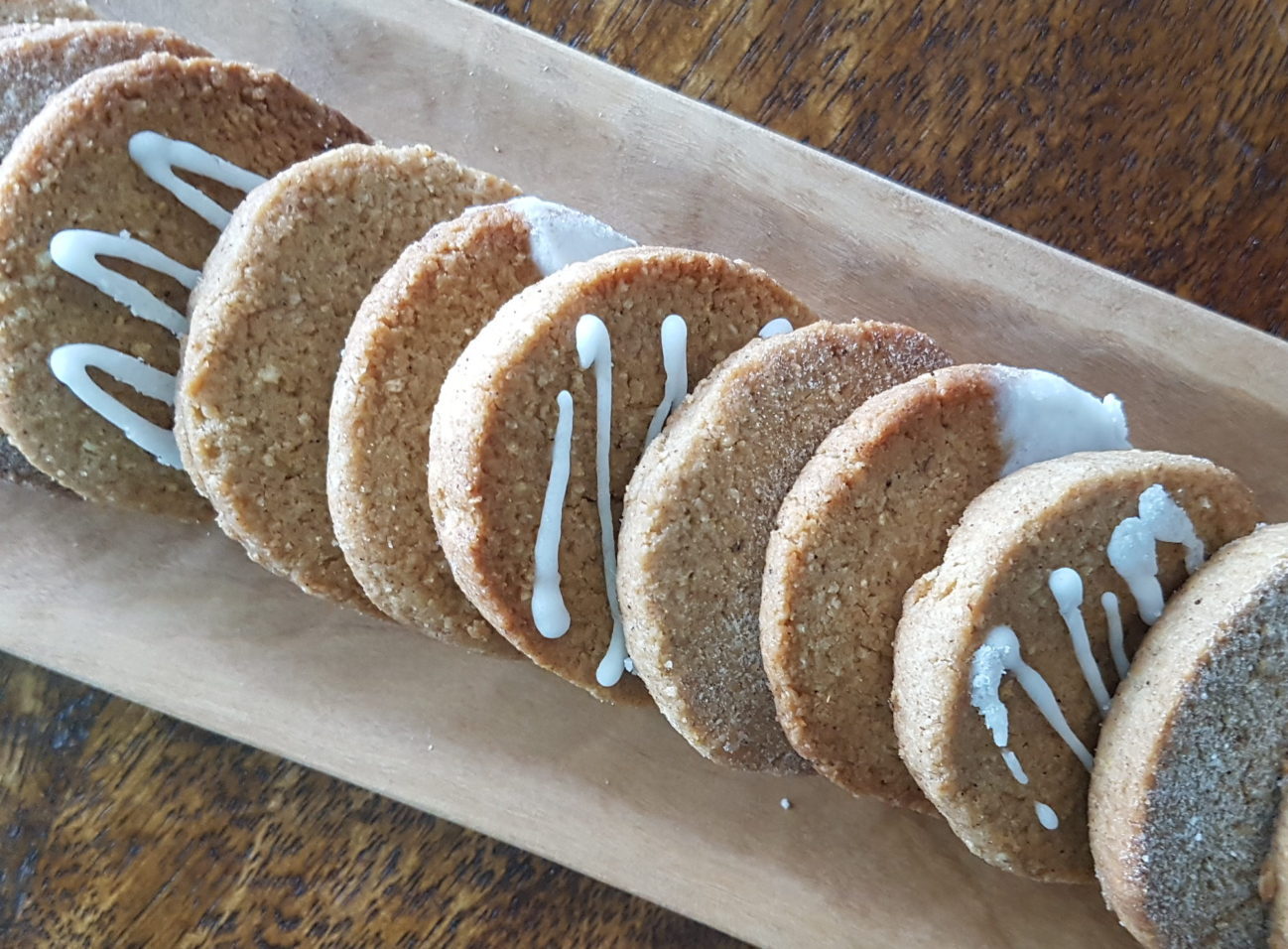 Ingredients
2

cups

almond meal/flour

1/4

cup

coconut flour

1

egg

125

gms

butter

2

tablespoons

ginger powder- reduce by half for a subtle flavor

1

tablespoon

mixed spice- reduce by half for a subtle flavor

1/2

cup

erythritol

1

teaspoon

baking powder

1

teaspoon

vanilla extract
Instructions
Preheat oven to 150 C/300 F fan forced.

Beat butter and erythritol on high for approximately 2 minutes till light and creamy. Mix in the egg. Add all the remaining ingredients and mix until well combined.

Roll the dough into a smooth ball, compressing to ensure there aren't any air pockets. It will be slightly sticky especially if it is warm. If you want to make round biscuits, cut the dough in half and roll into a cylinder the diameter of the cookie you would like and roll up in cling wrap. Do the same with the other half and place in the fridge (or freeze) for approximately 30 minutes or till dough is firm.

To slice into biscuit rounds, simply unwrap dough and using a sharp knife slice off cookies approximately 5-7mm thick ready to bake. Smooth off edges with hands if required.

Bake for 10-15 minutes at 150 C/300 F fan forced.

Allow to cool on the tray.
Using A Cookie Cutter to Create Cookies
Note that I would add 1/2 teaspoon of Xanthan Gum to the dry mix in the recipe above if you want to roll the dough out to create cookies, as it will make the dough more glutinous like, and easier to roll. It is not vital though and these cookies can be made without it but the dough will be more delicate.

Roll the dough into a ball as per above instructions. Cover in cling wrap and refrigerate (or freeze) till dough is firm. Remove from fridge and press half of the dough out onto quality baking paper and place another sheet of baking paper on top.

Roll to approximately 5-7mm thick. Cut out desired shapes.

Remove excess from around the cut-out shape for ease of lifting onto a baking tray (or simply remove the excess from between the cut-out dough and leave on the baking paper ready to bake.) Use a stiff flat edged spatula/knife to move your cookie onto your baking tray lined with baking paper ready for baking. Don't overwork the dough. Refrigerate/freeze it if it becomes too soft to work with, especially in humid weather.
To Serve
These are delicious eaten fresh as they come out of the oven.

To decorate, sprinkle with a tiny amount of your favorite low carb sweetener such as Swerve/alternative powdered sugar.

Drizzle with Swerve/confectioners powdered sugar mix that has been mixed with a tiny amount of water or a little lemon juice to make icing, and decorate the cookies using a piping bag.

Store in an airtight container, once they have cooled and crispened up.
Recipe Notes
These cookies are best eaten fresh but can be stored in an airtight container for up to 5 days.
Erythritol will make these cookies more crisp than other sweeteners will. Note that Erythritol is not a blended sweetener ,so if you switch sweeteners adjust accordingly, ie I would use 3 tablespoons of a Stevia Erythritol blend.
These cookies are strong in flavor so feel free to reduce the mixed spice and the ginger spice by half for a much more subtle cookie.
Nutritional Information
Serving:
1
cookie
|
Calories:
79
kcal
|
Carbohydrates:
2
g
|
Protein:
2
g
|
Fat:
7
g
|
Fiber:
1
g
Note that we calculate our own nutritional values so they may not be precise. Calculate your own if desired. Carb values exclude sugar alcohols such as Erythritol, as they generally have no impact on blood sugar levels. 50% of the carbs from Xylitol is added to nutritional values. This is consistent with industry practice.
Do you want to receive more recipes like this one? Subscribe to our newsletter now!