Low Carb Chocolate Chip Cookies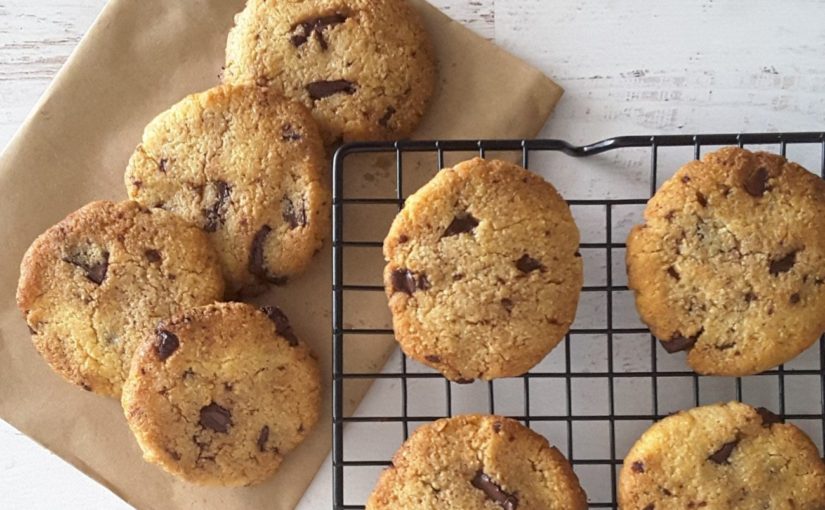 Low Carb Chocolate Chip Cookies
A delicious Low Carb Chocolate Chip Cookie that's crisp on the outside and soft on the inside. These take minutes to throw together; then only 10-14 minutes in the oven, and you will have a beautiful batch of low carb choc chip cookies. If any of you have made cookies before using sweeteners then you will understand that you need to be quite selective with what one you should use, as some sweeteners just don't crispen up. Make this recipe using Stevia or Xylitol, and you will end up with a totally different textured cookie. If it doesn't worry you, then please go ahead and use a different sweetener to what has been specified. If you want these to turn out as I described, then please make sure you follow the recipe. Note that even using an Erythritol Stevia blend will have an impact on this recipe, so please try to find pure Erythritol, if you want cookies like the ones I have described.
I have also used some Xanthan Gum in this recipe, which you can leave out if you wish to. It serves to bind the recipe a little more, so the cookies end up with a chewy centre. In regards to using Xanthan Gum, I always minimize my use of processed foods and additives and will only ever use this product if it is vital to the recipe succeeding, and in this case it is necessary if you want a soft, chewy cookie. Now Xanthan Gum is not an unnatural food, but it has been processed, and many don't like to use it because of this reason. It also doesn't agree with some people for some reason, so please simply leave it out if you need to. I generally try to avoid using Xanthan Gum, but not  because of any health reasons associated with it, but really to try to keep my recipes true to being 'real food', pretty much unadulterated. Note that you can buy Xanthan Gum in most supermarkets and specialty stores and also online.
What Is Xanthan Gum?
Xanthan Gum is basically a food thickener that has been made from bacteria that infects numerous plants and causes fermentation. Xanthomonas campestris infects a wide range of cruciferous plants such as cabbage, cauliflower, and brussels sprouts, causing them to wilt and rot. Xanthan gum is used in a wide variety of processed foods as well as products such as toothpaste. It does offer a few health benefits but it is actually used to change the texture of food and products, not for any specific health purposes. Xanthan gum is detracted bacteria from the plants, but the finished product does not contain any of the initial bacteria, so there is no risk of Xanthan Gum causing infections. To read more on Xanthan Gum check out this link.
Sometimes, baking goodies like this requires a little waiting time for the baked goods to crispen up, so if you want to eat these straight from the oven, your cookies might not have crispened yet. Have a little patience and leave them out on a cooling rack to cool and crispen up. Store these cookies in an airtight container for 3-4 days. You could also freeze them but they will not be crisp out of the freezer.
What Chocolate should you use?
Note that I use Lindt Dark Chocolate 85% in this recipe. Dark chocolate choc chips are really hard to come by and can be very expensive. I just cut it into choc chip sized chunks to use in the recipe. Please use your preferred chocolate or choc chips if you have them. Just remember that the lower the couverture of the chocolate, the more sugar it has in it.
If you are after some other lovely cookie recipes, check out these recipes for Low Carb Vanilla Macadamia Cookies and these lovely Low Carb Ginger Spice Cookies.
I hope you enjoy this recipe.
Kxx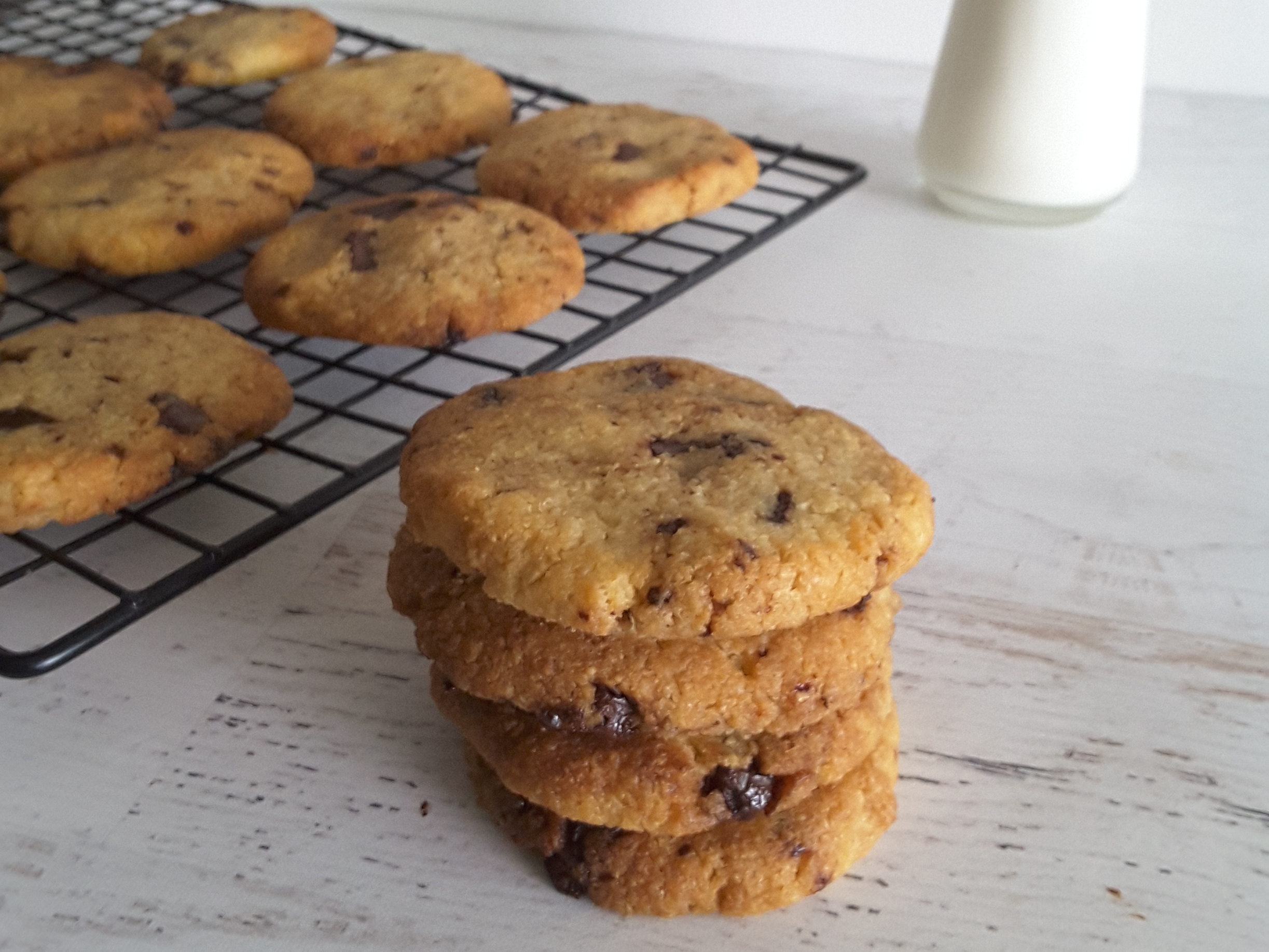 Ingredients
150

gms

/5.25 oz butter

3/4

cup

Erythritol

2

cups

almond meal/almond flour

1

teaspoon

organic vanilla extract

1/2

teaspoon

baking powder

1/2

teaspoon

Xanthan Gum

1/2

cup

dark chocolate choc chips
Instructions
Preheat the oven to 170 C/338 F Fan forced and line 2 large baking trays with baking paper

Melt the butter and mix in the Erythritol and the vanilla extract.

Combine the dry ingredients and ensure the baking powder is well dispersed. Add the dry ingredients and the egg to the butter mixture, stirring until well combined. Gently fold through the choc chips and allow the dough to sit for 5 minutes.

Depending on the size of the cookies you want, use a teaspoon or tablespoon and create balls out of the cookie dough. Roll into firm balls and squash the balls down into a cookie shape onto the baking paper. Use your hands to shape the edges so they are neater. Note that these won't spread very much so can be reasonably close together.

Bake for 10-14 minutes or until cookies have browned slightly and are cooked through. You may need to rotate or turn the tray if the cookies aren't cooking evenly. Bake for less time for a softer cookie and more time for a crisper cookie.

Allow cookies to cool on the try and then move them to a cooling rack until they crispen up.
Recipe Notes
Note that pure Erythritol will give you a crispy finish. Using alternate sweeteners will vary the results.
Xanthan Gum will make these cookies chewy. Feel free to omit but the end result of the texture will vary.
I use 85% Lindt Dark Chocolate blocks and chop the chocolate into small bits about the size of choc chips. It's so easy to do and you can also choose how dark you want your chocolate.
Nutritional Information
Serving:
1
cookie
|
Calories:
170
kcal
|
Carbohydrates:
3
g
|
Protein:
3
g
|
Fat:
15
g
|
Fiber:
1
g
Note that we calculate our own nutritional values so they may not be precise. Calculate your own if desired. Carb values exclude sugar alcohols such as Erythritol, as they generally have no impact on blood sugar levels. 50% of the carbs from Xylitol is added to nutritional values. This is consistent with industry practice.
Do you want to receive more recipes like this one? Subscribe to our newsletter now!