Low Carb Anzac Biscuits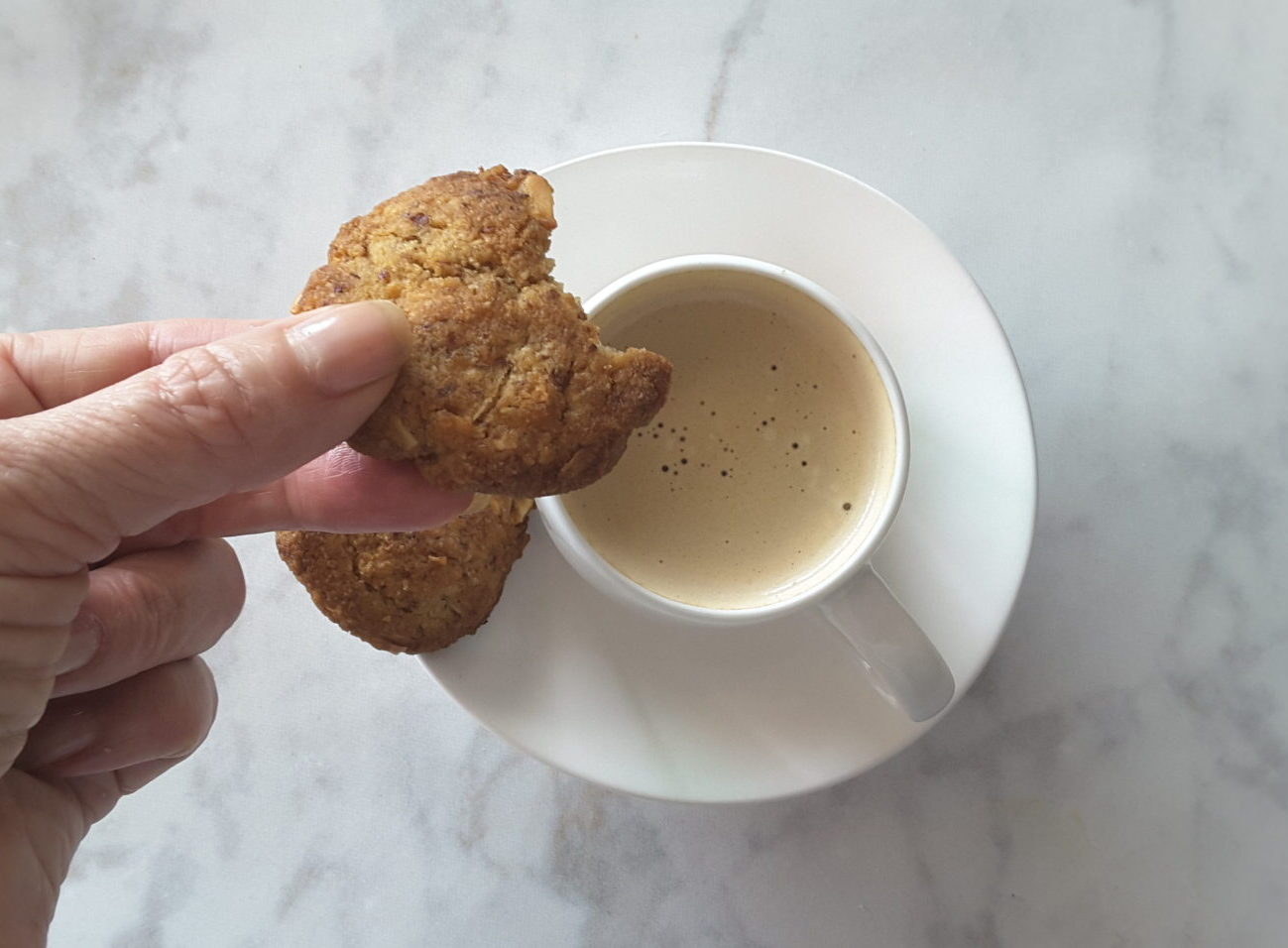 Low Carb Anzac Biscuits are a delicious biscuit or cookie that are renowned in Australia and New Zealand. Here in Australia, they signify our fallen soldiers and our national rememberance day, known as Anzac day.
For those who have never heard of an Anzac biscuit nor tried one, I highly recommend you bake a batch. Low Carb Anzac biscuits have wonderful buttery, slightly caramel flavors combined with coconut and almonds and make a wonderful keto sweet treat.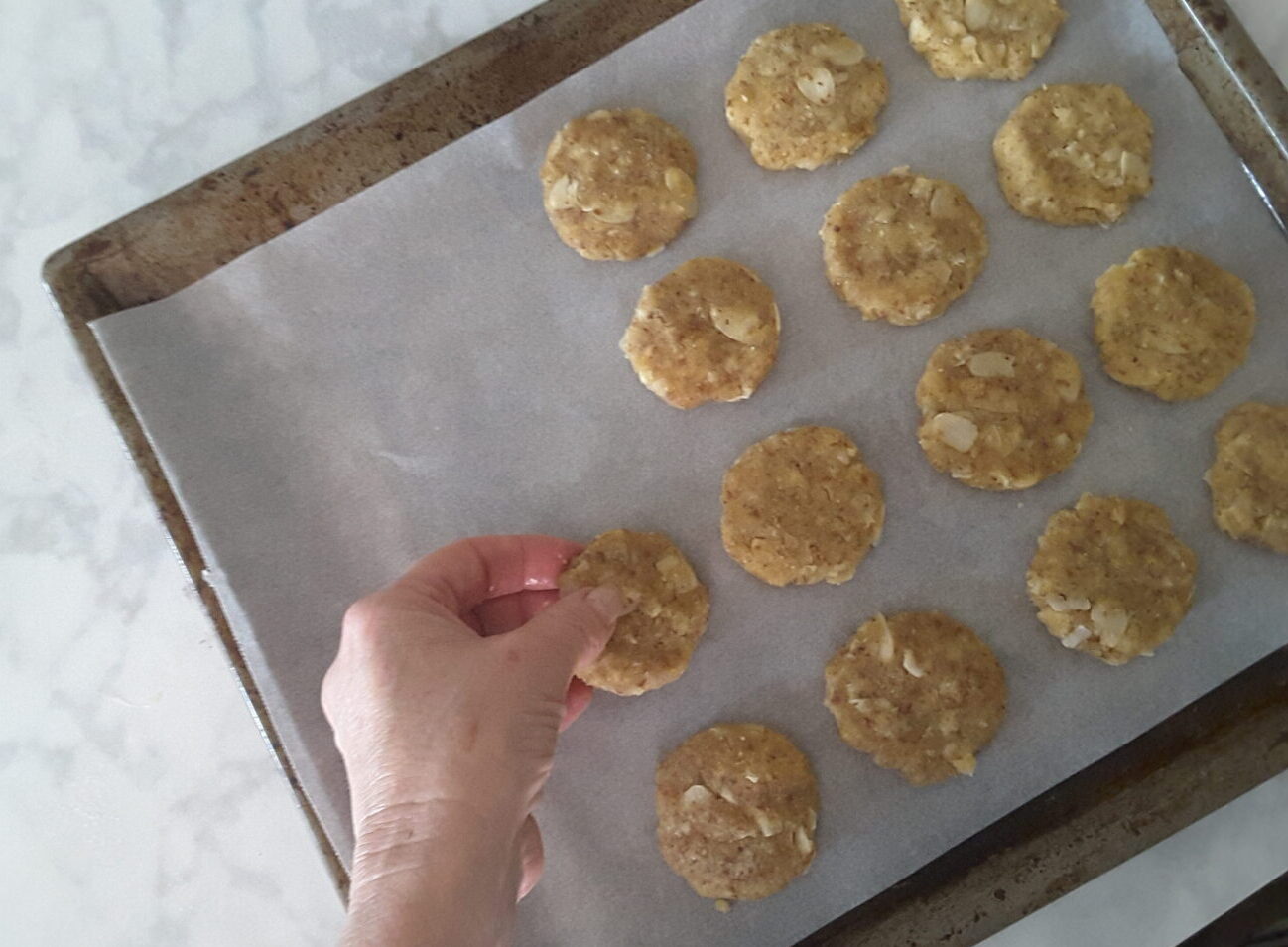 Anzac Day
During the war, Anzac biscuits were initially known as Soldiers' Biscuits. After the landing on Gallipoli by Australian and New Zealand troops (the Anzac's) in World War 1, they were renamed ANZAC Biscuits. Many believed that these biscuits were sent to soldiers on the line but that isn't true. They often featured at fetes and fund raisers where they were sold to raise money for the war.
Traditionally the ingredients used in these biscuits were oats, sugar, flour, coconut, butter, golden syrup, bi-carb soda and boiling water. Because of their historical military connection with the ANZAC's, these biscuits are still often used for fund raising for the returned services league.
The Low Carb Version
Oats, sugar and golden syrup have been replaced in this sugar free version of Low Carb Anzac Biscuits. Basically, the sugar and processed carbs have been replaced with almonds and a low carb sweetener. There is no compromise on taste though with this recipe. Whilst not exactly the same as the original, these still taste superb and still manage to have a  wonderful buttery, slightly caramelized flavor. I love that Low Carb Anzac Biscuits have very little impact on your blood sugar levels. This makes them ideal for anyone watching their carbs and also for diabetics.

More Delicious Sugar Free Cookie Recipes
If you are looking for some other fabulous low carb cookie recipes, check out these other recipes on this website. All are easy to make, and are perfect sugar free snacks to have on hand for a healthy treat. Low Carb Chocolate Chip Cookies are really lovely, and I also highly recommend you try making some Low Carb Vanilla Macadamia Cookies, which are egg free. Make sure you also check out the really simple to make recipe for Peanut Butter Cookies, which are always a favorite in my house. For the best keto shortbread, you simply can't go past this Keto Shortbread recipe.
Make sure you also check out the latest cookie recipe on the blog for Low Carb White Chocolate Macadamia Cookies but be warned. You are going to find it hard to stop at just one.
I hope you enjoy this recipe as much as I do.
Kxx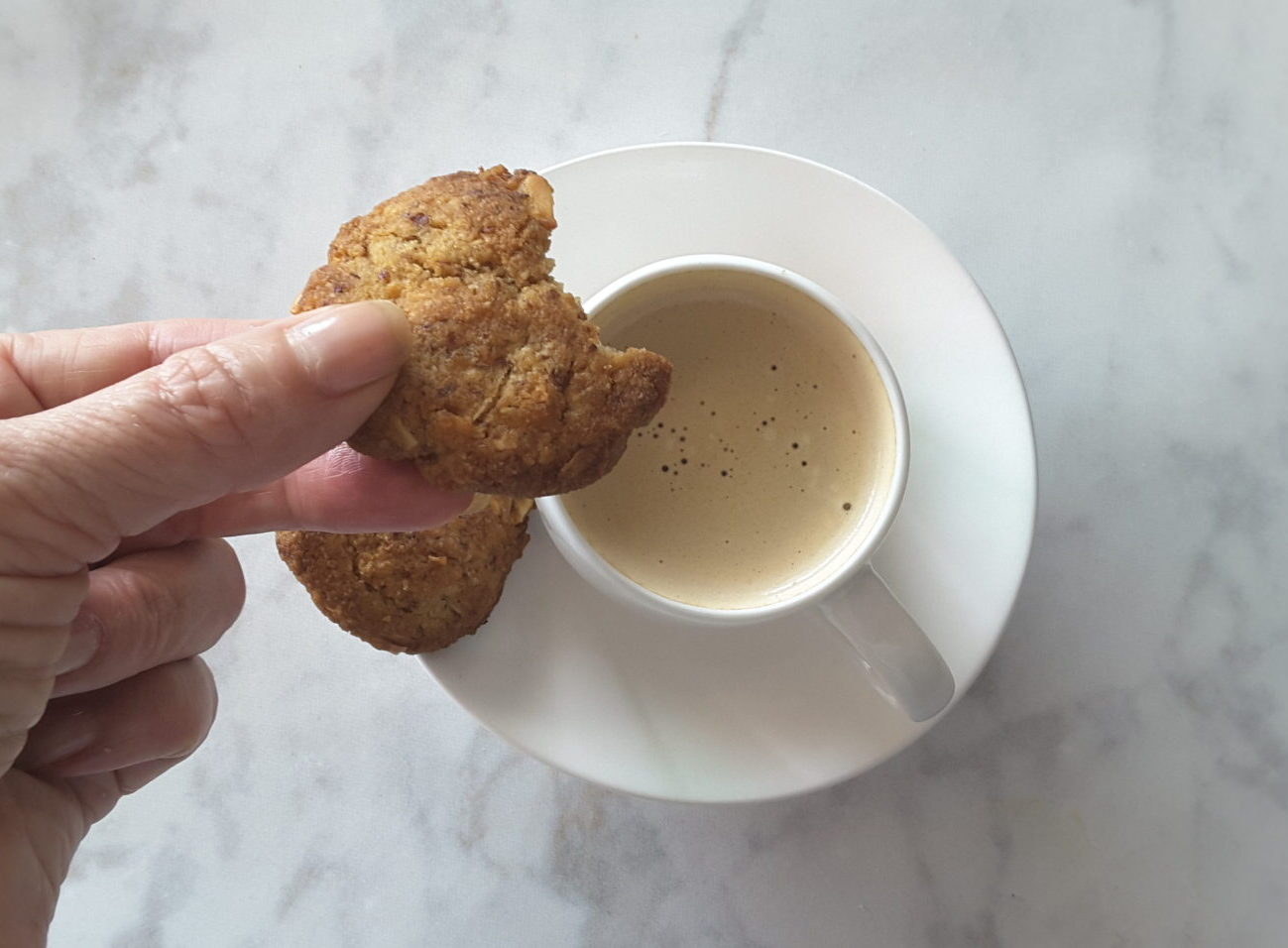 Ingredients
½

cup

Erythritol

or xylitol. If using monk fruit or stevia blend add 2 tablespoons

150

gms

butter

½

teaspoon

baking soda/bicarb soda

1½

cups

almond meal/almond flour

¼

cup

coconut flour

½

cup

desiccated coconut unsweetened

/shredded or flakes

½

cup

almonds- slivered or flakes

1

teaspoon

baking powder

A pinch of salt

1

egg

1

teaspoon

vanilla extract
Instructions
Preheat the oven to 175 C/340 F fan forced.

Melt the butter and the Erythritol in a medium sized saucepan on medium heat. Continue to simmer gently until the mixture starts to caramelize ever so slightly and becomes a light golden color. This should only take a couple of minutes. Watch constantly to ensure the mixture doesn't cook too much or burn, as different sweeteners react differently to heating and some can crystallize if heated too much . Remove the pan from the heat and add the baking soda to the mixture, stirring until it is combined.

Mix the almond flour, coconut flour, desiccated coconut, almonds, baking powder and salt in a large mixing bowl. Stir through the slightly cooled butter mixture, egg and vanilla extract mixing until well combined.

Using a tablespoon measure, shape cookie dough into balls and then flatten into cookies. Lay on a prepared/lined baking tray with a small gap for spreading and bake for 10-12 minutes or until golden.

Allow cookies to cool on the tray before moving to a cooling rack. Cookies will crisp up as they cool if you used Erythritol as the sweetener.

Store in an airtight container.
Recipe Notes
Watch the pot constantly when you are melting the butter with sweetener of choice, to ensure you don't over cook the mixture and end up with brown flecks in it or burn it. Some sweeteners will crystallize when heated up so only cook for a minimum amount of time.
For a crisp cookie, I highly recommend you use erythritol. Xylitol will give you a more fudgy finish. 
Equivalent amounts of coconut sugar or regular sugar can also be used in this recipe.
Nutritional Information
Serving:
1
cookie
|
Calories:
129
kcal
|
Carbohydrates:
2
g
|
Protein:
3
g
|
Fat:
13
g
|
Fiber:
2
g
Note that we calculate our own nutritional values so they may not be precise. Calculate your own if desired. Carb values exclude sugar alcohols such as Erythritol, as they generally have no impact on blood sugar levels. 50% of the carbs from Xylitol is added to nutritional values. This is consistent with industry practice.
Do you want to receive more recipes like this one? Subscribe to our newsletter now!