Low Carb Chocolate Brownies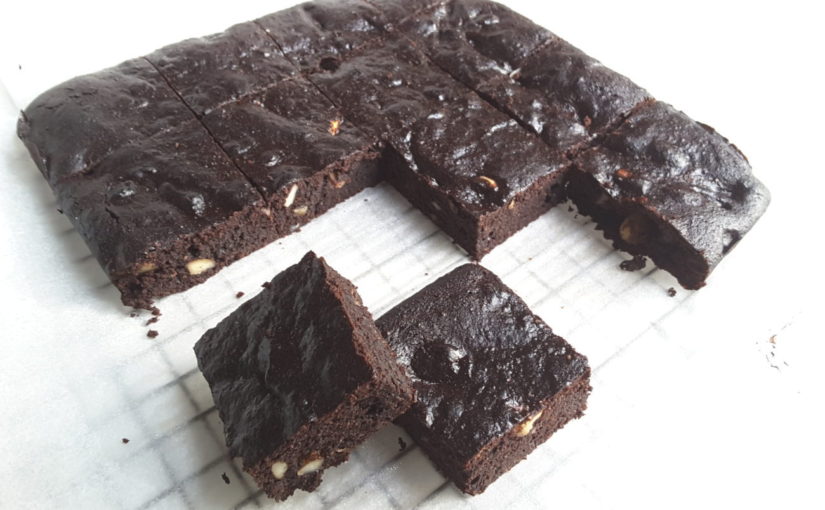 Low Carb Chocolate Brownies
Sugar Free Chocolate Brownies is a truly delicious recipe. The brownies are wonderfully fudgey in the centre with a rich chocolately taste. Using Xylitol in the recipe gives this recipe the fudgey, chewiness that is the mark of a good brownie. Xylitol is brilliant to use in recipes like this one because it imparts this fudginess and doesn't crispen up.
The Characteristics of Using Different Sweeteners
Xylitol is definitely the sugar of choice in baking goods like these brownies because it adds to the chewy, fudgey flavor of brownies. If you switch the sweetener, you will change the texture of the end result. I wouldn't use stevia mix in this recipe because you actually want the bulk that you get from using a sweetener that close to a 1 on 1 switch for sugar.
Please be careful when baking with Xylitol when you have dogs as it can be fatal if they digest even a tiny amount. I have 2 dogs and am always really careful when I bake with Xylitol for this reason. Unfortunately (or fortunately) Xylitol has certain characteristics that no other sweetener has, that makes it a must have in a low carb kitchen. Not only is it ideal for fudgy brownies, but it is also great for making ice cream as well, because it doesn't crystallize when frozen.
If you want a baked good to crispen up, then Erythritol is the best choice for baking. You will find that I always use Erythritol in the cookie recipes where I want a crisper finish, such as these Chocolate Chip Cookies and my latest recipe for Sugar Free Anzac Biscuits.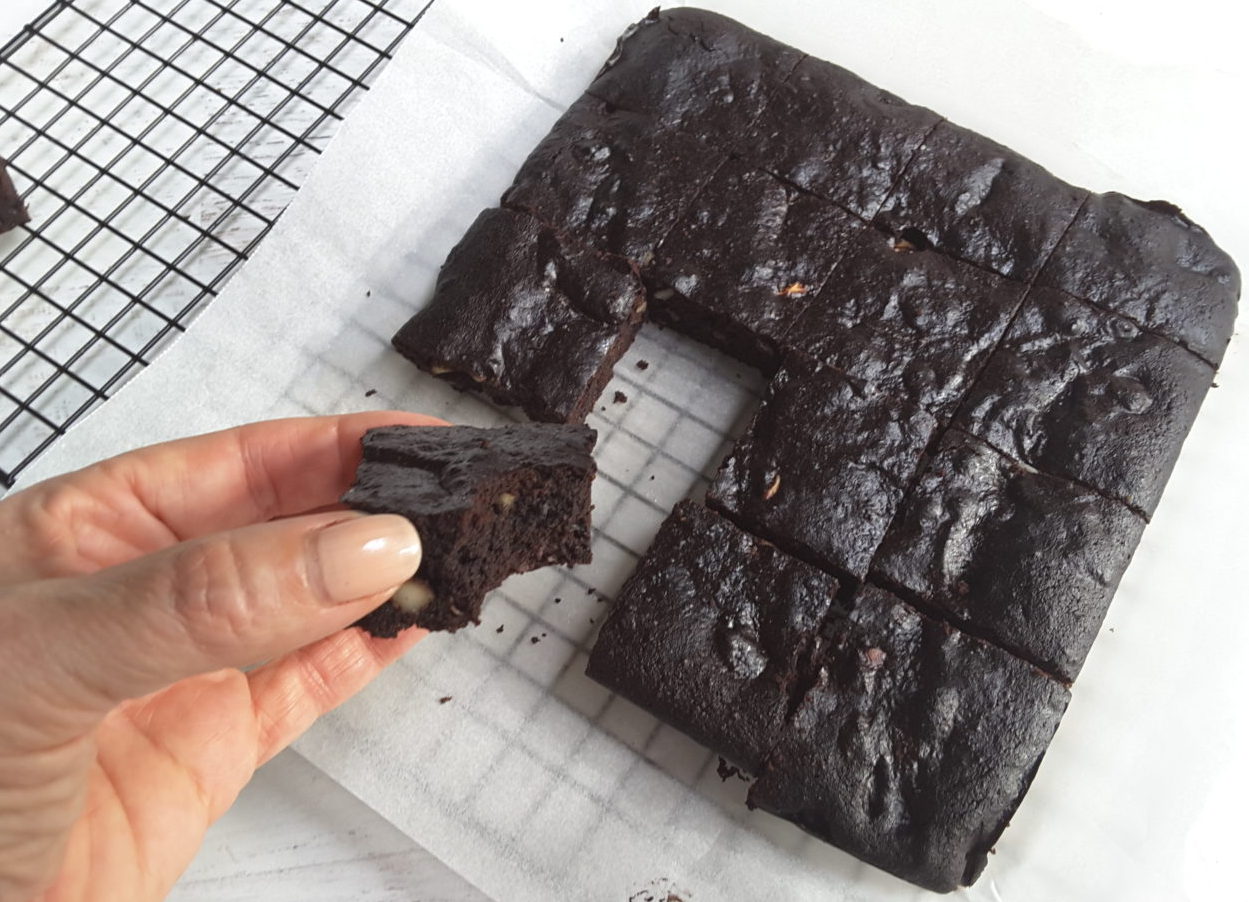 Using Erythritol
If you plan to make this using Erythritol in this recipe, you will need to amend the recipe slightly. An extra egg will be required to get a little extra fudginess and you may have to extend the baking time by about 3-5 minutes. I wouldn't use stevia in this recipe because it isn't bulky enough.
Carbs in Xylitol
Xylitol is actually a sugar alcohol and sugar alcohols don't get fully absorbed by the body. Although xylitol has about 1 gm of carbohydrate in it per gram, less than half gets absorbed by the body. When calculating the carbs for recipes using xylitol, this is taken into account. Roughly only half the carbs are counted.
Storing Sugar Free Chocolate Brownies
This recipe will store well for about 5 days in an airtight container at room temperature. They also freeze really well. I cut them into portions and freeze them in a zip lock bag with the air removed. This makes it really hand to grab one from the freezer for an instant snack. You might want to use the baking paper in between the portions to prevent them from sticking to each other.
Variations
If you enjoy chocolate brownies with nuts in it, this recipe is delicious with a couple of tablespoons of walnuts or macadamias. You could also add some a couple of tablespoons of chopped dark chocolate, 80% or more couverture for an even richer chocolate taste.
I love to eat this as it comes  but you could dust some additional cocoa powder on the top once it's cooled if you wished to.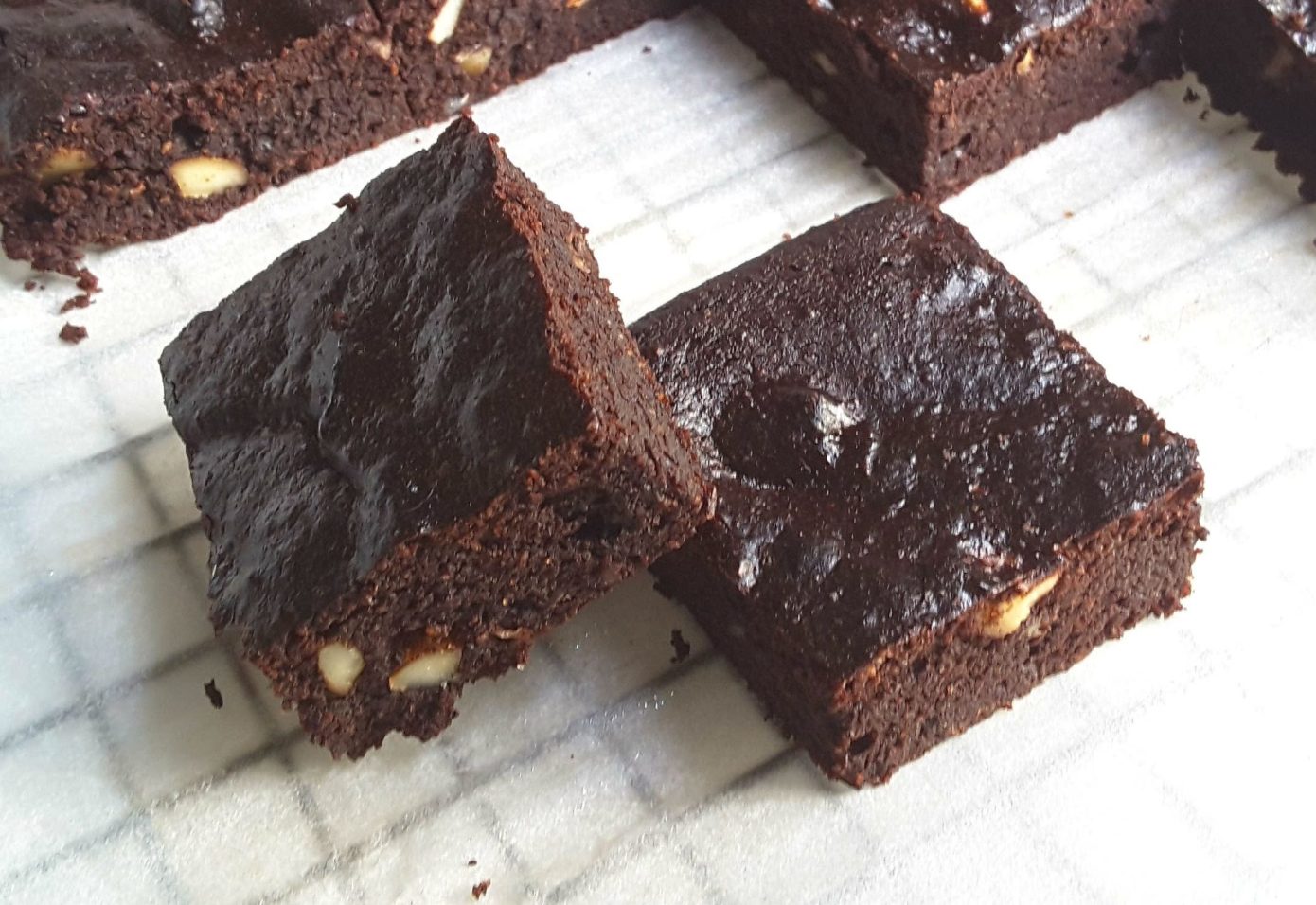 Ingredients
150

gms

butter

150

gms

xylitol

In Australia I like to buy this one

¾

cup

unsweetened cocoa powder

2

large eggs

1

cup

almond flour/ almond meal

1

teaspoon

baking powder

½

teaspoon

salt

Optional 2 tablespoons of chopped walnuts, macadamias or chopped dark chocolate for variation
Instructions
Melt the butter and the xylitol on the stove top till melted and combined. Continue to simmer very gently for a few more minutes, stirring occasionally. Beat the sifted cocoa into the butter mixture.

Beat the eggs in one at a time to the chocolate mixture, until well combined and the mixture becomes glossy.

Mix in the almond flour/almond meal, salt and baking powder and mix until well combined.

Bake in an 8" x 8" pan for 18-20 minutes at 350 F/170 C until cooked through but still soft in the centre.
Recipe Notes
Note that if you switch the xylitol for erythritol, then you will need to add another egg to the mix. The mixture could also take a little longer to cook. I would also process the erythritol to a powder so the sugar dissolves well.
You want your brownie to be fudgy so take care not to over cook the base. You want a few crumbs still sticking to a skewer if you check the centre.
Nutritional Information
Serving:
1
serve
|
Calories:
110
kcal
|
Carbohydrates:
2.6
g
|
Protein:
1.8
g
|
Fat:
9.3
g
|
Fiber:
0.5
g
Note that we calculate our own nutritional values so they may not be precise. Calculate your own if desired. Carb values exclude sugar alcohols such as Erythritol, as they generally have no impact on blood sugar levels. 50% of the carbs from Xylitol is added to nutritional values. This is consistent with industry practice.
Do you want to receive more recipes like this one? Subscribe to our newsletter now!