Keto White Chocolate Macadamia Cookies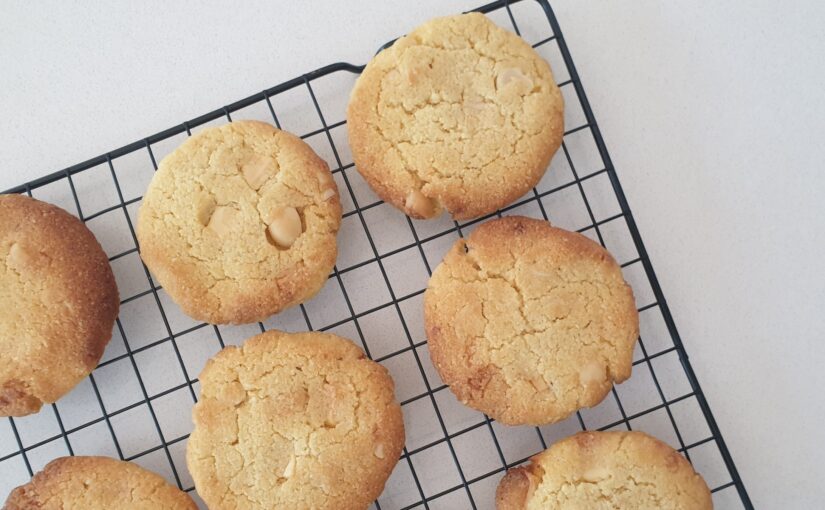 Keto White Chocolate Macadamia Cookies
Delicious Keto White Chocolate Macadamia Cookies are crisp on the outside and soft on the inside. So quick and easy to make. About 20 minutes is all that is standing between you and one of these delicious low carb cookies.
If any of you have made cookies before using sweeteners then you will understand that you need to be quite selective with what one you should use, as some sweeteners just don't crisp up. Make this recipe using different sweeteners  will give you a totally different textured cookie. If you are after a more fudgy cookie then I recommend that you use xylitol instead of erythritol.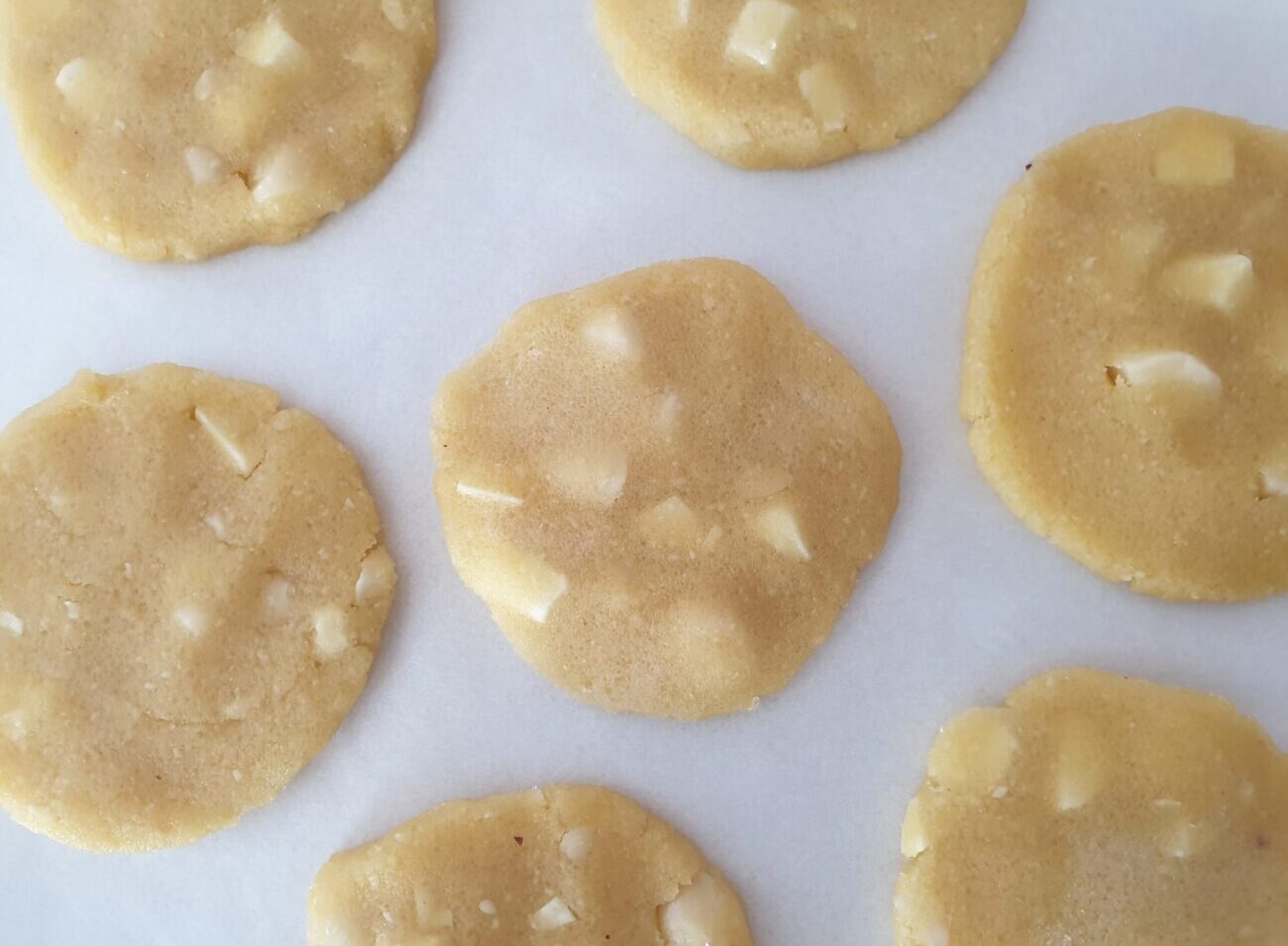 KETO WHITE CHOCOLATE MACADAMIA COOKIES WITH CRUNCH
If it doesn't worry you, then please go ahead and use a different sweetener to what has been specified. If you want these ccokies to turn out as described, then please make sure you follow the recipe. Note that even using an erythritol stevia blend will have an impact on this recipe so please try to find pure erythritol if you want cookies with a bit of crunch.
Sometimes baking with erythritol requires a little waiting time for the baked goods to crisp up. If you want to eat these cookies straight from the oven, your cookies might not have fully crispened up yet. Have a little patience and leave them out on a cooling rack to cool and crispen up. Store these cookies in an airtight container for 3-4 days. You could also freeze them but they will not be crisp out of the freezer.
XANTHAN GUM
Xanthan Gum, which is a natural food thickener is used in this recipe which you can leave out if you wish to. It serves to bind the recipe a little more, so the cookies end up with a chewy centre. In regards to using xanthan Gum, I always minimize my use of processed foods and additives and will only ever use this product if it is vital to the recipe succeeding. In this case it is necessary if you want a soft, chewy cookie. Now xanthan Gum is not an unnatural food but it has been processed and many don't like to use it because of this reason. It also doesn't agree with some people for some reason, so please simply leave it out if you need to. For more information on xanthan gum check out this link https://www.healthline.com/nutrition/xanthan-gum.
I generally try to avoid using xanthan gum when I can but not because of any health reasons associated with it. I try to keep my recipes true to being 'real food' and pretty much unadulterated wherever I can. When you cant use gluten or natural sugar in recipes though, xanthan gum can be beneficial to use. Note that you can buy xanthan Gum in most supermarkets and specialty stores and also online.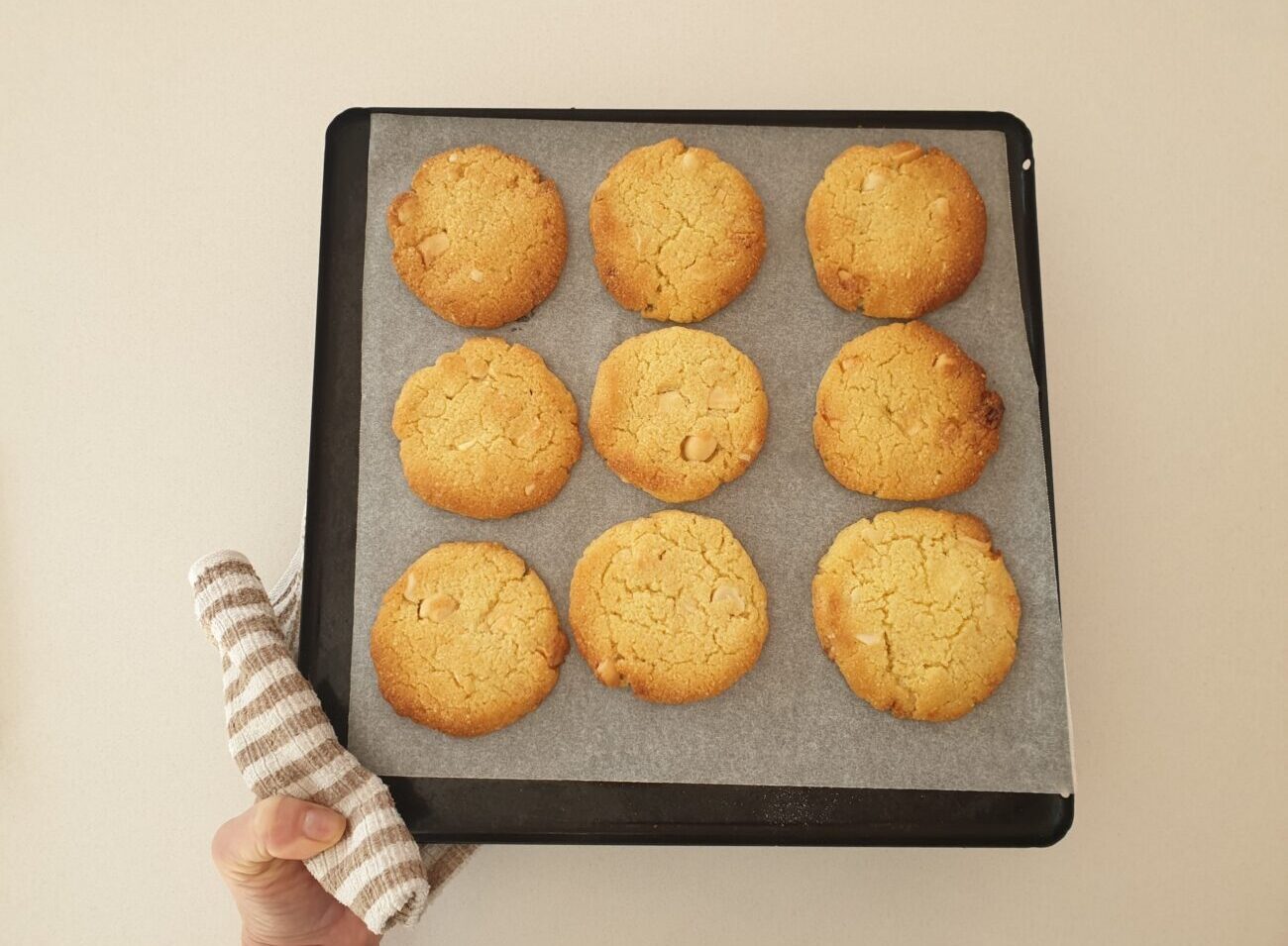 MORE DELICIOUS COOKIE RECIPES
If you are after some other lovely cookie recipes, check out these recipes for Anzac Biscuits (Coconut Caramel Cookies), Keto Choc Chip Cookies and delicious Low Carb Ginger Spice Cookies. There is also this fabulous recipe for Low Carb Almond Cranberry Biscotti that you should check out and a few other recipes that I highly recommend from this blog include-
White Chocolate and Macadamia Cookies
Cranberry Almond Shortbread
and this fabulous recipe for Low Carb Shortbread
.
Happy baking!
Kxx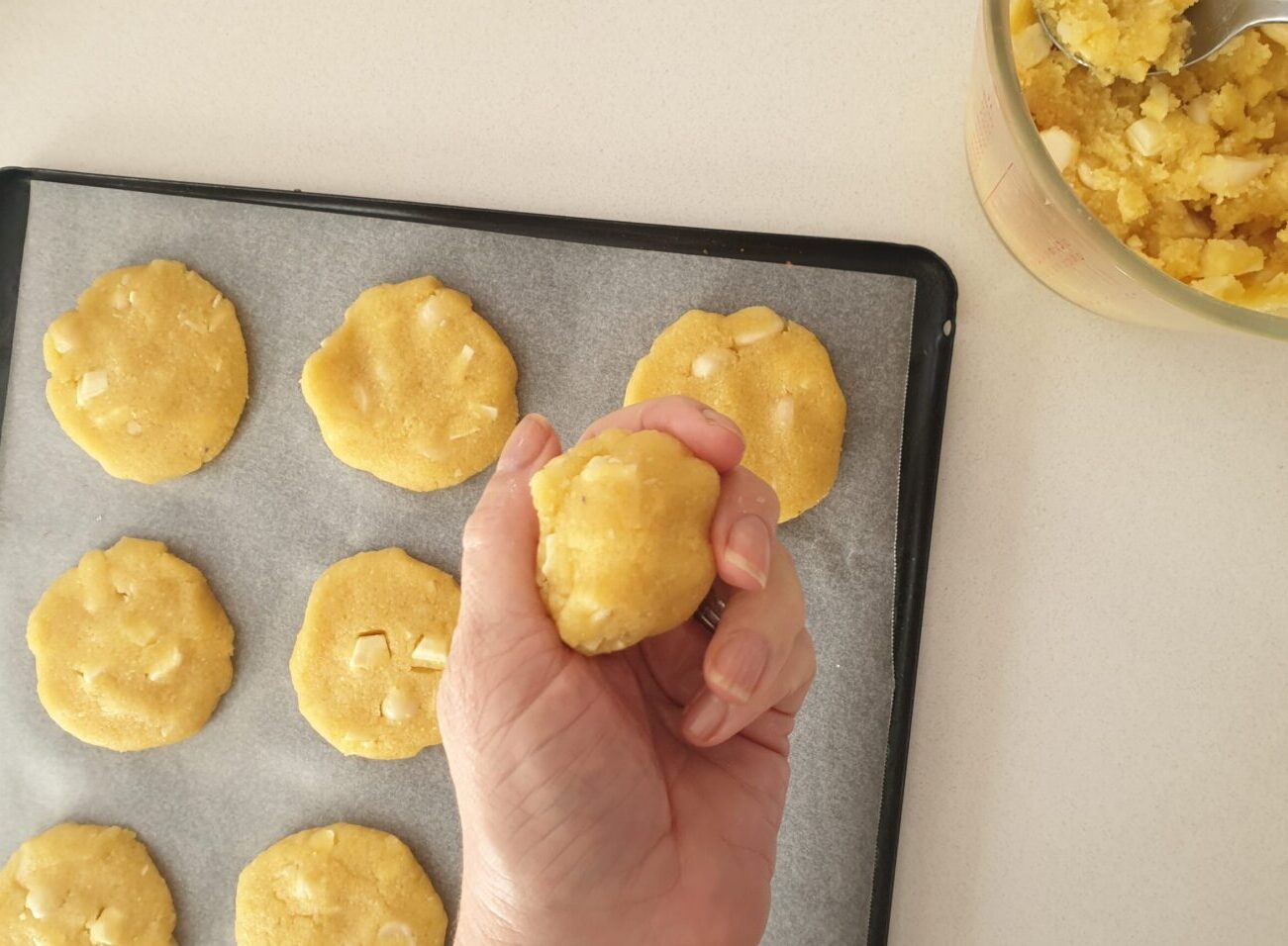 Ingredients
150

grams

butter

¾

cup

Erythritol

for a crisp cookie or use xylitol for a more fudgy cookie. Can be reduced to 1/2 cup.

1

teaspoon

organic vanilla extract

2

cups

almond meal/almond flour

2

tablespoons

coconut flour

½

teaspoon

baking powder

½

teaspoon

Xanthan Gum

A pinch of salt

1

large

egg

⅓

cup

white chocolate chips sugar free

- for budget choc chips chop up a chocolate bar

⅓

cup

chopped macadamia nuts
Instructions
Preheat the oven to 170 C/338 F Fan forced and line 2 large baking trays with baking paper

Melt the butter and whisk in erythritol and vanilla extract. Allow to cool.

Combine the almond meal, coconut flour, baking powder, xanthan gum and salt in a large bowl. Blend to ensure the baking powder is well dispersed.

Whisk the egg into the butter mixture. Add the butter mixture to the dry ingredients and stir until well combined. Make sure cookie dough is cool enough to gently fold through the white choc chips and the macadamia nuts. Allow the dough to sit for about 5 minutes.

Depending on the size of the cookies you want, use a teaspoon or tablespoon and create balls out of the cookie dough. Roll into firm balls and squash the balls down into a cookie shape onto the baking paper. Use your hands to shape the edges for a smoother shape.

Bake for 10-14 minutes or until cookies have browned slightly and are cooked through. You may need to rotate or turn the tray if the cookies aren't cooking evenly. Bake for less time for a softer cookie and more time for a crisper cookie but watch that the white chocolate doesn't overcook.

Allow cookies to cool completely on the tray before moving to a cooling rack for a couple of hours or until they crisp up. Store in an airtight container.
Recipe Notes
Note that pure Erythritol will give you a crispy finish. Using alternate sweeteners will vary the results.
Xanthan Gum will make these cookies chewy and they will bind more. Feel free to omit but the end result of the texture will vary.
I like to use Vitawerx white chocolate blocks and chop the chocolate into small bits about the size of choc chips. Make sure you stay posted for a home made white chocolate that will be brilliant to use in this recipe.
Nutritional Information
Serving:
1
cookie
|
Calories:
170
kcal
|
Carbohydrates:
3
g
|
Protein:
3
g
|
Fat:
15
g
|
Fiber:
1
g
Note that we calculate our own nutritional values so they may not be precise. Calculate your own if desired. Carb values exclude sugar alcohols such as Erythritol, as they generally have no impact on blood sugar levels. 50% of the carbs from Xylitol is added to nutritional values. This is consistent with industry practice.
Do you want to receive more recipes like this one? Subscribe to our newsletter now!