Low Carb Vanilla Macadamia Cookies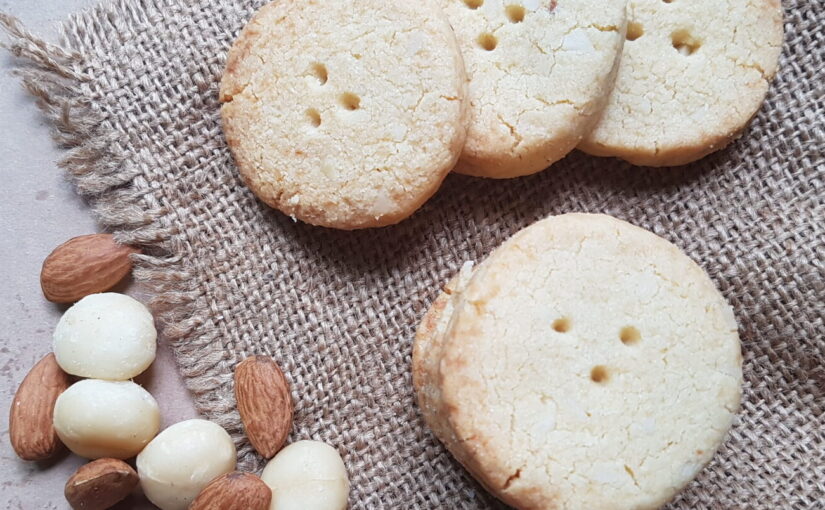 Low Carb Vanilla Macadamia Cookies
This delicious recipe for Low Carb Vanilla Macadamia Cookies is made from a few simple ingredients and are so simple to make. Featuring a scrumptious buttery texture, these are definitely morish so you may want to try to limit the amount that you eat. You'll find these quite similar in texture to shortbread because of the buttery taste.  They're the perfect low carb and low sugar replacement for shortbread, and around Christmas would make a lovely gift as well. Don't limit them just to special occasions though, as they also go perfectly with a cup of tea or coffee.
The flavors of vanilla, almonds and macadamias go beautifully together. If you don't have any macadamias on hand, you can always try switching them for pistachios or slivered almonds, for an equally delicious variation.
Sweetener
I suggest that you use pure erythritol in these cookies in order to try to get more crunch in your cookie. If you use a sweetener such as Stevia, it can cause the cookies to be a little soft. Some times when you bake with erythritol, it can take a couple of hours for food to crispen up so you may need a little patience. It really isn't very useful though if you want to eat these straight away. These cookies do taste amazing straight from the oven even when baked with stevia, the problem with stevia can become apparent after a couple of days of storage. If you are going to eat these cookies pretty much straight away, you won't have a problem with them if you do use Stevia.
As I have made a conscious decision to reduce my sugar intake and my taste for sugar, I try to use a minimal amount of sweetener in all of my recipes. Some of you might find that some recipes aren't sweet enough for your palate, especially if you are just starting to cut back on sugar. I suggest that you have a taste of the dough once you have added the sugar, and see what you think before adding any more sweetener. Almond meal tends to lend a bit of sweetness to recipes as well so if you do add any extra sweetener, try to minimize the amount that you add.
I hope you like enjoy these cookies. If you are looking for other delicious cookie recipes, check out this recipe for Low Carb Ginger Spice Cookies and these lovely Low Carb Chocolate Chip Cookies.
Kxx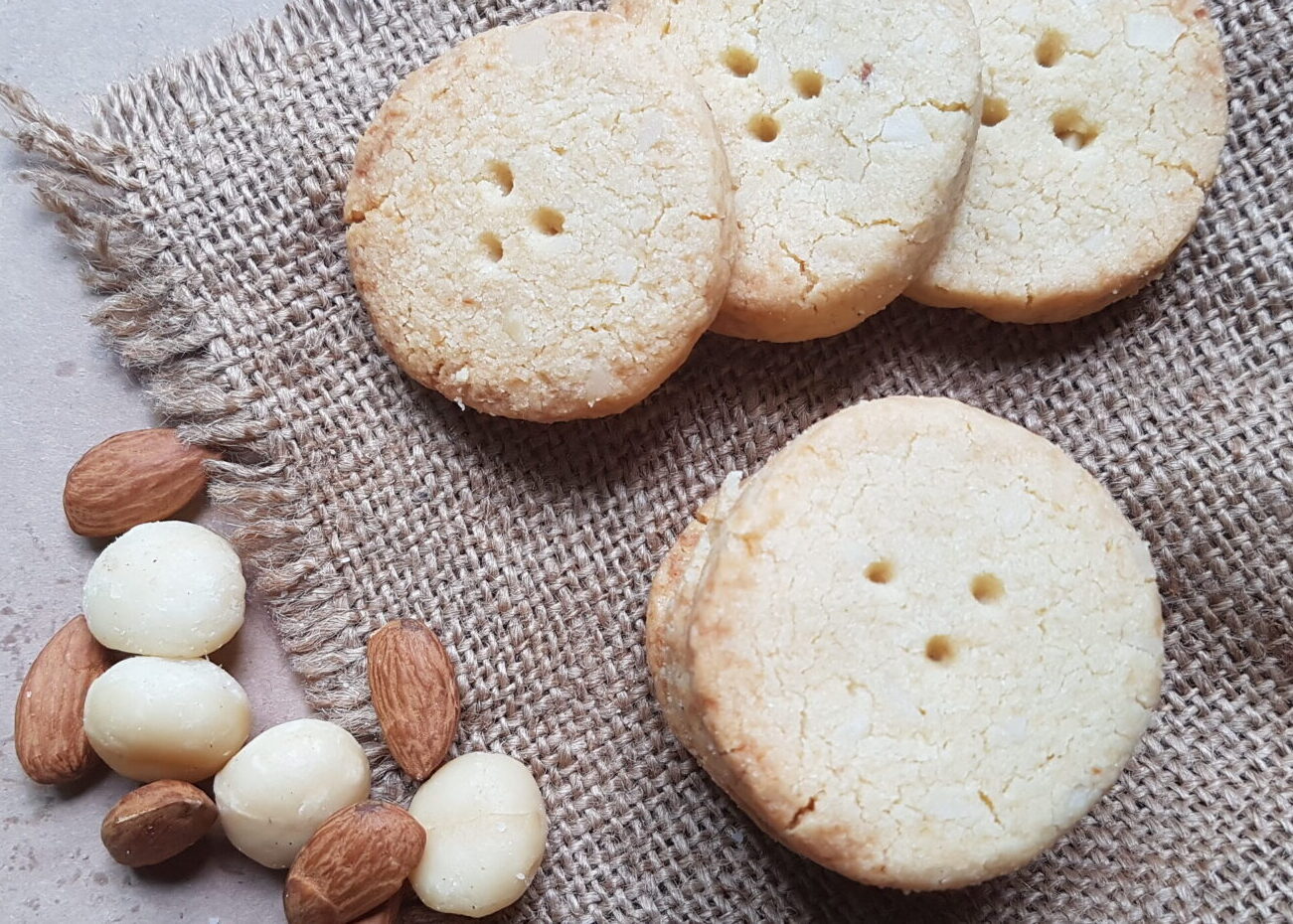 Ingredients
150

gms

butter

½

cup

erythritol

adjust for sweetness

200

gms

blanched almond meal/flour

50

gms

coconut flour

50

gms

chopped macadamia nuts

1

teaspoon

baking powder

1 ½

teaspoons

vanilla extract

A pinch salt
Instructions
Preheat oven to 155 C/310 F fan forced

Melt the butter. Combine all of the dry ingredients in a bowl and add the butter to the dry ingredients. Stir untill the mixture comes together.

Create a smooth ball with the dough and cut it in half. Shape each half into a cylindrical shape. Place a length of cling wrap on the bench and place one cylinder along the middle of the wrap. Using your hands, start to create a smoother shape, cookie size in diameter, compressing the dough to remove any pockets of air. The dough will be slightly sticky especially if it is warm.

Roll the cylinder up in the cling wrap and continue to roll and shape it into a nice round shape. Square off the ends and twist the cling wrap on the ends to seal. Repeat the process with the other half of the dough.

Place the dough the fridge (or freeze) for approximately 30 minutes or until the dough is firm.

To slice into biscuit rounds, simply unwrap dough and using a sharp knife slice off cookies approximately 5-7 mm thick, ready to bake. Smooth off edges with hands if desired. Heat from your hands will soften the cookies so don't over handle.

Place onto baking paper with space in between and bake for 10-12 minutes at 155 C/310 F fan forced, or until cooked through. Allow to cool on the tray before moving onto a cooling rack to cool down completely. Adjust temperature if the cookies are browning too much.

These cookies are best eaten fresh but can be stored in an airtight container for up to 5 days.
Variations
Add pistachios or slivered/chopped blanched almonds in place of the macadamias.

For plain vanilla biscuits/cookies simply omit the addition of the chopped nuts.
Recipe Notes
Note that you can switch the sweetener used but erythritol is best to get a crispy crunchier finish. If using a stevia or monk fruit blend, add 2-4 tablespoons depending on your taste. You may need to add a little more almond meal if you do this as the ratio of wet to dry ingredients will have changed.
To use an alternative sweetener such as sugar or coconut sugar, use approximately 1/3-1/2 cup or add to taste.
Nutritional Information
Serving:
1
cookie
|
Calories:
83
kcal
|
Carbohydrates:
1
g
|
Protein:
2
g
|
Fat:
8
g
|
Fiber:
1
g
Note that we calculate our own nutritional values so they may not be precise. Calculate your own if desired. Carb values exclude sugar alcohols such as Erythritol, as they generally have no impact on blood sugar levels. 50% of the carbs from Xylitol is added to nutritional values. This is consistent with industry practice.
Do you want to receive more recipes like this one? Subscribe to our newsletter now!