Keto Lamington Thumbprint Cookies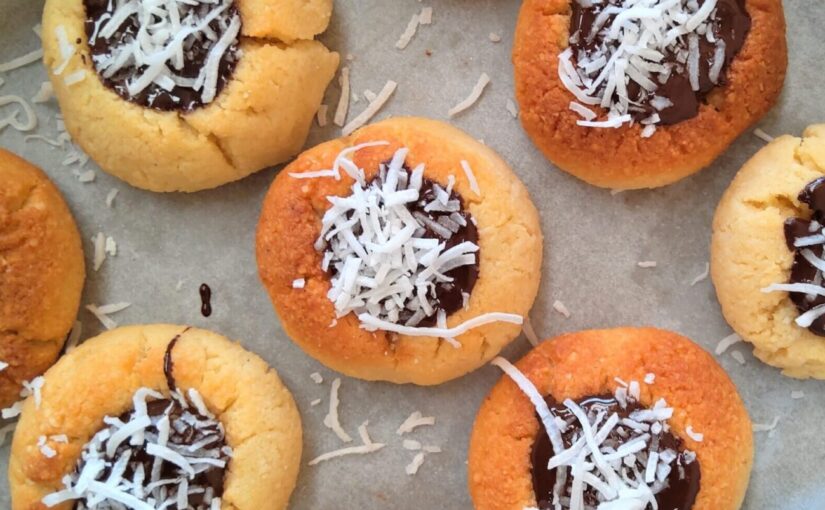 Keto Lamington Thumbprint Cookies
Wait until you try one of these delicious keto lamington thumbprint cookies! Really quick and easy to make, these almond shortbread cookies are filled with sugar free raspberry or strawberry jam, drizzled with dark chocolate and sprinkled with coconut. Gluten free and sugar free these have the flavour of a local favorite, our renowned lamingtons. Each cookie has about 3.5 grams of net carbs per serve, so you can enjoy them guilt free.
What are Lamingtons?
Lamingtons are sponge fingers that are joined together with a spread of raspberry or strawberry jam. The fingers are then dipped into a chocolate mixture to coat the outside of the finger and rolled in coconut. Some lamingtons don't feature the jam but they are both my, and many others preferred version of a lamington. This recipe is a quick and easy to make cookie version that tastes absolutely amazing.
ANZAC Day
I was inspired to make this recipe to celebrate ANZAC day in Australia. Anzac Day is a national day of remembrance in Australia and New Zealand, where we commemorate and remember all Australians and New Zealanders who have served and died in war, conflicts, or peacekeeping operations, as well as the contribution and suffering of all those who have served. The flavour of these thumbprints has all of the hallmarks of the traditional recipe but in cookie form and they are quintessential Australian/New Zealand fare so are perfect to serve for ANZAC day.
So Quick and Easy To Make
Quickly mix the cookie dough recipe, shape your cookies and press a hole into each cookie with your thumb. Fill the thumbprint with raspberry jam and bake for about 15 minutes. Once your cookies have cooled, drizzle or top with melted dark chocolate and sprinkle with coconut.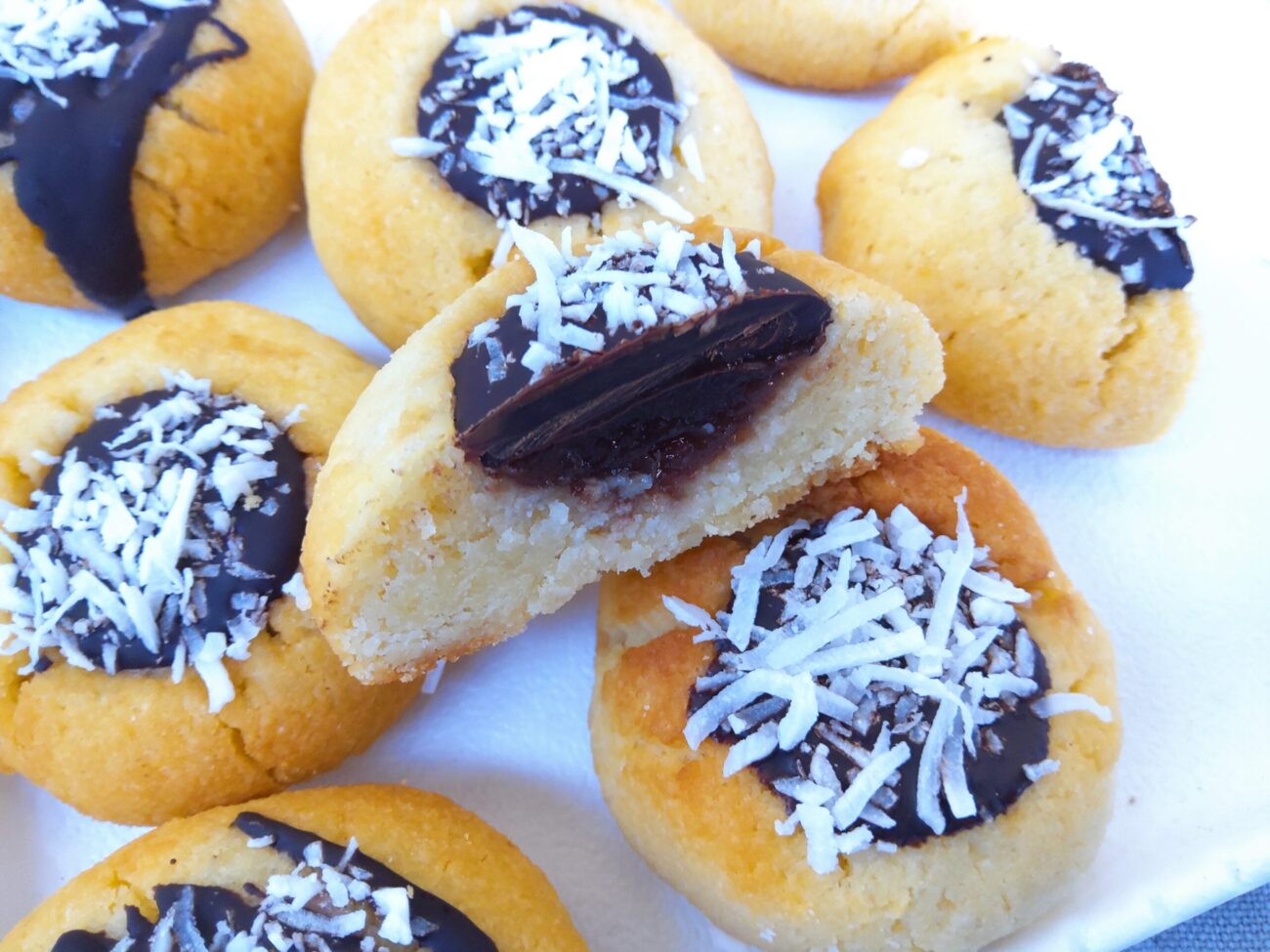 What Sweetener Should You Use?
Aside from xylitol, I would use any of the low carb sweeteners available. Xylitol will make these cookies a little too fudgy. My favourite sweetener to use here in Australia is Naturally Sweet's Erythritol but any other sweeteners you have on hand will work as well. If using erythritol your cookies will continue to crisp up on the bench for a couple of hours.
What Jam Should You Use?
Try to use a jam that fits in with your lifestyle. You can make your own homemade low carb jam such as my recipes for  keto raspberry chia jam or strawberry chia jam. You can also use a store bought sugar free jam such as Natvia here in Australia. I used Natvia Raspberry Jam in the cookies featured out of convenience, but the chia jam works just as well in this recipe. You can buy the jam online or at major supermarkets in Australia. You could use any  jam you like but just make sure it is one that fits in with your dietary requirements.
To Create your Thumbprint
Use your thumb to create the thumbprint by gently flattening the centre of each cookie to create enough space to fit about 1/2 teaspoon of jam. My favorite way to create the thumbprints is to use the end of a wooden spoon, as I find that my nails get in the way. Once the cookies have been cooked, I like to top with up with some additional jam. Filling the thumbprints too high can cause the jam to spill over the edge.
More Delicious Keto Cookie Recipes
Make sure you check out some of these other fabulous sugar free, gluten free low carb cookies
ANZAC biscuits
White Chocolate Macadamia Cookies
Pistachio Lemon Cookies
Cranberry Almond Shortbread Cookies
Low Carb Almond Cranberry Biscotti
If you love this recipe please review the recipe and share your efforts. It's so satisfying seeing your efforts and always great to receive feedback for my recipes.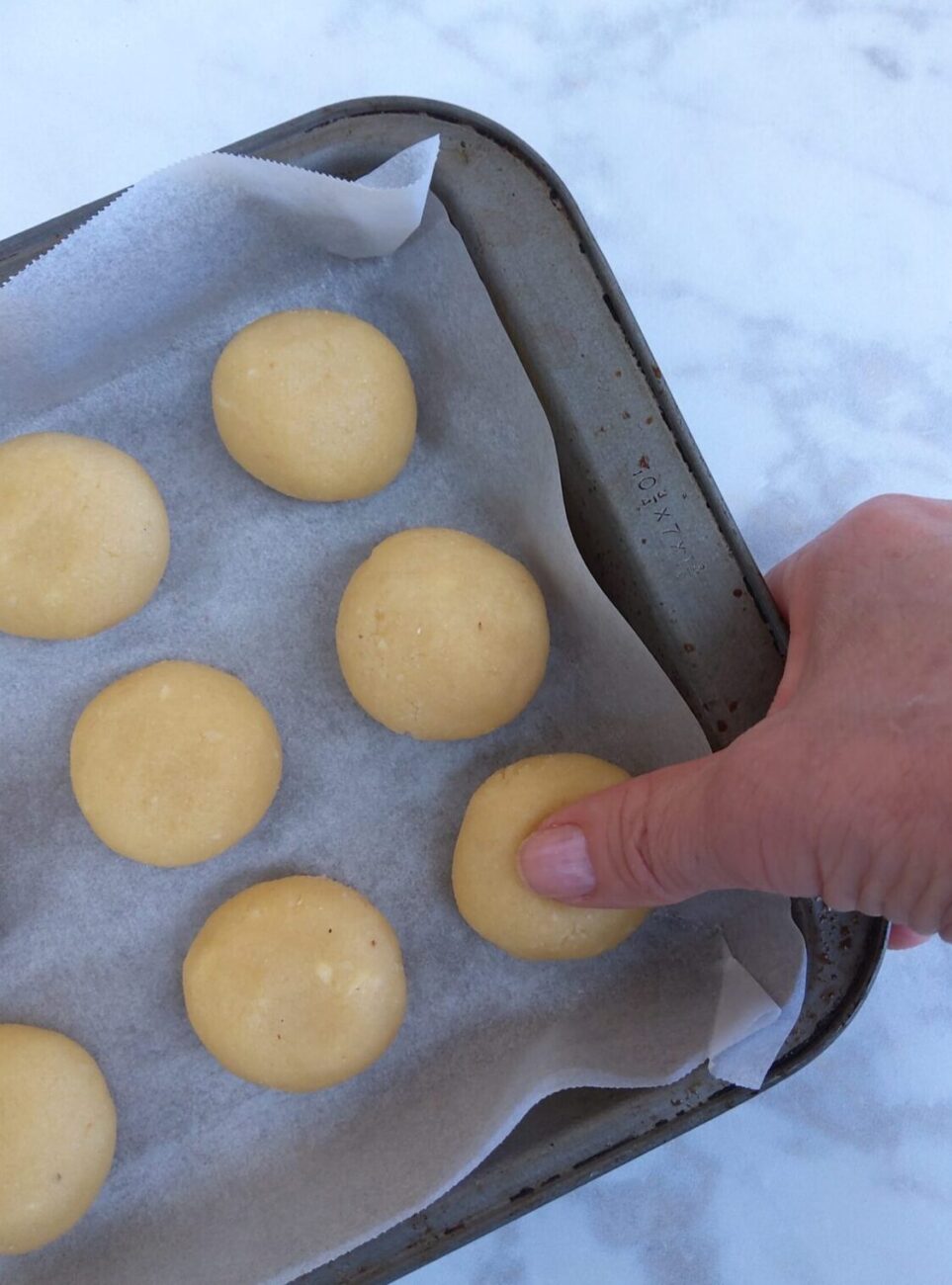 Ingredients
Topping Ingredients
30

grams

Dark chocolate

- I like to use Lindt 85%

2

tablespoons

Dessicated/shredded/flaked coconut
Instructions
Preheat your oven to 160 C/ 325°F.

Beat cream cheese and butter till soft. Add the sweetener and vanilla extract and beat until creamy. Add the egg and beat until blended.

Add the almond flour/meal, baking powder and salt and fold through until well combined. Bring mixture together to form a large ball. If mixture is too soft you can refrigerate for about 30 minutes to make it easier to handle.

Use a tablespoon to scoop out the cookie dough and form into a ball.

Place each ball onto baking paper on a baking tray. Flatten slightly then use your thumb or the end of a wooden spoon to create a well in the centre of each dough ball. You can reshape the edges of your cookies if desired using your hands if they split slightly.

Use a teaspoon to 3/4 fill your thumbprints. Too much jam will spill down the sides of your cookies. I like to top up the thumb holes after baking with jam and recommend that you do as well.

Bake for 15-18 minutes or until the cookies are baked through. If they are browning too much, reduce the temperature slightly.

Allow to cool on the baking tray until they firm up then transfer to a cooling rack to completely cool.

Once cool, melt 30 grams/ 1 oz of dark chocolate and either drizzle or spoon onto the top of each cookie. I like to just cover the jam and thumb print. Sprinkle with desiccated/shredded or coconut flakes and allow the chocolate to set before serving. Placing cookies in the fridge will speed up the setting process. You can top up the jam before topping with the melted chocolate.

Store in an airtight container.
Recipe Notes
My favorite sweetener to use in this recipe is erythritol as the cookies firm up slightly. Xylitol might be too fudgy to use in this recipe but a monkfruit or stevia blend will also work well. Remember that if you use erythritol, your cookies will continue to firm up for a few hours after they have been baked.
The color of the jam may fade when the cookies are baked. Feel free to top up the jam slightly once they have cooked. If you are leaving these as jam thumbprint cookies, I place them back in the warm oven for a few minutes so the jam melts slightly as makes it easier to store as it will set more than fresh jam,  and also means you get more jam in each cookie.
For simple jam thumbprint cookies just omit the chocolate and coconut.
Nutritional Information
Serving:
1
cookie
|
Carbohydrates:
4.9
g
|
Protein:
2.7
g
|
Fat:
9.1
g
|
Fiber:
1.3
g
Note that we calculate our own nutritional values so they may not be precise. Calculate your own if desired. Carb values exclude sugar alcohols such as Erythritol, as they generally have no impact on blood sugar levels. 50% of the carbs from Xylitol is added to nutritional values. This is consistent with industry practice.
Do you want to receive more recipes like this one? Subscribe to our newsletter now!