Low Carb Buttered Cabbage with Bacon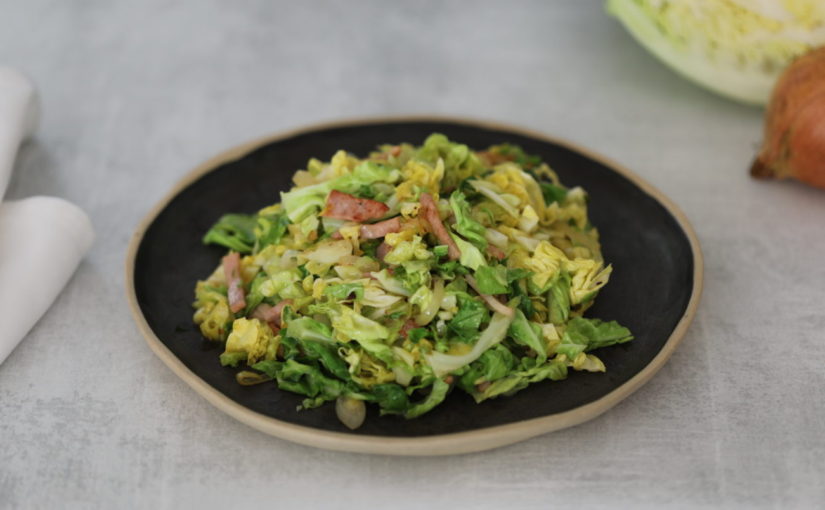 Low Carb Buttered Cabbage with Bacon
Low Carb Buttered Cabbage with Bacon is my absolute favorite way to serve cabbage. It is another simple side vegetable recipe that is absolutely delicious and could change what you and your family think about cabbage. One of the best things about cabbage is that it is always cheap and always available. It is also an under rated vegetable that if cooked the correct way, can taste divine. For all of you bacon fans, this is another vegetable dish that has been enhanced by the addition of bacon. Bacon does have a way of making foods taste great.
I still remember eating soggy grey cabbage as a child and always hated it, and I never cooked with cabbage for a long time except in cold dishes such as slaw recipes. It is recipes like this one that has brought the humble cabbage back into my life. I have even been known to eat a big bowl of Low Carb Buttered Bacon for lunch on it's own, it tastes so good.
This recipe is ideal for anyone generally trying to reduce the carbs and sugar in their life. It's a great recipe for diabetics, celiacs, those with gluten intolerance, and for anyone following a low carb, keto or LCHF way of eating. Try serving it along side some simple grilled meat such as pork, beef or chicken for a main course. Add some greens on the side such as beans or broccoli for a really well balanced meal.
If you need a larger portion, simply increase all of the ingredients in the recipe by the desired amount. I like my cabbage slightly undercooked but if you prefer yours to be cooked more, simply adjust cooking times.
For an equally delicious cabbage recipe, I suggest you have also have a look at this recipe for Creamy Buttered Cabbage. I guarantee it is going to make you appreciate the humble cabbage a lot more than you do now.
I hope you find the time to make this simple side dish featuring cabbage and bacon.
Kx
Creamy Buttered Cabbage
Serves 4

Ingredients
1/4 large cabbage finely sliced- approximately 400-500 gms/17 oz
100 gms/3.5 oz thinly sliced bacon
1/2 onion thinly sliced
Salt and pepper to taste.

Method
1. Heat a large heavy based pan over a medium heat.
2. Add 1 Tbspn butter, bacon and onion and saute till the onion is transparent. Up the heat slightly towards the end of cooking if you like crispy bacon but take care not to burn.
3. Add remaining butter, allow to melt and then add the cabbage. Saute for another 10 minutes on medium heat till cooked as desired.
4. Season with salt and pepper, Remove from heat and serve.

Variations
1. Omit onion if desired.
2. A couple of spring onions could also be used instead of onion.
3. For a creamier dish, add 2 Tbspns of sour cream at the end of cooking.
4. Sliced brussel sprouts can be used in place of cabbage.

A KETohh creation
www.ketohh.com