Low Carb Spinach and Artichoke Dip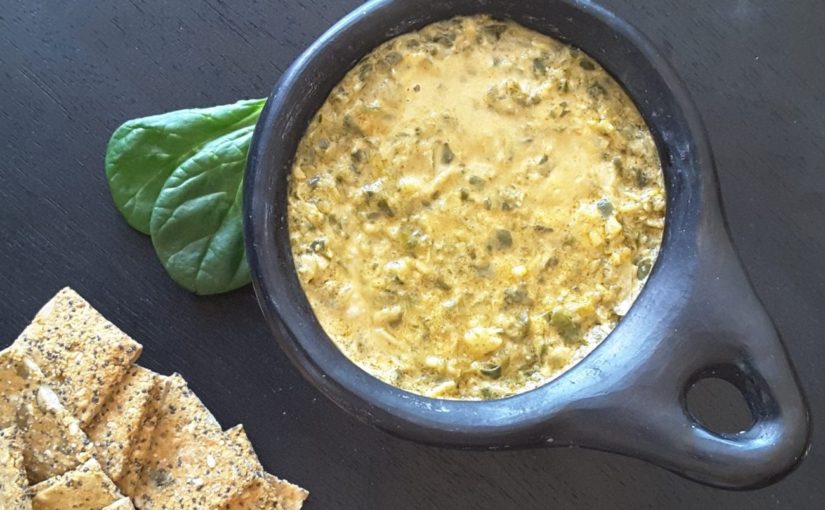 Low Carb Spinach and Artichoke Dip
This rich and creamy, Low Carb Spinach and Artichoke Dip is sure to become a in your house. Made with spinach, artichokes, cream cheese, sour cream, cheese, herbs and spices, it tastes amazing. For low carbers, keto and LCHF, try it served warm with your favorite low carb cracker, or vegetable sticks such as celery, pepper and cucumber. If catering for anyone who isn't concerned with their carb intake, it would also taste amazing served in a cobb loaf and heated up in the oven, or serve it simply with corn chips or crackers.
I've tried to keep preparation to a minimum with this recipe so it won't take long to make. If, however you don't have any onion powder, you could add some gently sauteed onion (about 1/2 an onion) or spring onions/chives, at the start of the recipe, and cook until soft before adding the spinach. Note that I sometimes struggle to find onion powder in Australia, so if I haven't ordered any from iHerb recently then I buy dried onion from the supermarket and simply blitz it in my Nutri-bullet/food processor till fine.
This recipe is ideal for anyone following a low carb, keto or LCHF way of eating. It's the perfect dip to serve if you are entertaining but it is also a great dip to have on hand for a healthy snack. Take some to work with some low carb vegetable crudites or low carb seed crackers and you have a healthy and delicious snack or light lunch.
This is one of my go to recipes for entertaining, and guests always comment on it, and there is never any left over. For a couple of other low carb dips that are perfect for any occasion, check out these recipes for Low Carb Chile Con Queso, the simple to make Low Carb Artichoke Dip and this delicious Moroccan Pumpkin Dip.
There is actually a dip for all occasions and all tastes.
Kxx
Low Carb Spinach and Artichoke Dip

Ingredients
250 gms/8 oz frozen spinach, thawed
400 gm/14 oz tin artichoke hearts drained and chopped finely
1/2 cup sour cream- full fat
1/2 cup cream cheese- full fat
1/2 cup grated Parmesan cheese
1/2 cup grated tasty cheese
2 Tbspns mayonnaise
1 Tbspn butter or a splash of extra virgin olive oil-EVOO
1 Tbspn chopped garlic
1 Tbspn mild paprika
1 tspn onion powder

Method
1. Squeeze the water from the spinach and cook off in the butter or oil on a medium heat, along with the garlic, till soft.
2. Add cream cheese and stir till blended.
3. Add artichokes and mix well.
4. Add all other ingredients and stir until everything has blended and cheese has melted.
Serve hot.

This makes about 4 cups of dip.
If you don't use it all it is ideal to freeze.
To reheat, simply zap in the microwave or it can be reheated in a medium oven for 15-20 minutes.

Variations
If you don't have onion powder, replace it with 1/2 onion finely chopped or 2 spring onions finely chopped and saute in butter/oil before you add the spinach in step 1.
If you don't have sour cream or cream cheese or mayonnaise, simply add extra of any one of these same ingredients that you do have.

A KETohh creation
www.ketohh.com