Low Carb Zucchini Slice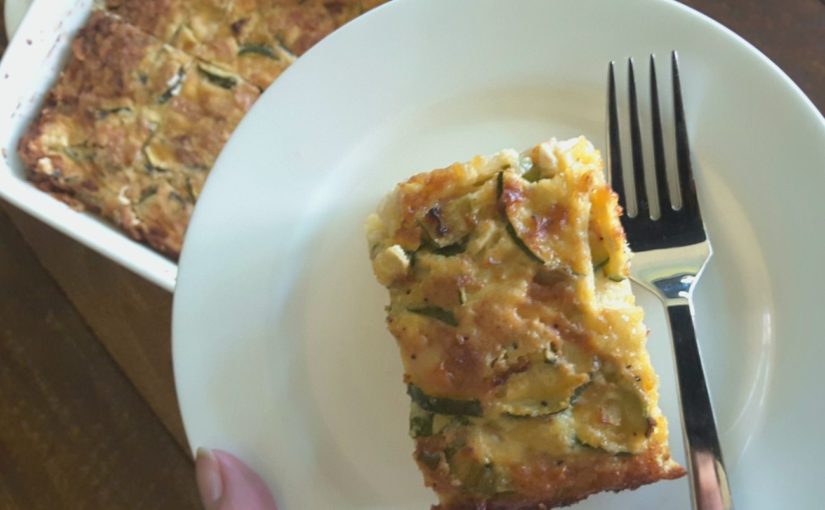 A delicious low carb version of the classic, this Low Carb Zucchini Slice is simple to make, tastes delicious, and is sure to become a favorite in your house. It's healthy, it's so easy to make and it uses really simple ingredients. It is also suitable for LCHF, keto and low carb advocates and by removing the bacon in the recipe is also perfect for vegetarians and Paleo.
I love to eat this for breakfast, lunch or dinner. On it's own, simply heated up, it's a great way to start the day. Serve it with some fresh salad or roasted vegetables, and then you have a complete meal.
I haven't grated the zucchini in this recipe, as is done in a traditional zucchini slice recipe, as I like the look of this dish with slices of zucchini, as well as the texture. If you are trying to hide vegetables for young children or would prefer to grate your zucchini, then please go ahead and grate your zucchini, as it won't alter the recipe at all. I do find that grating the zucchini brings out more water in the recipe than it does by simply slicing the zucchini so the dish is firmer in texture when not grated.
This recipe freezes really well. I save it in single serves so that I can simply heat it up when I want it. I think that's why it's a favorite of mine for breakfast, as I don't have to prepare anything. Although, I will occasionally fry up some extra bacon to have on the side….delicious!! This recipe is also perfect for breakfast or lunch on the go. It has saved me a number of times from making the wrong food choice when not at home. You can eat it cold or heated up so there's no need to rely on an oven or microwave.
Enjoy this low carb remake of a classic!
Kxx
LOW CARB ZUCCHINI SLICE

Serves 8

Ingredients
8 large eggs
200 gms/1 cup chunky diced bacon
2 medium zucchini quartered lengthways and sliced thinly into quadrants
1 onion finely chopped
1 cup grated tasty cheese
1/2 cup sour cream- full fat
1/2 cup cream- full fat
2 Tbspns coconut flour
Butter to rub on the baking dish
1 Tbspn grated parmesan cheese
1 Tbspn almond meal/almond flour
Salt and Pepper to taste

Preheat oven to 170 C/ 350 F fan forced

Method
1. Prepare an 20-30 cm/8 x 12" pan by rubbing it with liberally butter.
2. Mix the parmesan cheese and almond meal together and sprinkle on the prepared pan, shaking it to distribute it all over.
3. Beat the eggs and season with salt and pepper. Beat in the sour cream and cream and mix till combined.
4. Mix in the coconut flour.
5. Gently fold in the remaining ingredients.
6. Pour into the prepared quiche pan.
Bake for approximately 45-50 minutes or until cooked in the centre but not dry. Allow to sit for 10 minutes before serving.

Variations
Omit the almond meal and double the amount of parmesan cheese for the crust to make this nut free.
Grate the zucchini instead of slicing it.
Pan fry the bacon to make crispy before adding.

A KETOhh Creation
www.ketohh.com