Low Carb Roasted Pumpkin Spinach and Feta Quiche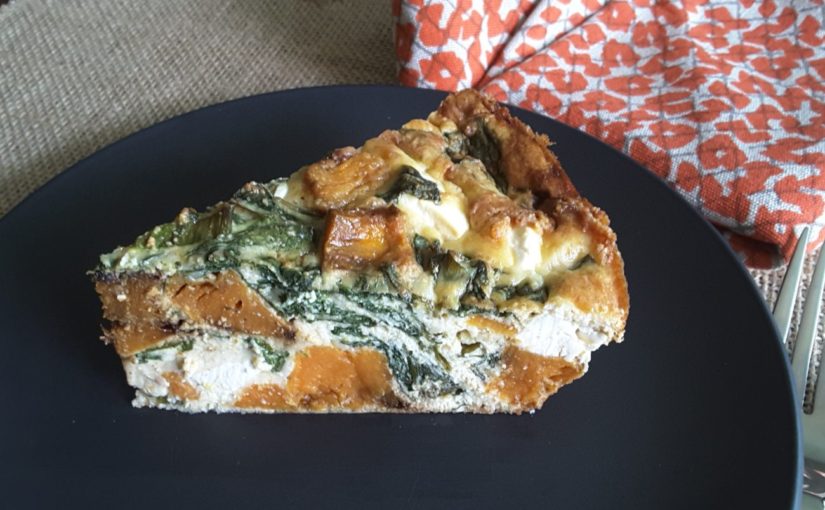 Low Carb Roasted Pumpkin Spinach and Feta Quiche
This simple and delicious Low Carb Roasted Pumpkin Spinach and Feta Quiche is sure to become a favorite of yours. It's the perfect dish to serve for many occasions. Serve it simply with a salad or some roasted vegetables and it's a complete meal. Enjoy a slice for breakfast or brunch on it's own and it's ideal.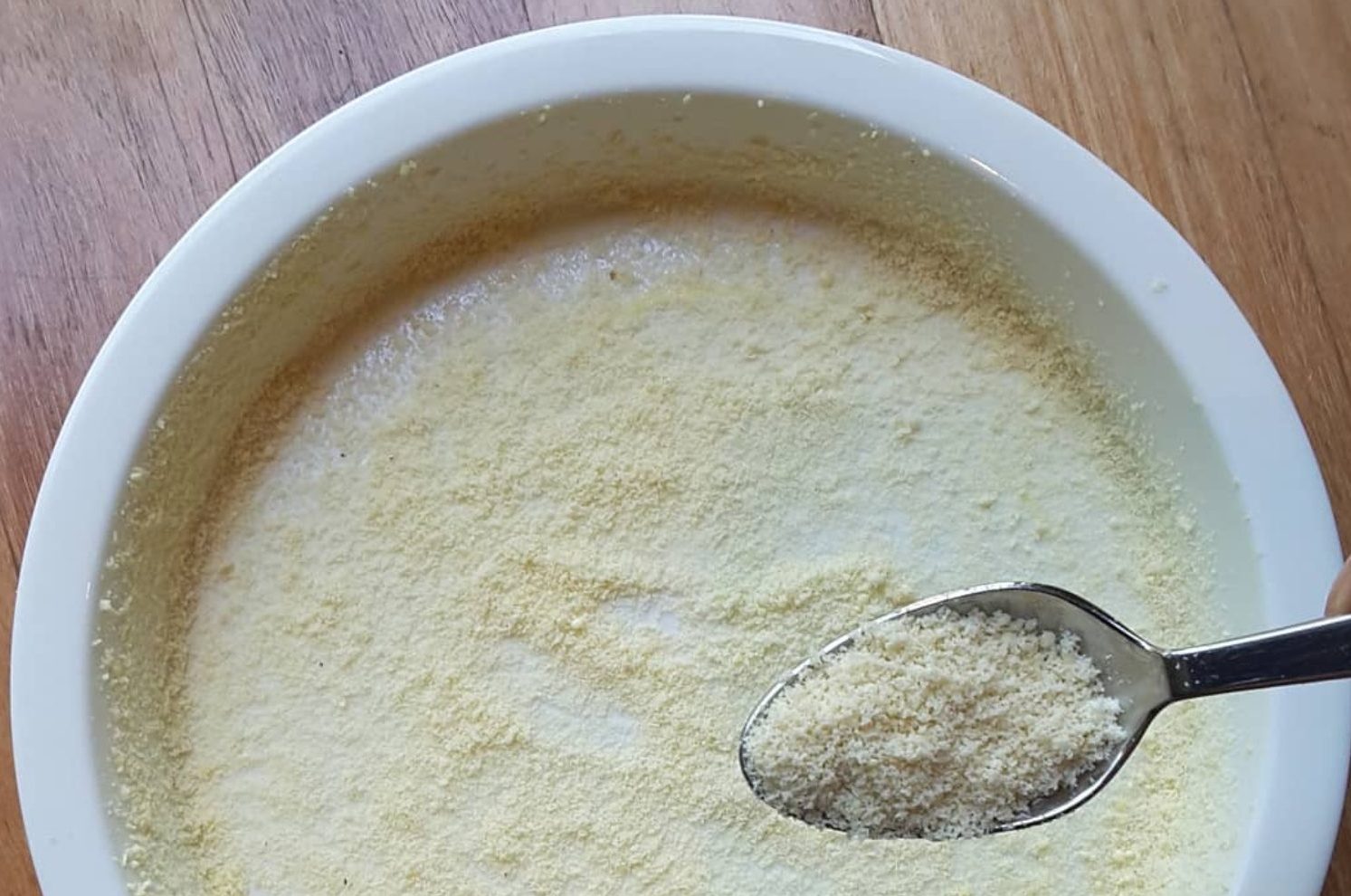 Crustless Quiche
I class this recipe for aLow Carb Roasted Pumpkin Spinach and Feta Quiche as a crust less quiche because there is no pastry used in the recipe. However, making it with almond meal and Parmesan cheese as a crumb, actually creates a bit of crust on the quiche. This adds some great texture but it also helps to ensure that this dish doesn't stick to the pan. This crust is my go to base for all of my low carb quiches as it works really well. Note that I've added a tablespoon of coconut flour to stabilize the filling. Simply omit if you don't have or don't want to use it. It won't really impact on the end result. It is a really simple way to achieve a crust on a quiche that enables it to still be suitable for low carb, LCHF and keto advocates.
How To Oven Roast Pumpkin
To oven roast your pumpkin, chop it up, skin and all, and brush with extra virgin olive oil. Bake in a hot oven for approximately 30 minutes or until the pumpkin starts to brown and caramelize. You may need to turn the pumpkin towards the end for even cooking. Note that you can eat the skin on Kent/Japanese pumpkin which is why I leave the skin on. Adjust if you use a different type of pumpkin.
If you don't have time to roast your pumpkin in the oven, I have also simply pan fried it on the stove top, in a frying pan with some extra virgin olive oil (EVOO). If you do this, you can also wilt the spinach off in the same pan either before or after you have cooked the pumpkin. I generally cook off a whole pumpkin in the oven because there are lots of other recipes where I will use the cooked pumpkin such as Lamb, Haloumi and Roasted Pumpkin Salad, Dukkah Crusted Salmon with Pumpkin, Feta and Bean Salad, as well as Moroccan Pumpkin Dip.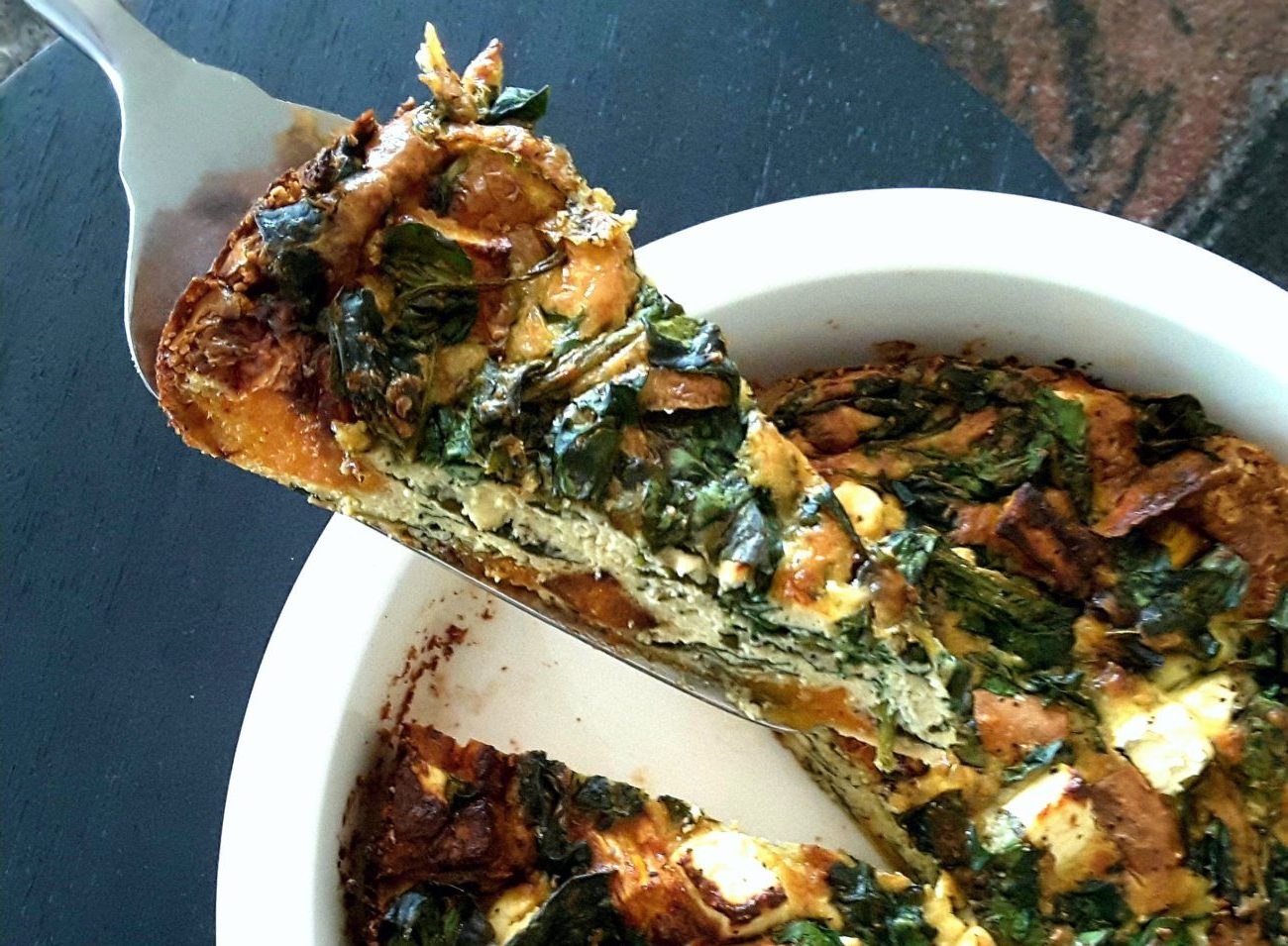 If you bake this in a smaller quiche pan then you may need to allow it to cook for slightly longer, so that the middle cooks. This recipe freezes really well. I cut it into single serving sizes and simply grab a piece out of the freezer when I feel like a slice. For a simple variation you can use sweet potato instead of Kent/Japanese pumpkin, but remember that it is higher in carbs. You can also omit the almond meal to make it nut free. Simply double the amount of Parmesan cheese for the crust if you do.
Raw or Fresh Spinach
I occasionally use the spinach raw in the recipe (as per the featured picture above) as I love the taste of the roasted bits of spinach that poke out of the quiche. Wilting the spinach first will prevent this if that is your preferred method. If using fresh spinach you might want to only use 200 gms/7 oz of spinach, and tear it or chop it a little before adding.
More Delicious Quiche Recipes
If you are interested in a couple of other recipes that are a little similar to this, you may want to check out the recipe for a Low Carb Mushroom Goats Cheese Quiche, as well as the delicious but trusty old Low Carb Zucchini Slice Recipe.
Enjoy!
Kxx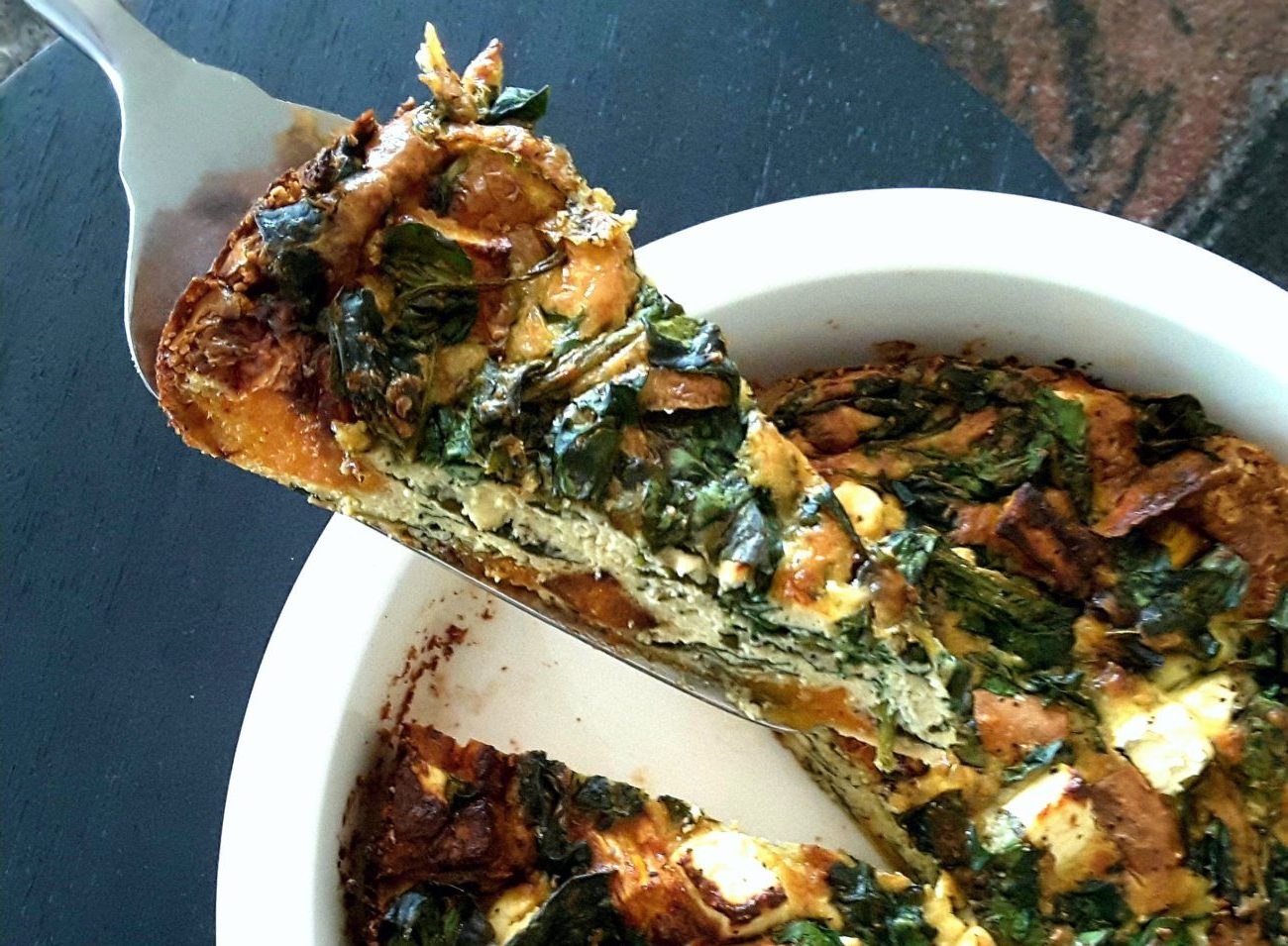 Ingredients
6

large eggs

200

gms

diced feta cheese

200

gms

chopped oven roasted kent pumpkin

300

gms

spinach- wilted in microwave/on stove top in butter. 200 gms/7 oz if not cooking spinach first

2

spring onions sliced thinly

1/2

cup

grated tasty cheese

1/2

cup

sour cream -full fat

1/2

cup

pure cream- full fat

1

tablespoon

coconut flour
Prepare The Crust
Butter to rub on the baking dish

1

tablespoon

grated parmesan cheese

1

tablespoon

almond meal/almond flour

Salt and Pepper to taste
Instructions
Preheat oven to 170 C/350 F fan forced

Prepare an 20-26 cm/8-10" flan or quiche pan by rubbing it with liberally butter.

Mix the Parmesan cheese and almond meal together, and sprinkle on the prepared pan, shaking it to distribute it all over.

Beat the eggs and season with salt and pepper. Add the sour cream and cream and mix till combined.

Mix in the grated cheese, spring onions, coconut flour and spinach into the egg mix.

Gently fold in the feta and the pumpkin.

Pour into the prepared quiche pan, ensuring the ingredients are well dispersed over the surface of the pan. Move them around and poke bits in if need be.

Bake for approximately 40-50 minutes or until cooked in the centre but not dry.
Variations
If you aren't worried about the carb level in this, increase the amount of pumpkin used up to around 2 cups.

Use sweet potato instead of Kent/Japanese pumpkin remembering that it is higher in carbs.

Omit the almond meal and double the amount of Parmesan cheese for the crust to make this nut free.

Use frozen spinach in place of fresh spinach.

Use filling in a pastry base if you aren't worried at all about the carbs - but try this version first☺
Nutritional Information
Serving:
1
serve
|
Calories:
282
kcal
|
Carbohydrates:
5
g
|
Protein:
15
g
|
Fat:
23
g
|
Fiber:
2
g
Note that we calculate our own nutritional values so they may not be precise. Calculate your own if desired. Carb values exclude sugar alcohols such as Erythritol, as they generally have no impact on blood sugar levels. 50% of the carbs from Xylitol is added to nutritional values. This is consistent with industry practice.
Do you want to receive more recipes like this one? Subscribe to our newsletter now!