Slow Cooker Moroccan Lamb Leg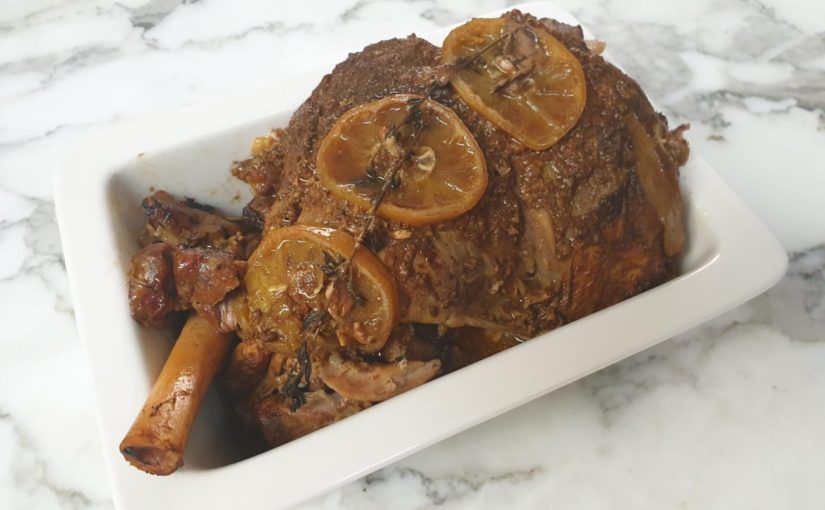 Slow Cooker Moroccan Lamb Leg
It appears that I still don't have all of my Moroccan recipes out of my system. If you are familiar with my blog, then you will know that this is my favorite cuisine. One of the best things about this Slow Cooker Moroccan Lamb Leg recipe is the fact that you just throw everything into a pot and leave it to slow cook. You are going to have to reduce the juices in a saucepan at the end to pour over the meat, but that is it! The absolute best thing about this recipe though is the flavor. Succulent, tender chunks of lamb are imbibed with hints of wonderful aromatic traditional Northern African herbs and spices. The Lamb soaks up the flavors of the spices and creates a truly delicious dish.
How To Serve Slow Cooker Moroccan Lamb
Trying to come up with ways to serve this wonderful lamb dish is certainly not difficult, considering the number of Moroccan side dishes that exist on this blog. Not only could this be served with a simple side dish of your favorite vegetables or salad, but there is an array of fabulous side dishes on the blog that truly compliment this dish. Just type in Moroccan in the search bar and all types of wonderful Moroccan and Northern African dishes will pop up.
A few of my favorites include Oven Roasted Moroccan Pumpkin, Green Beans with Harissa and Oven Roasted Moroccan Cauliflower.  If you aren't worried about the carbs, you could serve this with traditional Cous Cous or for a low carb version, make this Cauliflower Cous Cous recipe. Cauliflower mash would also really compliment this dish with a side of your favorite greens.
Northern African Spices and Herbs
Rather than buy Moroccan spice mix to use in this recipe, you might want to make your own Moroccan Spice Mix. It's really simple to make and most of you will have the spices needed to make it in your pantry. You'll never need to buy Moroccan spice mix (or Ras El Hanout) again.  Should you be tempted to make the Harissa Beans, don't despair if you can't find any Harissa paste as it is another recipe that is quite easy to make, and features on the blog as well.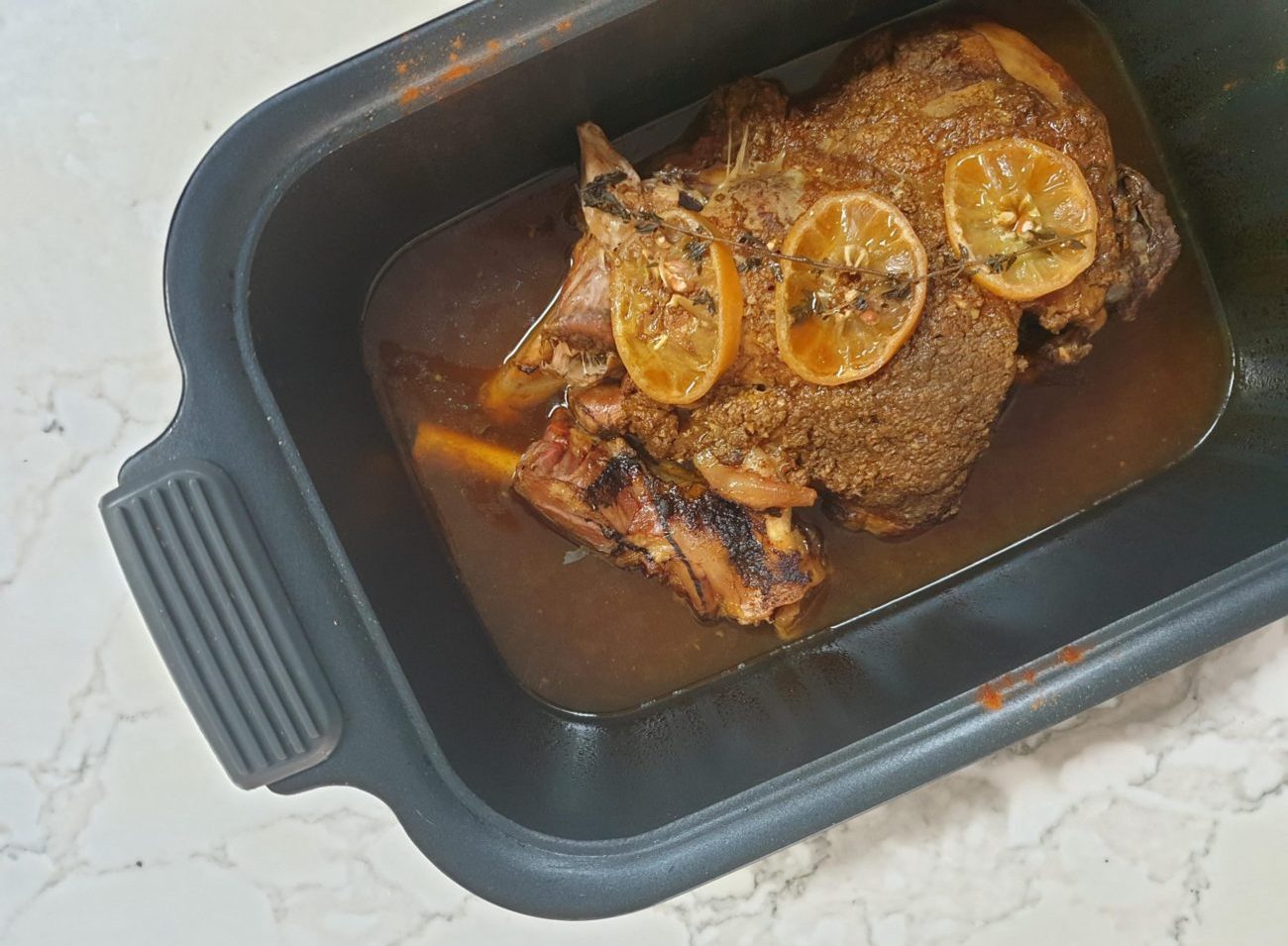 Ingredients
1

leg lamb

4

teaspoons

garlic

2

teaspoons

Moroccan Spice Mix

1

teaspoon

cumin seeds

1

teaspoon

cumin powder

1

teaspoon

chilli powder

1

teaspoon

salt

½

teaspoon

ground pepper

Juice of half a lemon and 3 slices of lemon
Instructions
Baste the minced garlic over the leg of lamb

Sprinkle all of the spices over the leg of lamb. Squeeze the juice of 1/2 the lemon over the lamb leg and arrange the lemon slices on top of the leg.

Slow cook for 7-8 hours on low or until cooked through and tender. If you want the meat to be shredded you might have to cook it for longer

Pour off the majority of the juices, leaving a little in with the meat and simmer on the stove top until it reduces by one third to a quarter. Pour a little of the reduced juice over the lamb.

Slice the lamb. Serve the juices in a serving jug and add to taste.
Nutritional Information
Serving:
120
gms/4 oz
|
Calories:
232
kcal
|
Protein:
31
g
|
Fat:
11
g
Note that we calculate our own nutritional values so they may not be precise. Calculate your own if desired. Carb values exclude sugar alcohols such as Erythritol, as they generally have no impact on blood sugar levels. 50% of the carbs from Xylitol is added to nutritional values. This is consistent with industry practice.
Do you want to receive more recipes like this one? Subscribe to our newsletter now!