Sweet Keto Chaffle Waffles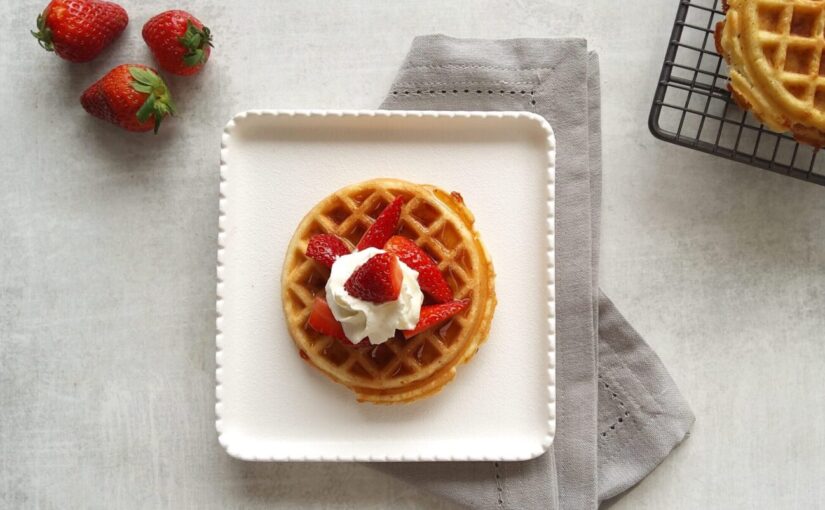 Sweet Keto Chaffle Waffles
Once you try this delicious keto sweet chaffle recipe you'll understand why there is a chaffle craze. Hints of vanilla combined with a little sweetness are the secret behind this fabulous recipe. Feel free to tweak the recipe to suit such as adding a little cinnamon. My favorite way to serve these is topped with strawberries, sugar free maple syrup and a drizzle of cream. Serve them up as you would normally serve a traditional waffle or pancake.
THE BEST SWEETENER TO USE
Chaffles can be made with any granulated or powdered low carb sweetener that is not too concentrated, ie close to 1:1 with white sugar. You can also use a brown sugar substitute. I don't advise using liquid sweeteners as you want the bulk of the sweetener to add weight to the chaffle.
You can use a chaffle maker or a waffle maker to make this recipe. You can also cook these in a non stick pan on the stove top. Instructions for both methods are included in the recipe.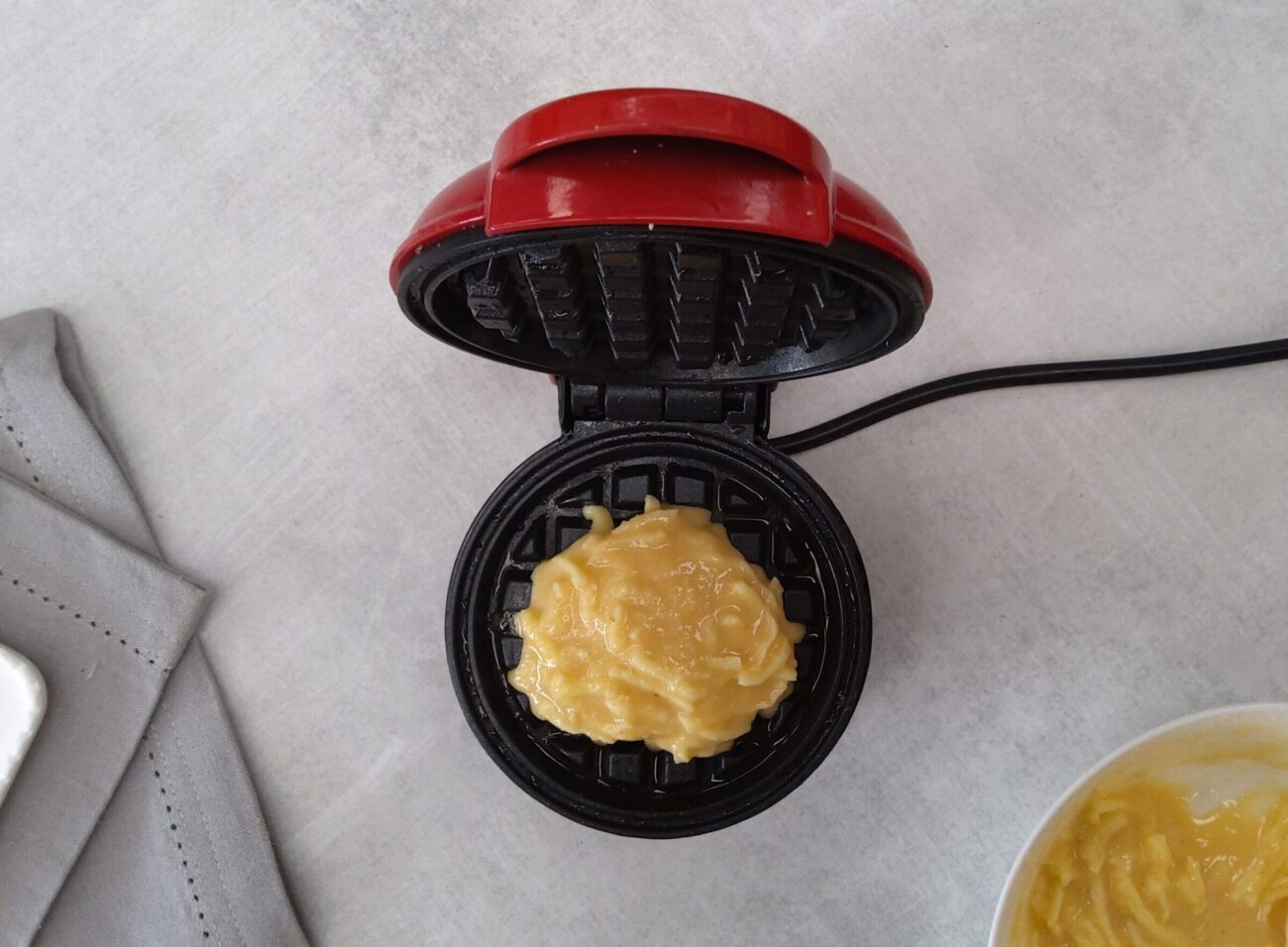 HINTS FOR MAKING CHAFFLES
Try to use mozzarella cheese for sweet chaffles because it is quite plain in flavor. Tasty cheese, cheddar etc, can be used but you may find it a little strong in flavor and will also produce a more crisp chaffle. You can also use a combination of cheeses, ie half mozzarella and half tasty (cheddar) cheese. You will also find that mozzarella cheese chaffles are more likely to ooze than chaffles made using harder cheeses.
Make sure you use large eggs so you get the right consistency and your chaffle doesn't end up too dry.
Don't overfill your chaffle iron. The batter can ooze out if you add too much. If your chaffle starts to ooze, lift the lid of the iron/maker slightly, until the chaffle starts to cook, before slowly placing the lid down. If your batter does leak simply use a spatula to wipe away the excess on the sides.
If your chaffles are a little delicate and start to fall apart when you remove them from the waffle iron, let them cool a little more before removing. Chaffles straight from the waffle maker are generally soft but they will firm up as they cool.
SOME MORE FABULOUS CHAFFLE RECIPES
Some of my favorite chaffle recipes are these savory Asian style chaffles. You'll find them by searching for chaffles on my blog or check them out here-
Keto Okonomiyaki Chaffle
Keto Chinese Breakfast Chaffle- known as Jian Bing
You'll also want to check out this fabulous recipe for Keto Keto Rye Bread Chaffles that I love to use to make a Keto Reuben Sandwich. Full details are included in the recipe including this recipe for the Keto Reuben Russian Dressing that you drizzle on top.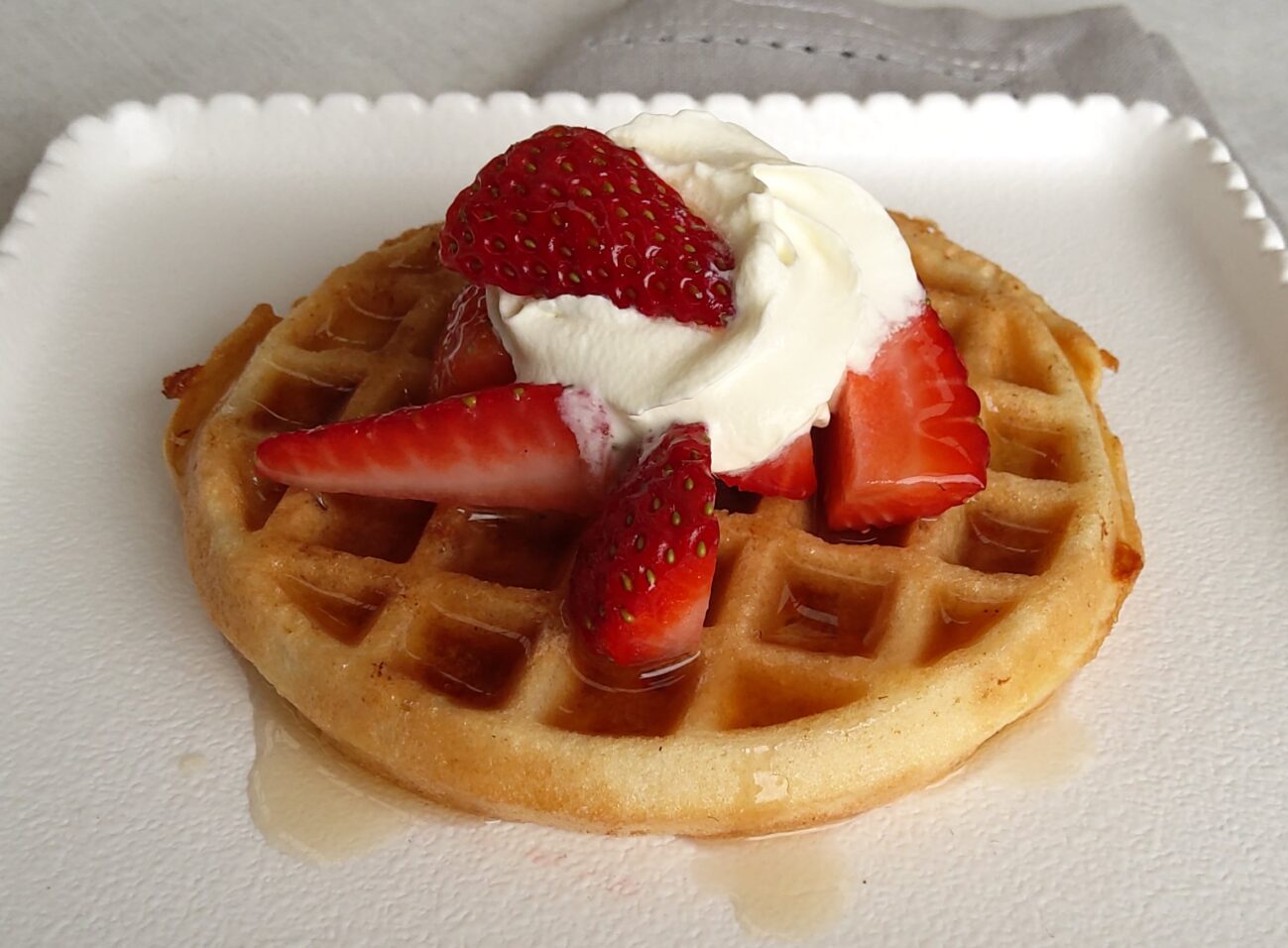 Servings:
3
mini chaffles/waffles
Ingredients
1

large egg

½

cup

grated/shredded mozzarella cheese

⅓

cup

almond flour

A pinch of baking powder

1

tablespoon

low carb sweetener

1

tablespoon

almond milk or milk of choice

A dash of vanilla extract

Optional-a pinch of cinnamon
Instructions
Preheat a mini chaffle/waffle maker or use a larger Belgian waffle maker.

Place all waffle ingredients in a small bowl and mix until combined.

Mixture makes 3 small chaffles in a smaller chaffle maker or 1 large Belgian style waffle. Spoon 2-3 tablespoons of batter onto your hot chaffle/waffle iron for a small chaffle or all of the batter into a large Belgian waffle maker.

Cook for 2-3 minutes. Lift the lid and allow to cool for about 10 seconds before you remove the chaffle. If mixture starts to ooze out, lift the lid a little for about 10-20 seconds to relieve the pressure then slowly place the lid back down again.

Allow chaffles/waffles to cool on a cooling rack if desired or serve warm. Repeat process to cook remaining chaffles/waffles

Chaffles/waffles are soft when warm but crisp up as they cool down.
Serving Options
Top with butter and low carb strawberry or raspberry jam

Drizzle with a little sugar free maple syrup and cream.

Top with Greek yogurt and berries

Top with maple syrup, berries and whipped cream.

Serve with maple syrup and bacon on the side.
Storing Chaffles
Store chaffles/waffles in an airtight container for up to 3 days.

Chaffles/waffles can also be frozen for use at a later date.
Recipe Notes
You can use a hard/tasty cheese or a mixture of hard and mozzarella cheese. Hard cheese will produce a slightly more crispy chaffle and the flavor isn't quite as subtle as mozzarella cheese.
I use a Dash chaffle maker and my favorite waffle maker is the Breville Creations Waffle Maker, as you can adjust the temperature.
If you don't have a waffle or chaffle maker you can also cook these on a hot pan on the stove top. Make sure the temperature is quite hot and watch carefully to ensure they don't burn. Grease or oil the pan first and make sure the pan is hot before adding the batter.
Nutritional Information
Calories:
129
kcal
|
Carbohydrates:
2.9
g
|
Protein:
7.3
g
|
Fat:
8.6
g
|
Fiber:
0.9
g
Note that we calculate our own nutritional values so they may not be precise. Calculate your own if desired. Carb values exclude sugar alcohols such as Erythritol, as they generally have no impact on blood sugar levels. 50% of the carbs from Xylitol is added to nutritional values. This is consistent with industry practice.
Do you want to receive more recipes like this one? Subscribe to our newsletter now!