Easy Flatbread Wrap Recipe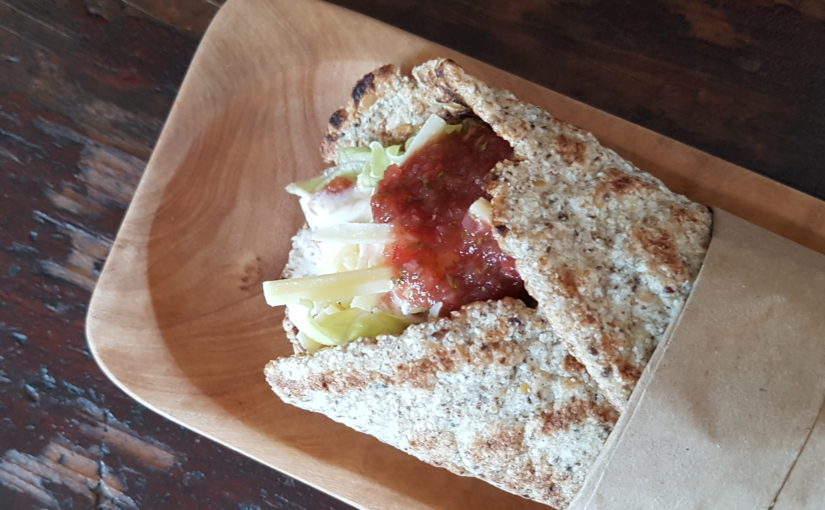 Easy Flatbread Wrap Recipe
Have you been looking for a gluten free, nut free and egg free wrap recipe? If so, you are going to love this Easy Flatbread Wrap Recipe. Easy to make and are also low carb, sugar free and a really healthy option for you. One of my favorite ways to eat these is filled with chicken and fresh salad, and served with some home made mayonnaise. They taste great as a ham and cheese toasty and are also perfect to use to make a breakfast tortilla with your favorite scrambled egg recipe. Use as naan bread to eat with Indian food. It holds its shape really well so rolling up your wrap without it splitting is not going to be a problem with this recipe.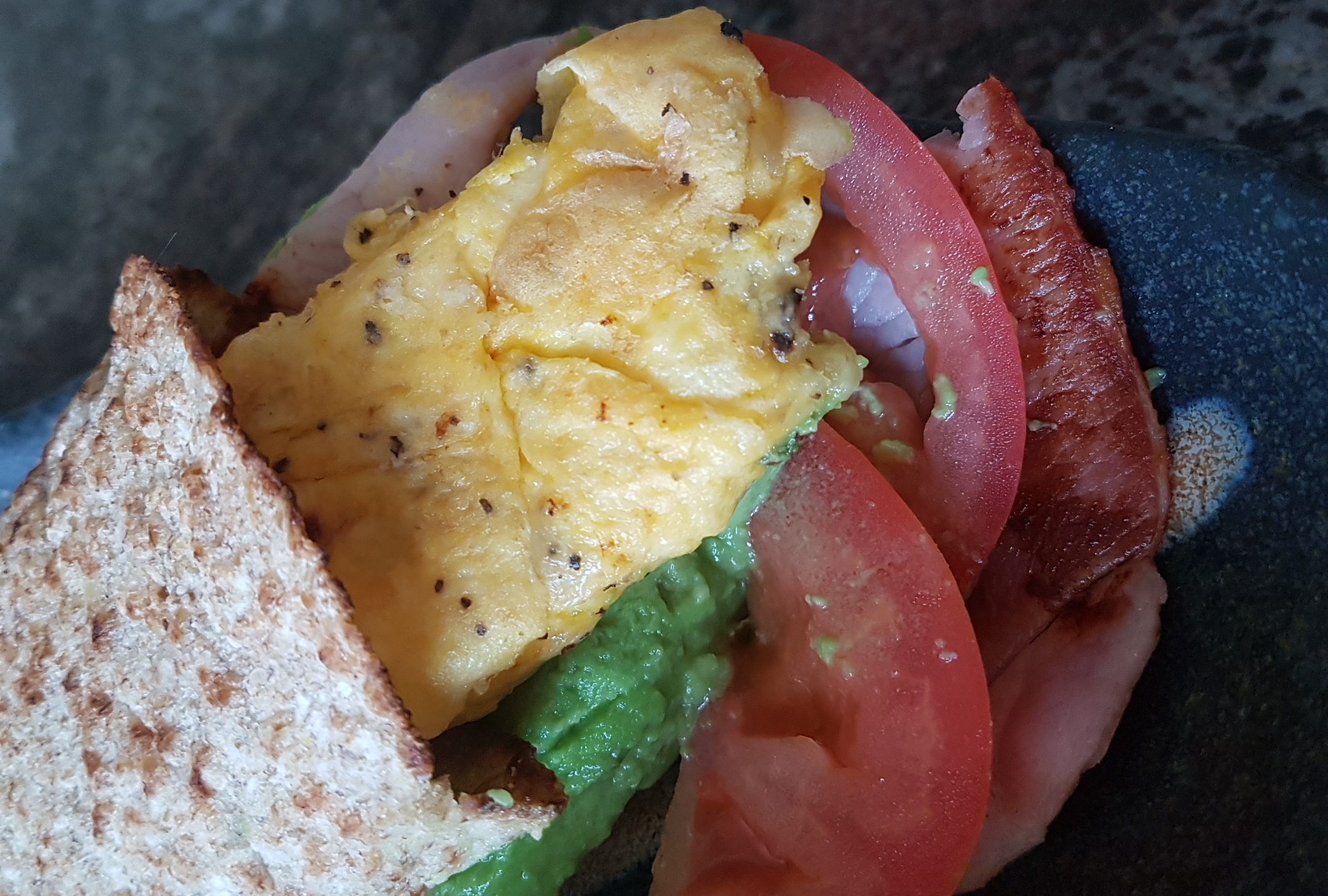 Using Psyllium In This Recipe
Even though these are made with coconut flour, the salt and the garlic salt combined with the seeds detract from the coconut taste in this recipe. These wraps taste more like a healthy wholemeal flat bread you would buy from the supermarket. One thing I don't like when I bake with psyllium powder or husks, is that you can end up with a gritty taste in your food. Make sure you use one that has been well grinded or grind it yourself. Because of the wholemeal seedy flavor of these wraps though, if there is a bit of grittiness, the psyllium doesn't impact at all on the taste, which is great. I highly recommend trying the naan bread with cumin seeds if you like naan bread as it tastes amazing, especially with a delicious curry.
Low Carb Flatbread Wraps are also fine to freeze, as long as you make sure they don't stick together if you want to pull out individual serves. I would separate these with cling wrap or baking paper and seal in an airtight zip lock bag to freeze.
Artisan Bread
One final thing with this recipe is don't worry about trying to get these perfectly round and uniform in size. I like to think of it as being artisan bread…. and it has a rustic appeal to it as well. You could cut them into perfect rounds if you wanted to by using a saucer, or something else that is the right shape and size, and trimming around the edges.
More Delicious Low Carb and Gluten Free Flatbread Wraps And Pizza Bases
For some more great low carb wrap/flatbread or tortilla options, check out some of these recipes. There's a great Cauliflower Pizza Base recipe that is also a great flatbread option. There are also a couple of other wrap recipes that are brilliant, such as this Low Carb Healthy Flatbread Wrap recipe (which uses eggs and almonds) and this Low Carb Gluten Free Tortilla Recipe, which makes a soft and pliable white and very plain flavored tortilla, that are absolutely perfect for soft tacos, wraps and breakfast tortillas. There is a wrap for every occasion and every dietary restriction.
Enjoy!
Karen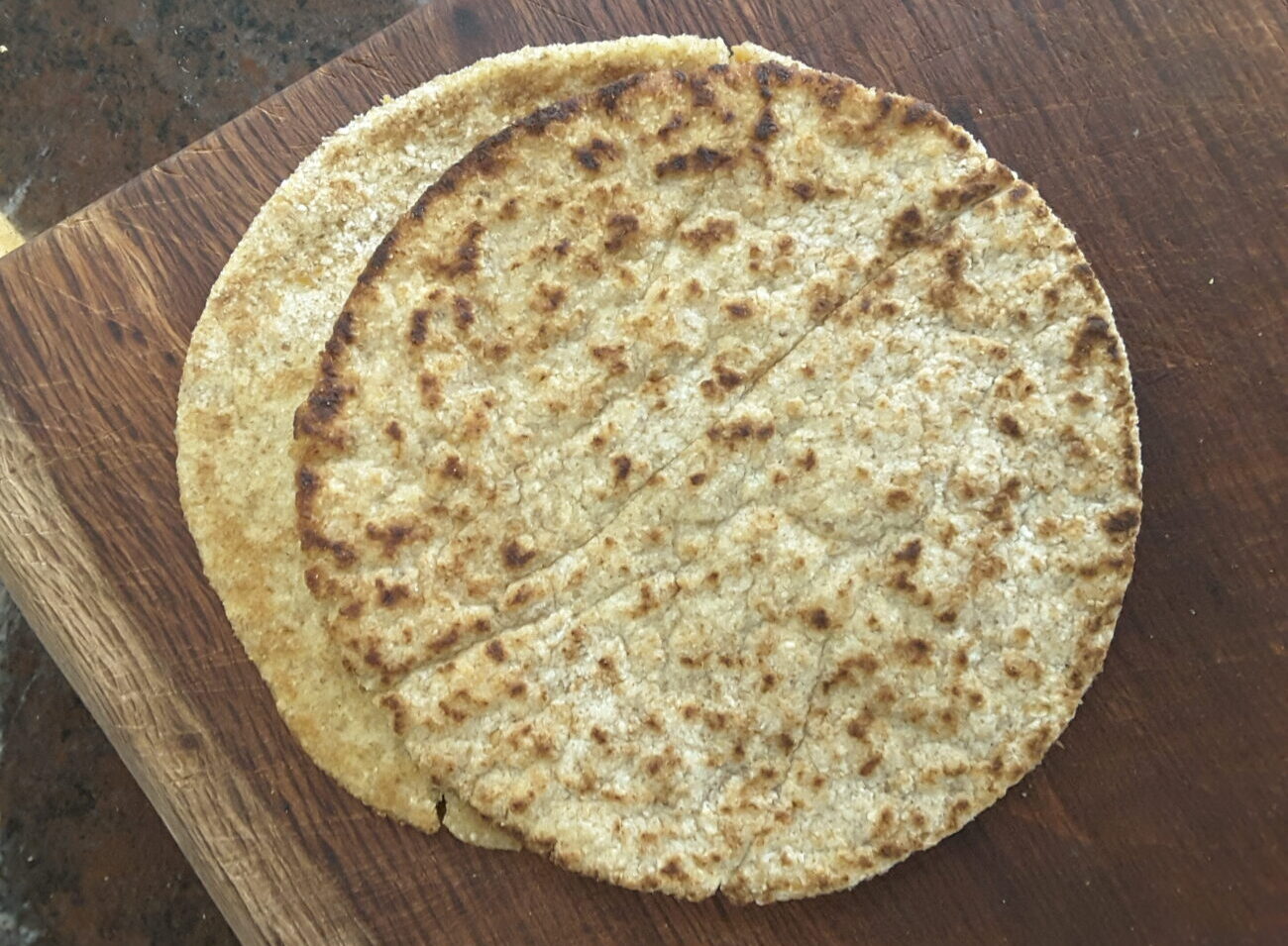 Ingredients
150

gms

coconut flour

70

gms

flax/linseed powder

50

gms

psyllium powder

50

gms

chia seed powder

125

gms

butter melted

1

teaspoon

salt

1

teaspoon

garlic salt

2 ½

cups

water
Instructions
Mix the dry ingredients together really well so the chia and psyllium don't coagulate when the water is added.

Add water and melted butter and mix together to form a pliable dough. Allow the dough to sit for about 10 minutes so it becomes more pliable.

Divide the dough into approximately 12 pieces for larger flatbread. Roll each piece into a smooth ball.

Using quality baking paper, place one piece of dough onto a piece of paper, squash it down a little and place another sheet of paper on top. You can draw a guide on the back of the baking paper to assist with obtaining a round shape.

Using a rolling pin, flatten the dough out until very thin, using a roll and rotate the paper motion, rolling the dough outwards to create a circular shape.

The dough should end up between 1 and 2mm thick and roughly the size of a small dinner plate. Roll these thinner rather than thicker as they are very pliable and they will puff very slightly when cooked. If you roll it too thin and it doesn't hold together, simply roll it into a smooth ball again with your hands and reroll with a rolling pin.

Heat oil, butter or ghee in a frying pan on low to medium heat.

Gently peel the flat bread off the paper and cook on each side for 2 minutes until slightly brown, greasing the pan again when you flip the bread over.

Turn the heat down if browning too much. Remove from pan and regrease pan ready for the next flat bread.
Variations
Linseed wraps (as pictured)- add ¼ cup whole flaxseeds/linseed to the dry ingredients.

Chia wraps- add ¼ cup whole chia seeds to the dry ingredients

Cumin naan bread- sprinkle about ¼ teaspoon cumin seeds onto your dough ball just before you roll it out and cook as per the recipe.
To serve
Use this bread/wrap as you would any other wrap.

Ideal for lunch with salad or for breakfast as a burrito.

To reheat flat bread for naan bread, pan fry the bread in a splash of olive oil and a large dob of butter. Cook on each side till golden and warmed through.
Nutritional Information
Serving:
1
serve
|
Calories:
264
kcal
|
Carbohydrates:
2.7
g
|
Protein:
4.1
g
|
Fat:
14
g
Note that we calculate our own nutritional values so they may not be precise. Calculate your own if desired. Carb values exclude sugar alcohols such as Erythritol, as they generally have no impact on blood sugar levels. 50% of the carbs from Xylitol is added to nutritional values. This is consistent with industry practice.
Do you want to receive more recipes like this one? Subscribe to our newsletter now!