Low Carb Tiramisu Pots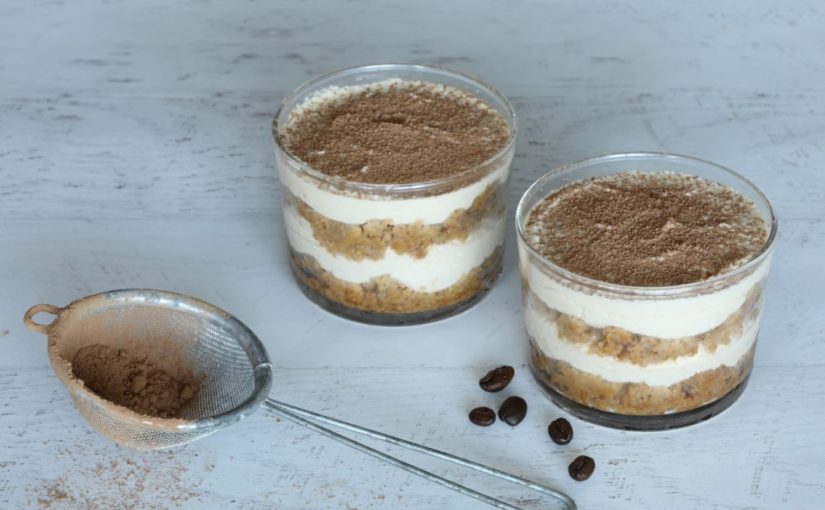 My husband has been eating these Low Carb Tiramisu Pots and he asked me if I was able to eat these little pots of deliciousness, because he thought they were the real deal. Well…. yes I can!! Tiramisu is his favorite dessert to order when eating out at an Italian restaurant. I never order it because of the amount of sugar that goes into it, but I do love the flavors. I mean who doesn't like coffee and chocolate together? They are just meant to be. This recipe really doesn't take very long to make, especially if you have made the Sugar Free Coffee Liquor in advance. You could even make the coffee liquor as you go but it is better to have it at room temperature to use in this recipe.
You might be thinking that you won't ever use coffee liquor so why make up the recipe? First of all, you could just make up a small amount if you wanted to. You could easily make 1/10th of the recipe and you would easily have enough to make this recipe for Tiramisu. If you make the whole recipe though, you will have left overs, which will keep for a long time, and will enable you to make this recipe again. You could also use it to make a Mexican Liquor Coffee,or perhaps to make a Low Carb Espresso Martini – click here for the recipe. I also have a sugar free ice cream recipe coming soon, so I'm thinking that an Affogato would be a great way to use up some of my coffee liquor as well. Feeling tempted??
Don't let the words cake crumble put you off either, making this recipe, as all that is required is to mix some almond meal and coconut flour together with some melted butter, and bake it for about 10 minutes in the oven. No beating is required at all and it will take you a couple of minutes to make it and spread it out on a tray.
If you are after a couple of other really simple pot desserts to make, similar to this one, don't forget to check out the recipes for Sugar Free Strawberry Cheesecake Pots as well as this recipe for Low Carb Cheesecake Potss. They are a little similar to this recipe for Low Carb Tiramisu Pots, and you can also add a simple cake crumble on the bottom of the pots, to create a lovely crust.
Keep an eye out for a more traditional Tiramisu recipe which I'll be sharing soon. It is slightly more difficult to make than this, as I will make it using Sabayon (a cooked custard), but it will be a worthy dessert, perfect to sit on any table for any occasion. Now that doesn't mean that this quick version wouldn't be worthy, as it's actually a damn fine dessert. I think you are going to absolutely love it, especially if you love Tiramisu.
Kxx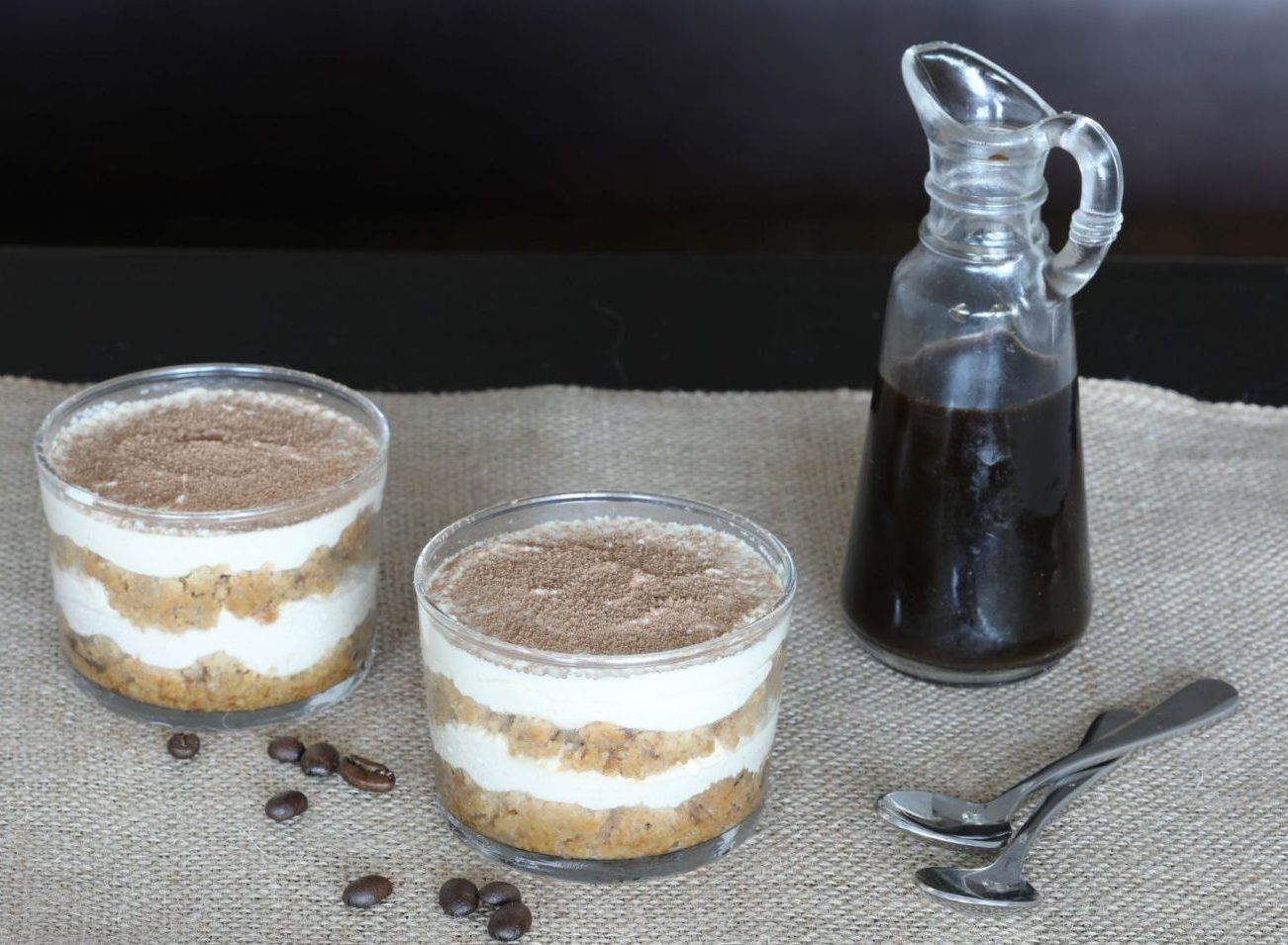 Ingredients
Tiramisu Cream Mix Ingredients
250

gms

/8.8 oz Marscapone cheese

full fat

150

mls

/5 oz whipping cream/pure cream

full fat

1

teaspoon

vanilla extract

2

tablespoons

Natvia Sweetener

stevia erythritol blend

3

tablespoons

Sugar Free Coffee Liquor

1/2

teaspoon

cocoa powder

unsweetened for dusting
Low Carb Cake Crumble Ingredients
Instructions
To Make The Cake Crumble Mix
Mix all of the ingredients together with the melted butter (except for the coffee liquor) and press onto a piece of quality baking paper. Bake at 175 C/350 F for 10-14 minutes or until slightly browned. Break the cake crumble up slightly and allow to cool. Larger pieces of cake crumb are fine.

Place the cake crumb in a small mixing bowl and drizzle with 1.5-2 tablespoons of Sugar Free Coffee Liquor. Mix gently to coat the cake crumbs.

Place 1 heaped tablespoon of cake crumble mix evenly in the bottom of 4 small dessert serving dishes/pots- measuring approximately 6 cm x 7 cm/2.5" x 3".
To Make The Tiramisu Cream Mix
Add the marscapone, cream, vanilla extract, sweetener and coffee liquor to a mixing bowl. Whip until it is thick and creamy.

Place mix into a piping bag and pipe a layer of the cream mixture on top of the cake crumb in the 4 bowls.

Top each serving with another heaped tablespoon of cake crumb on top of the cream mixture, and pipe another layer of cream mixture on top. Smooth out the top, cover with cling wrap and refrigerate for at least 1 hour.

To serve, sprinkle the individual pots with a liberal dusting of cocoa powder. You can also add some grated chocolate or chopped coffee beans as a decorative touch.
Nutritional Information
Serving:
1
g
|
Calories:
676
kcal
|
Carbohydrates:
6.1
g
|
Protein:
10.4
g
|
Fat:
65
g
|
Fiber:
3.2
g
Note that we calculate our own nutritional values so they may not be precise. Calculate your own if desired. Carb values exclude sugar alcohols such as Erythritol, as they generally have no impact on blood sugar levels. 50% of the carbs from Xylitol is added to nutritional values. This is consistent with industry practice.
Do you want to receive more recipes like this one? Subscribe to our newsletter now!