Cauliflower Leek Soup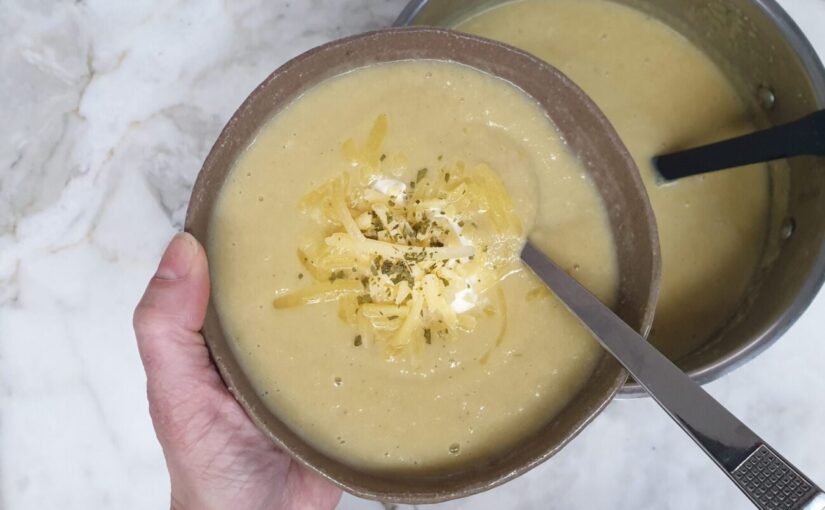 Low Carb Keto Cauliflower Leek Soup is one of those really easy, simple to make recipes that you can quickly throw together. Reminiscent of the classic Potato and Leek Soup, if you served this up, no one would ever know that it didn;t feature potato. This soup requires a few simple ingredients, and the end result is a heart warming soup ideal for any meal. Substantial enough on it's own as a meal, if you like to enjoy some bread on the side of your soup, there are some great recipes that fit in with a low carb lifestyle. For a delicious side serve to this soup, serve a Flourless Cheese and Chive Muffin on the side for a delicious combination. You could also serve this with a slice of this Healthy Low Carb Bread.
Creamy, delicious and really quick to make, this is a family favorite in my house.  Serve it topped with a generous dollop of sour cream and a handful of grated/shredded cheese for the ultimate bowl of Cauliflower Leek Soup.
Cooking With Leeks
Make sure that you cut your leek in half length ways and wash them before using. There is nothing worse than having a mouthful of grit, caused by soil that collects between the layers of  leeks while they are growing.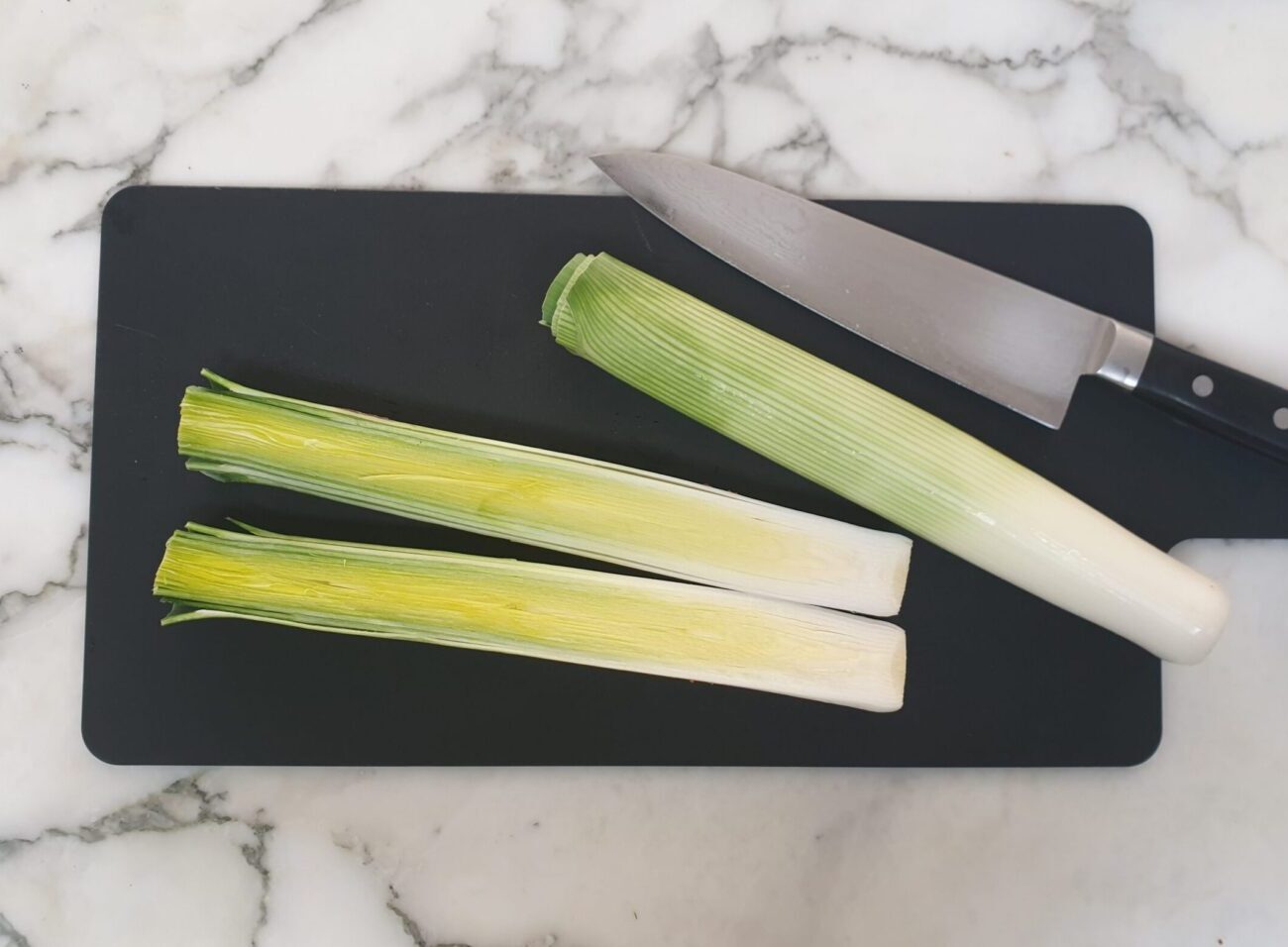 What Stock Should You Use
While chicken stock is my stock of choice for Cauliflower Leek Soup, I aslo use a processed stock such as Vegeta if I don't have any fresh chicken or vegetable stock to use. To use Vegeta stock powder I simply add 5 heaped teaspoons to 6 cups of water to create the stock for this recipe. If you can make your own stock then that would be the best option, but don't feel guilty over buying stock or stock powder if it makes life easier for you.
Easy Chicken Stock or Broth
Boil chicken bones, leftover BBQ chicken carcass and/or off cuts, along with vegetables (optional) such as onions, celery etc, plus any herbs and spices you'd like to add, and boil for approximately 1-2 hours. Strain when cool and store in the fridge for up to 1 week, or freeze for use at a later date. You can also freeze carcasses, etc., so you can make stock at a later date rather than just discard it. To create chicken broth, my rule of thumb is to simmer the stock for 18-24 hours prior to adding to recipes. Warning..once you start using broth there is no going back to using chicken stock. There is no comparison from a taste perspective either, not to mention the additional nutrients, including collagen, that you gain from using broth.
More Delicious Low Carb Soup Recipes
If you are after a couple of other delicious low carb soup options, check out these recipes for Low Carb Dutch Meatball Soup, and the creamy, aromatic Low Carb Moroccan Pumpkin Soup Recipe. Chicken Zoodle Soup is always a favorite as well. Don't forget the sister to this recipe either, which is a simple Low Carb Cauliflower Soup.
There is also a couple of other lovely simple recipes for-
Moroccan Pumpkin Soup
Hearty Beef Soup
Creamy Mushroom Soup
Enjoy!
Kxx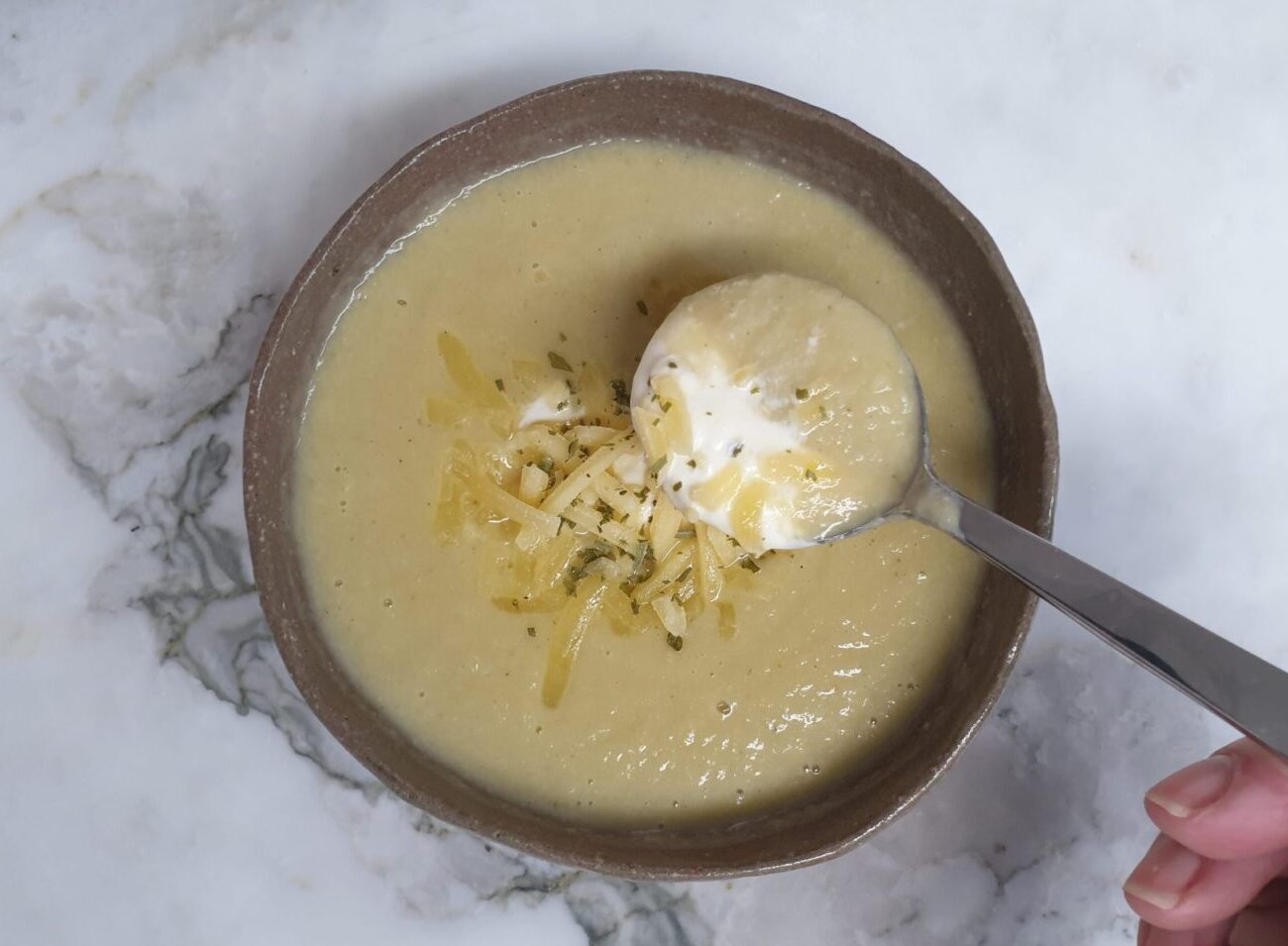 Ingredients
2

tablespoons

butter or EVOO- extra virgin olive oil

2

large leeks

cut into half lengthways and washed, then cut into 2cm/1 inch pieces

1

large head cauliflower

chopped including the stalks

3

teaspoons

minced garlic

finely chopped

8

cups

chicken broth/stock

or vegetable stock

1

cup

heavy/pure cream

A good pinch salt

Fresh ground black pepper to taste

A dollop of sour cream and a sprinkling of grated/shredded cheese to serve.
Instructions
Heat butter in a large soup pot and saute the leeks and cauliflower with the garlic in the butter/oil, for 5-10 minutes. Add the chicken or vegetable stock and bring to the boil. Reduce heat and simmer about 40 minutes or until cauliflower is soft and tender. Remove the soup from heat.

Blitz the soup with a blender stick/immersion blender. Add the cream and blitz again until smooth.

Season with salt and pepper.

To serve, top with a dollop of sour cream and a generous serve of grated/shredded cheese.
Recipe Notes
If you don't rinse your leeks properly you could end up with a gritty texture from soil/dirt that is in between the layers of the leeks.
Cauliflower and Leek soup freezes well.
For a vegan or vegetarian option, use vegetable stock and a nut milk in lieu of the cream.
Additional topping options include chopped chives or spring onions, diced crispy fried bacon and natural yogurt.
Nutritional Information
Serving:
1
serve
|
Calories:
167
kcal
|
Carbohydrates:
2.6
g
|
Protein:
0.9
g
|
Fat:
1.1
g
|
Fiber:
3.2
g
Note that we calculate our own nutritional values so they may not be precise. Calculate your own if desired. Carb values exclude sugar alcohols such as Erythritol, as they generally have no impact on blood sugar levels. 50% of the carbs from Xylitol is added to nutritional values. This is consistent with industry practice.
Do you want to receive more recipes like this one? Subscribe to our newsletter now!