Oven Roasted Brussel Sprouts with Bacon and Onion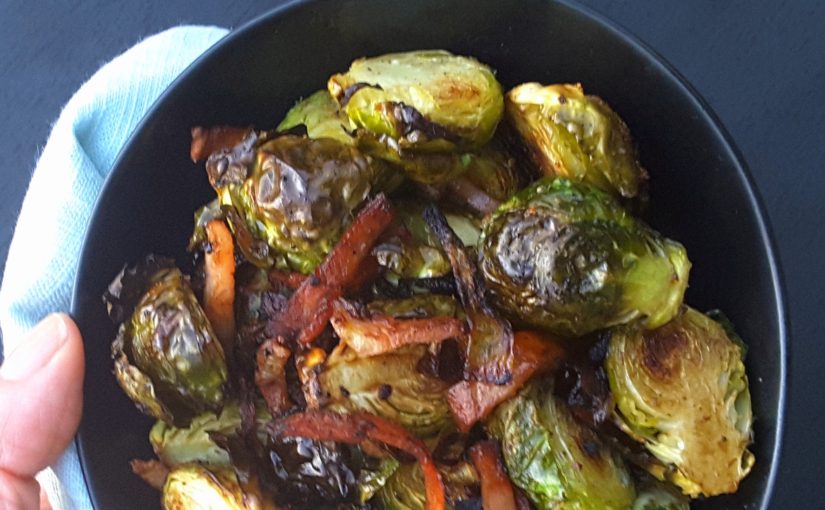 Oven Roasted Brussel Sprouts with Bacon and Onion
Oven Roasted Brussel Sprouts with Bacon and Onion
So you think you hate Brussel Sprouts…and perhaps you've had a traumatic experience with them like I did when I was younger. Well I just might have a way to change your mind, and it is your taste buds that is what is going to change that opinion. Make this recipe amazing recipe for this vegetable with a shady past and I gcan guarantee you will become a convert just I did.
Now there is a saying out there that if you add bacon to a recipe, you can make anything taste great. So add some bacon to some oven roasted onion and brussel sprouts and give it a try. If you had told me when I was younger that I would eat a bowl of brussel sprouts for lunch on their own, by choice, I would never have believed you. Make this recipe and you will understand. Brussel sprouts are now one of my favorite recipes. Of course, it isn't the bacon that makes these palatable, but just a different way of cooking them, versus boiling them in a pot of water until they are grey. Now don't be afraid of your brussel sprouts getting a little crispy around the edges, as that is part of the appeal of this recipe.
If you are after some more brussel sprout recipes, check out this slightly more simple but equally delicious oven roasted recipe for Brussel SproutsOven Roasted Brussel Sprouts. In this recipe I simply add some Balsamic Vinegar towards the end of baking an it lends slightly caramelised flavours to the sprouts. Again, allow these to crispen up a little as they taste delicious eaten like that.
Make it! Taste it…and I guarantee you are going to add Brussel Sprouts to your diet again!
Trust me. xx
Oven Roasted Brussel Sprouts with Bacon and Onion
Serves 4 as a side dish

400- 500 gms Brussel Sprouts
1/2 onion quartered and finely sliced
2 rashers bacon halved lengthways and finely sliced
2 Tbspns EVOO- extra virgin olive oil
1/2 tspn garlic powder

Preheat oven to approximately 200 C/400 F fan forced

Method
1. Trim the brussel sprouts and cut in half lengthwise.
2. Toss the sprouts along with the onion, bacon and garlic powder till well distributed and then stir through the EVOO.
3. Spread out on a baking tray and cook in the oven for approximately 25-30 minutes, turning them halfway through cooking.

Note that if you like crispy bacon, cook it on it's own in the oven for 5-10 minutes before you use it in the recipe.
Reduce cooking time if you prefer this dish less roasted.

A KETohh creation
www.ketohh.com