Sugar Free Harissa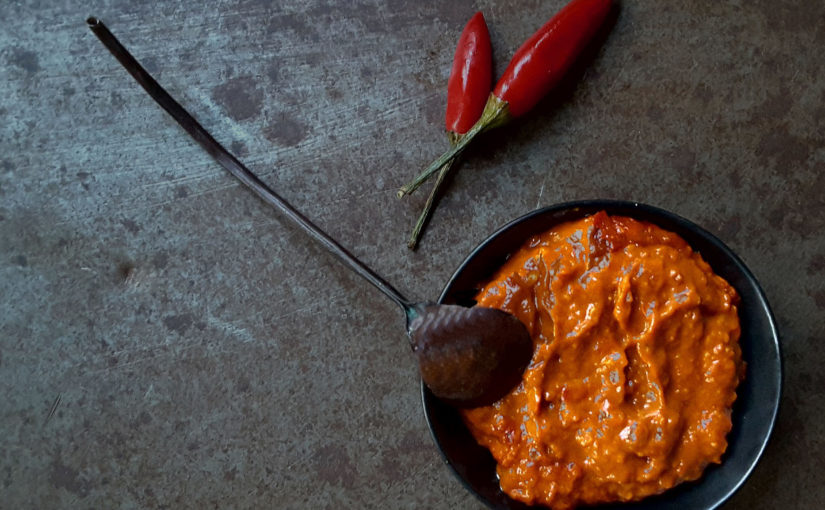 Sugar Free Harissa is a spicy paste from Northern Africa made from a base of red peppers, garlic and red chili, with variations where items such mint, caraway, onion, coriander and cumin,etc might be added as well. Harissa is used mainly in Tunisian, Moroccan, Algerian and Israeli cuisines and it is a really versatile condiment.
How To Use Harissa
Harissa is often added to dishes such as Tagines, or roasted vegetables such as eggplant, beans, etc., and it is also used to make the delicious egg dish Shakshuka. Harissa can be simply used as a condiment on it's own to flavor dishes and even sandwiches, or it can be used as a rub on meat, seafood and vegetables. Add a little natural/Greek yogurt to it for a lovely marinade, or try adding it to homemade burgers for a delicious alternative.
Storing Harissa
You can store Harissa in the fridge for up to 1 month if you make sure that you cook it off properly and add a little acidity such as lemon juice or vinegar to it to help preserve it. If you plan to use all of your Harissa fresh, you can get away with cooking it for less time and it isn't necessary to add any vinegar or lemon juice to the mix to help preserve it.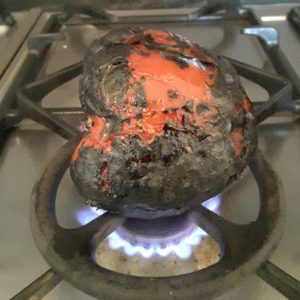 Make sure you add it though if you are going to store it for any length of time. Another helpful tip to keep prevent your Harissa from going off is to keep a layer of oil on top of the Harissa, ensuring it's well and truly covered in the fridge.
This recipe needs a char grilled red pepper. You can char grill on a BBQ or a hotplate and simply char the skin. Once charred, simply place the warm charred pepper into a sealed plastic bag for a few minutes and the skin should just rub off. To make this recipe, I charred the pepper straight on top of my gas hob on my gas cook top. It was quick and worked really well. This obviously won't be an option if you aren't cooking with gas.
Kxx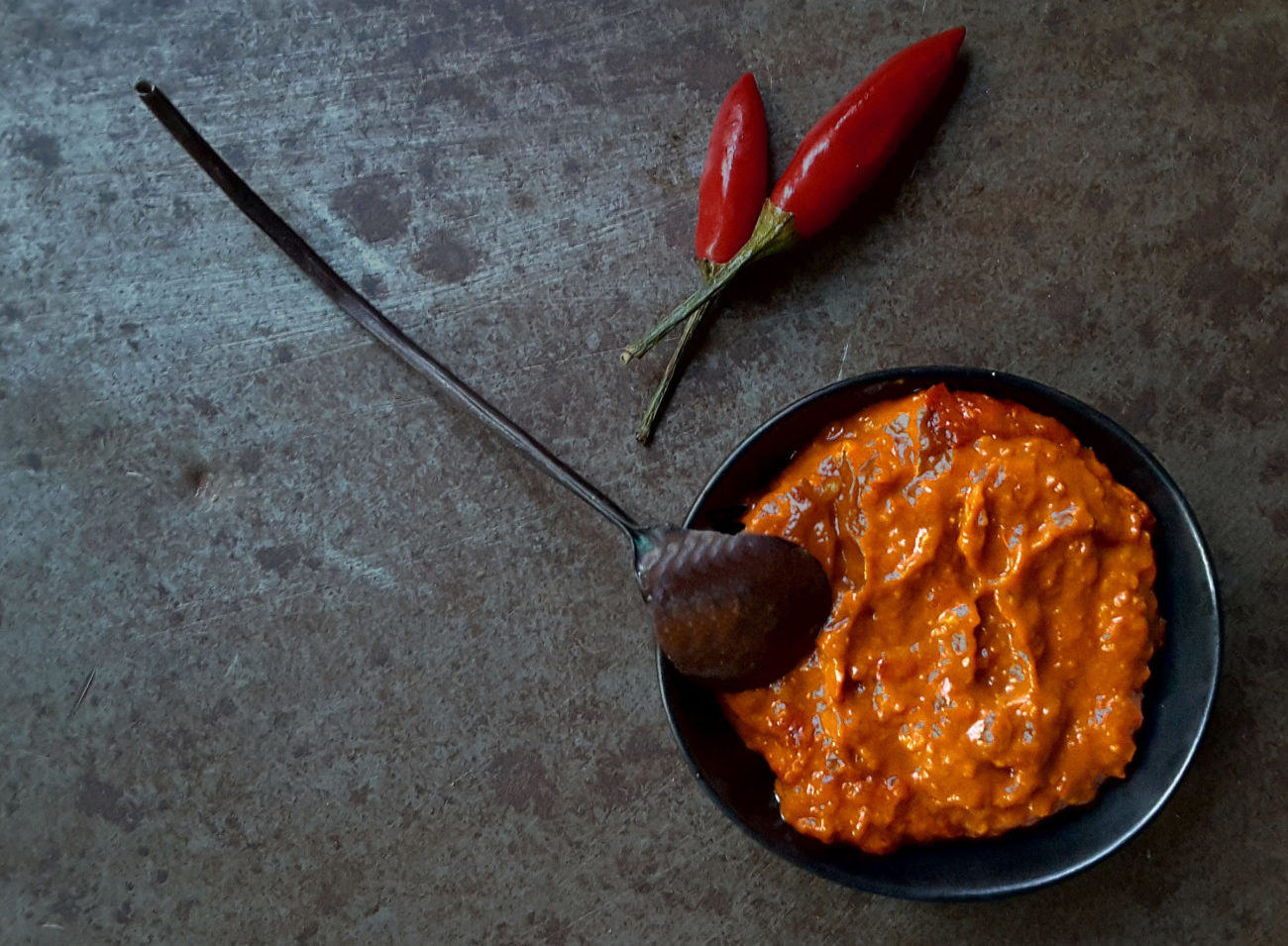 Ingredients
1

large red capsicum

char grilled and skinned

4

tablespoons

extra virgin olive oil- EVOO

2

tablespoons

tomato paste sugar free

or 2 tablespoons sun dried tomatoes

4

teaspoons

crushed garlic

4

teaspoons

crushed red chili or 4 long red chilis deseeded and chopped - or to taste

1

teasspoon

ground cumin

1

teaspoon

ground coriander

1/2

teaspoon

salt

1 1/2

tablespoons

vinegar or lemon juice
Instructions
Remove the seeds and pith from the char grilled red pepper and chop roughly.

Add a couple of tablespoons of oil to a small pan and add the chopped pepper, garlic and sun dried tomatoes. (if using tomato paste, add in next step.)

Saute lightly for about 5 minutes, until the pepper and garlic soften and the moisture in the pan starts to dry up. Stir often to ensure it doesn't stick.

Add all of the remaining ingredients and continue cooking on a low temperature for about another 15 minutes, stirring to ensure the mix doesn't stick to the pan

Blitz the mix in a food processor to desired texture- either smooth or with slight texture. Add more olive oil if the texture is too dry.

Pour into a sterilised glass jar and top with enough EVOO, ensuring the Harissa is covered completely.

Store in the fridge for up to 1 month.

Suitable for freezing as well.
Variations
Add 1 tspn of mint.

Add 1/2 tspn caraway seeds.

Add 1 small onion to the garlic and red pepper when sauteing gently in the pan at the start.

Harissa is meant to be spicy but please adjust to your taste. For very mild Harissa, use 1 teaspoon chili paste or 1 chili. For a slight chili flavor use 2 teaspoons chili paste or 2 long red chili's. You can also up the heat by adding more chili.
Recipe Notes
Note that if you are using this mixture straight away, you can minimise the cooking and avoid adding the vinegar or lemon juice, as these act to help preserve the Harissa for a longer period of time.
Nutritional Information
Serving:
1
g
|
Calories:
67
kcal
|
Carbohydrates:
3
g
|
Protein:
1
g
|
Fat:
6
g
|
Fiber:
1
g
Note that we calculate our own nutritional values so they may not be precise. Calculate your own if desired. Carb values exclude sugar alcohols such as Erythritol, as they generally have no impact on blood sugar levels. 50% of the carbs from Xylitol is added to nutritional values. This is consistent with industry practice.
Do you want to receive more recipes like this one? Subscribe to our newsletter now!