Ketohh Low Carb Muesli Recipe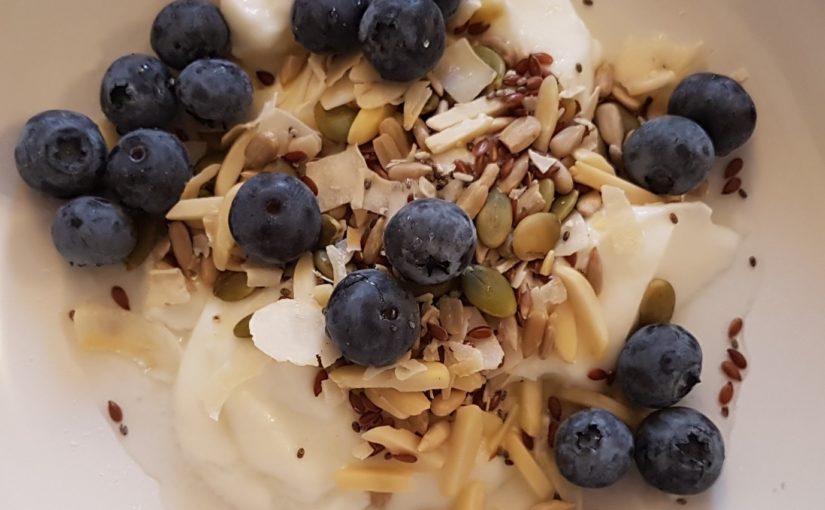 Ketohh Low Carb Muesli Recipe
This healthy and delicious Ketohh Low Carb Muesli Recipe is perfect for breakfast in a hurry or on the go. I have always liked to eat muesli for breakfast, even prior to reducing my carbs. Even then though I really struggled with the amount of sugar that is in most of the brands of muesli that you buy off the shelf. I also found it really hard to find one that doesn't have sultana's in it. Sultanas must be a cheap filler, considering how many you will find in the average bag of muesli, and they actually negate the benefits of eating a healthy food. Read the labels on your store bought muesli and you will be shocked at the amount of sugar that is in it. Yes, I know it is natural sugar, but your body doesn't really differentiate between a natural sugar and processed sugar. You are still going to get that increase in blood sugars once it hits your system.
Why it's so good for you
Eating a bowl of this muesli with unsweetened natural Greek yogurt and berries is one of my favorite ways to start the day. It's a quick and easy fix that not only tastes great but is also really good for you. Not only is it a great source of fibre and is therefore great for cleaning out your digestive system. This muesli can also help increase your so called "good" levels of HDL cholesterol. This is one of the great benefits of eating linseed and chia seeds. Since going low carb, my HDL levels have increased and I believe that is because of all of the linseed and chia seeds that I consume. I add them into any recipes that I can and my intake of healthy seeds like this has dramatically increased since I started this way of eating. Linseed and chia are actually identified as foods good for increasing your HDL.
How To Serve Low Carb Muesli
My favorite way to eat this is muesli is with Greek yogurt and fresh berries- a simple, delicious low carb breakfast. The berries add a natural sweetness to it that is not overly sweet. If I haven't eaten it for breakfast, I will often eat it for a snack or dessert. I also suggest you try it with Greek yogurt and some Raspberry Chia Jam Spread for a delicious alternative….and more chia seeds!!  I also love adding Acai powder to it as well for a bit of a boost when I can, although it can be very expensive to buy so I only buy it when it's reasonably priced. Acai is known to be very high in antioxidants and has been recognised as being one of the highest forms of ORAC (Oxygen Radical Absorption Capacity), antioxidant foods, which is a measurement of how foods can neutralise free radicals. Acai powder is also very high in fibre, essential and amino acids as well as many essential vitamins and minerals.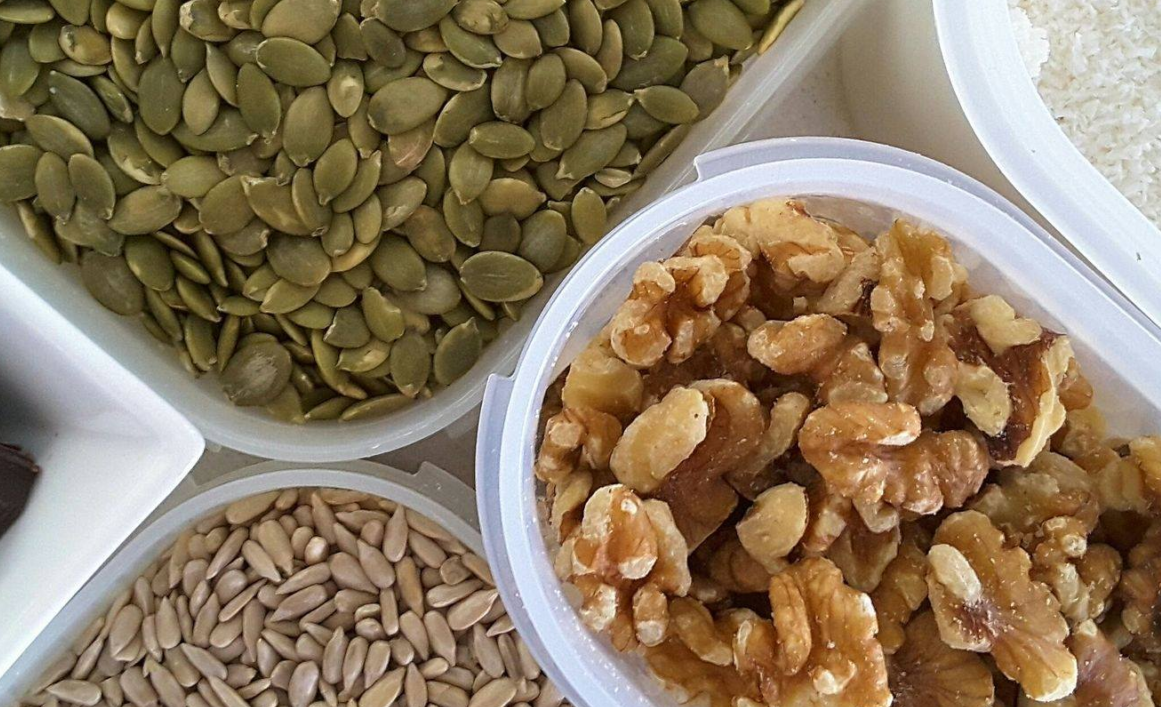 Occasionally I will add a few goji berries to this but just be careful with your intake of these if you are watching your carbs. For any carb lovers in your life you can simply boost this with a serve of oats. Try adding hazelnuts and some dried raspberries, blueberries or strawberries for some variation but make sure they don't have any added sugars.
The Perfect Breakfast for Travelling
I love to take this muesli with me when I'm travelling, especially when you are eating out for most of your meals. Not only does it mean I get to eat a healthy breakfast but I also save time and money by not having to eat out. If I can't bring it with me, I'll try to buy as many ingredients that I can and make it up with what I've found. I have never struggled to find a shop where I can buy some if not all of the ingredients I need, and berries and yogurt are generally available as well. The dried raspberries version would be great to bring on holidays especially if you thought you were going to struggle to buy fresh berries whilst travelling but just watch how many you add as they are very nutritionally and carb dense.
Using Fresh Ingredients
Linseed can go rancid quickly especially when ground so I only ever recommend using whole seeds in this recipe. If ever you need ground linseed, grind it as you need it. Whole seeds can also go off and for this reason I suggest that you don't make up too much Muesli at a time, as there is nothing worse than the taste of rancid linseed. There is also nothing worse than having to throw out your muesli because it's been tainted by the linseed, as it can add up in price buying these products. I generally make enough muesli to last for about 4 weeks and never have any issue with it going off.
When sourcing your ingredients for this muesli, try to use organic produce where you can, especially when buying whole seeds. I always try to get organic seeds if I can, and I know there is an additional expense with this but I think that reducing my intake of pesticides is a large enough incentive warranting the extra expense. I don't always get organic but always try to get the best quality ingredients that are available to me.
Now I don't now if this is correct, but I have been buying the golden linseed from Costco and I don't think it goes off as quickly as the dark linseed does. There could be other factors at play here, such as how fresh it is etc, but it is something I have noticed.
The recipe also offers you the option of adding hulled hemp seeds or hemp hearts to the recipe. This is an amazing way to boost the protein, anti-oxidant and omega 3 and 6 fatty acids levels in this smoothie. If you want to know more about the benefits of hemp seeds, you might want to have a read of this article, What are the Benefits of eating Hemp Seeds?
If there was one recipe that I would recommend you made, simply because of it's nutritional value and associated health benefits, it would be this muesli recipe. You can also use this muesli in this delicious recipe for a Low Carb Raspberry Protein Smoothie.
Ketohh Low Carb Muesli is a great way to start the day and perfect as well for a healthy snack.
Kxx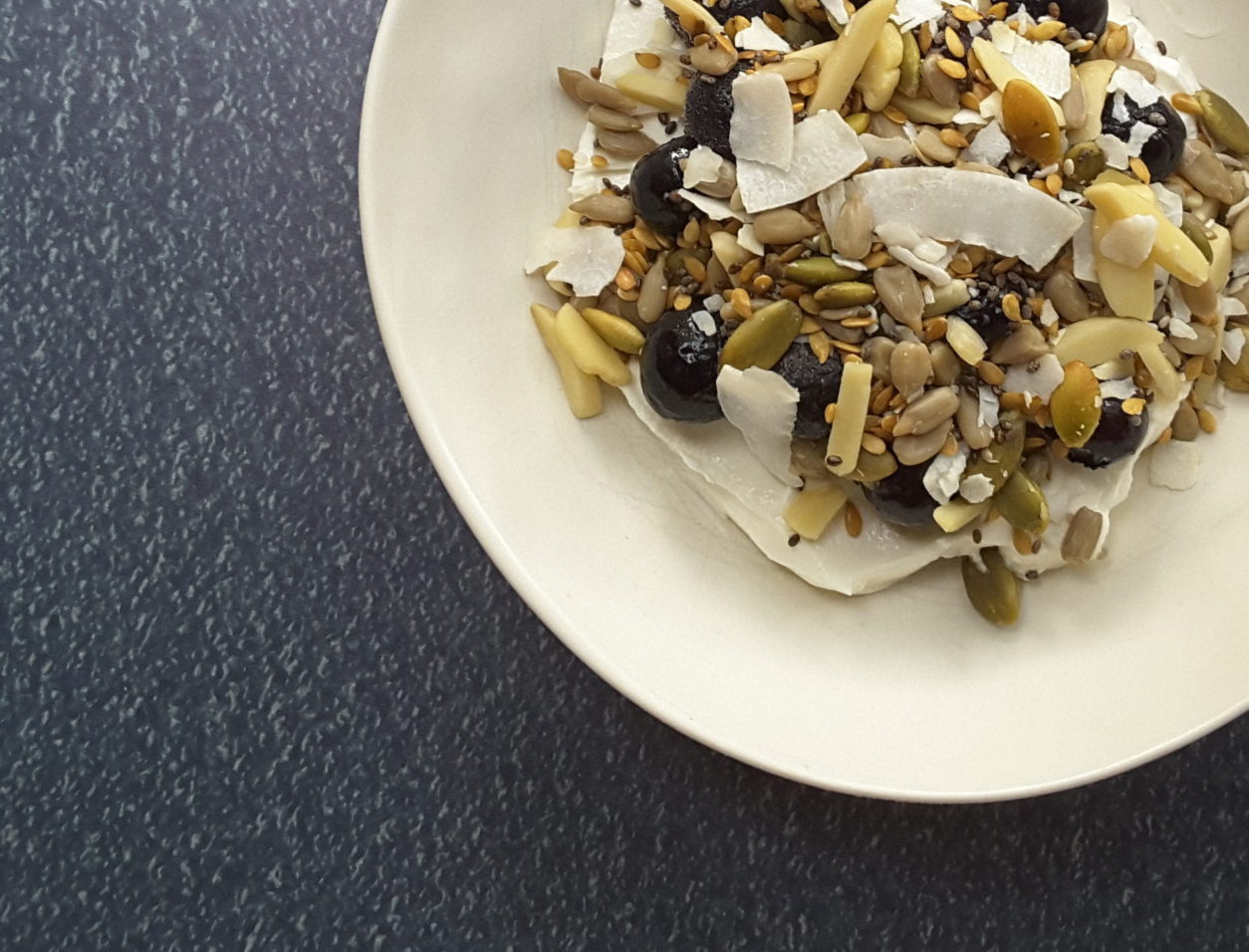 Ingredients
½

cup

pysllium husks

½

cup

almond flakes/slivers

or nuts of choice

½

cup

chia seeds

1

cup

linseed/flaxseed- dark or golden

½

cup

sunflower seeds

½

cup

pepita seeds

½

cup

shredded/flaked or desiccated coconut

½

cup

hemp hearts/hulled hemp seeds- optional
Instructions
Mix ingredients together and store in an airtight container.

One serve is 1/4 cup.
Recipe Notes
For an added antioxidant boost sprinkle your muesli with a little acai powder.
Delicious eaten simply with Greek yogurt and fresh berries. Add a scoop to a smoothie for a nutritional boost and process till smooth.
Add dried berries, goji berries or other dried low carb fruit to your muesli
Nutritional Information
Serving:
1
serve
|
Calories:
149
kcal
|
Carbohydrates:
5.5
g
|
Protein:
5.3
g
|
Fiber:
6.4
g
Note that we calculate our own nutritional values so they may not be precise. Calculate your own if desired. Carb values exclude sugar alcohols such as Erythritol, as they generally have no impact on blood sugar levels. 50% of the carbs from Xylitol is added to nutritional values. This is consistent with industry practice.
Do you want to receive more recipes like this one? Subscribe to our newsletter now!