Raspberry Dark Chocolate Cheese Cake Balls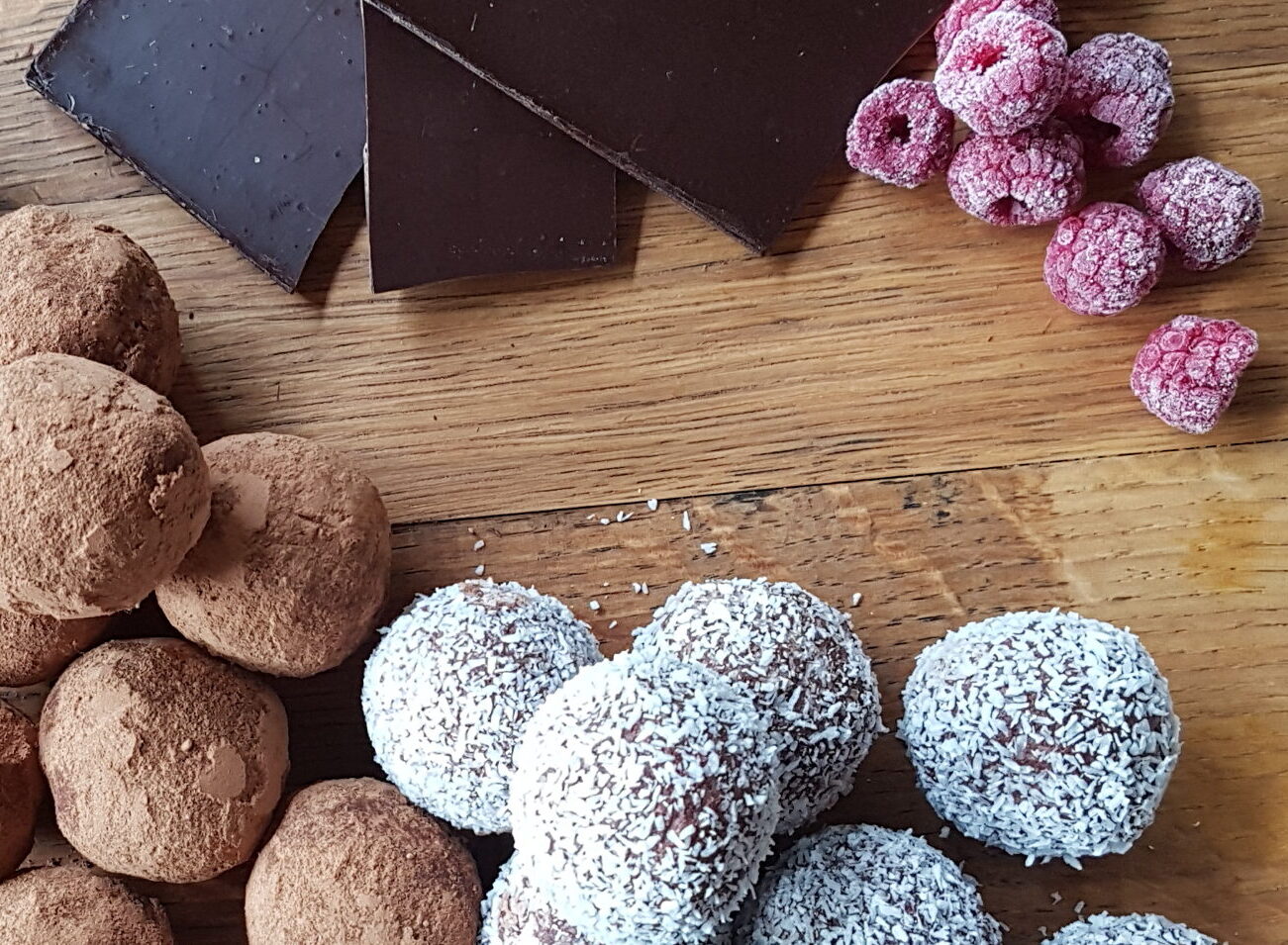 Raspberry Dark Chocolate Cheese Cake Balls
These low carb and low sugar Raspberry Dark Chocolate Cheese Cake Balls are the absolute bomb. They taste divine and would be perfect for a simple snack but equally, would also hold their own, served with coffee at the end of a dinner party. There will be no craving for high sugar treats when you have these on hand.
Made from a few simple ingredients such as raspberries, dark chocolate and cream cheese, these balls are really simple to make yet low in sugar and carbs. Is this diet food? Umm..no!  These are amazing tasting, decadent chocolate balls that everyone will want to eat. Diet Smiet!!
Perfect For Any Occasion
The thing I love about this recipe is that they are reasonably healthy but are still a decadent chocolate treat for anyone trying to watch their sugar intake or trying to reduce their carbs. I love to have these on hand when there are lots of sugar laden treats around to tempt me. 
I also love to make these when I have people coming over for dinner and serve them after dinner with coffee. They go down really well and people don't even ask whether it is low carb or "special" food as they tastes so good. People are also generally impressed that you make your own chocolates, so you can take on all of the accolades for that as well. These delicious Raspberry Dark Chocolate Cheese Cake Balls would also make a lovely gourmet gift or a host gift if you are going to someone's house for dinner.
What Chocolate Should You Use
Try to use dark chocolate a minimum of 75% couveture in this Low Carb Rocky Road recipe so that you are minimizing the amount of carbs and the sugar in this recipe. If you can work your way up to about 80-85 % couveture for an even healthier option, that would be even better. It certainly pays to compare the different chocolate that you find in the store so that you know how many carbs and how much sugar is in each block as they can vary by quite a lot.
Note that if you don't like the taste of dark chocolate and are cutting back on sugar and carbs, you are going to end up liking it. Trust me! It's a treat and when it's been 'watered' down with other ingredients like it has in this recipe, you won't really notice the slightly bitter taste of  the chocolate because you are going to be enjoying eating one of these delicious Raspberry Dark Chocolate Cheese Cake Balls.
Some More Delicious Low Carb Chocolate Treat Recipes
For a similar low sugar, low carb, chocolately treat, check out the recipe for Sugar Free No Bake Chocolate Slice, which for any Australian or English readers, is very similar to the classic Hedgehog Slice. There is also a ready simple recipe for Low Carb Rocky Road. These are both amazing tasting recipes as well for a special treat.
Enjoy! Of course…it would be impossible not to!
Kxx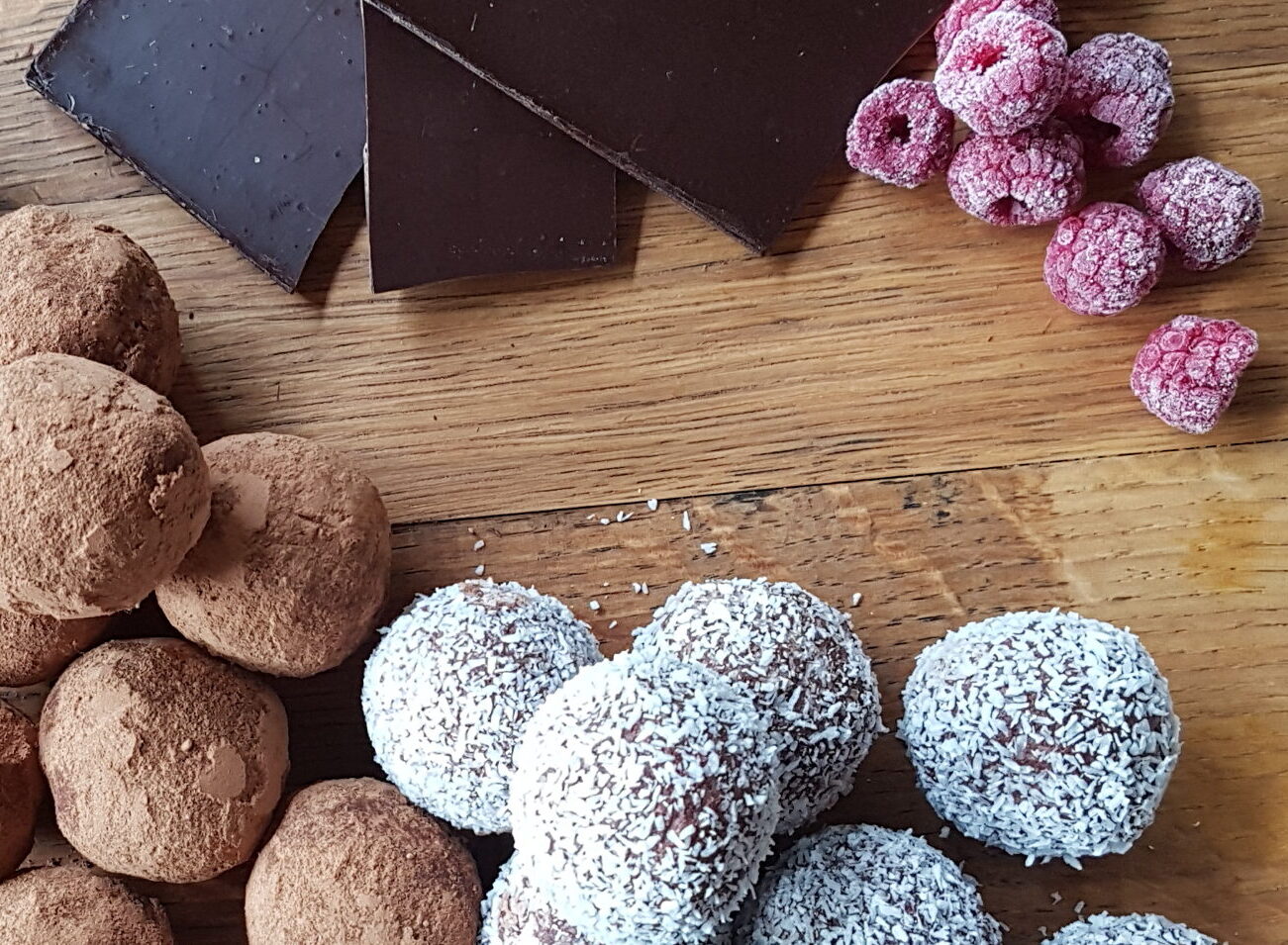 Ingredients
100

gms

dark chocolate 70% or over- 85% preferred

100

gms

cream cheese at room temperature

100

gms

frozen or fresh raspberries chopped

100

gms

almond meal/flour

75

gms

desiccated coconut unsweetened

1/2

teaspoon

vanilla extract

Additional coconut and/or cacao powder for rolling balls in.
Instructions
Melt the dark chocolate in the microwave in 15 second bursts, stirring well in between bursts.

Add the cream cheese and vanilla extract and mix till blended.

Add remaining ingredients and mix until well combined.

Roll into teaspoon sized balls. Use wet hands if the mixture sticks.

Roll in desiccated coconut or cacao powder.
Recipe Notes
Makes between 20-30 balls.
Store in the fridge for up to 1 week or keep in the freezer
Nutritional Information
Serving:
1
g
|
Calories:
100
kcal
|
Carbohydrates:
1
g
Note that we calculate our own nutritional values so they may not be precise. Calculate your own if desired. Carb values exclude sugar alcohols such as Erythritol, as they generally have no impact on blood sugar levels. 50% of the carbs from Xylitol is added to nutritional values. This is consistent with industry practice.
Do you want to receive more recipes like this one? Subscribe to our newsletter now!